Hee Haw! Adopt a Donkey the perfect gift for Valentine's Day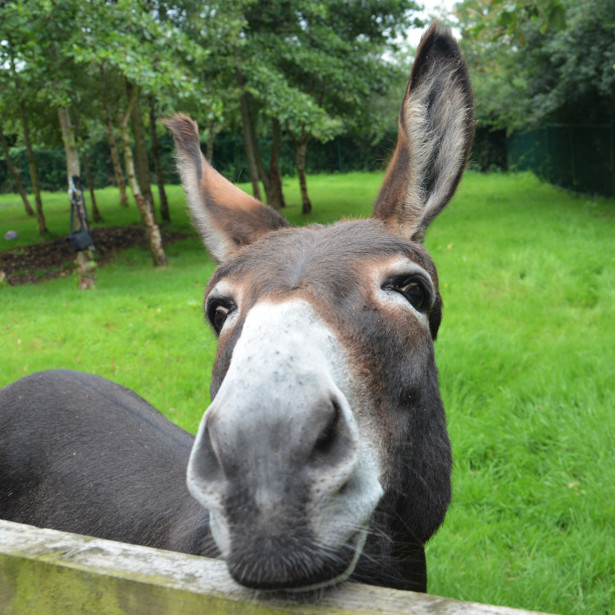 With over 20 donkeys to choose from, you can find the perfect match for someone you love this Valentine's Day for just £2 per month. The adopter can also visit their donkey for free at one of The Donkey Sanctuary's six centres across the UK*. Adoption packs includes two portraits, four beautiful postcards, a certificate and membership card, plus 2 newsletters and regular updates on social media.
Adopt a donkey online https://www.thedonkeysanctuary.org.uk/adopt or call 01395 573133.
The Donkey Sanctuary is an international charity that aims to improve the welfare and end the suffering of donkeys worldwide.
*Sidmouth, Belfast, Leeds, Manchester, Birmingham and Ivybridge.
Herefordshire's Wye Valley Brewery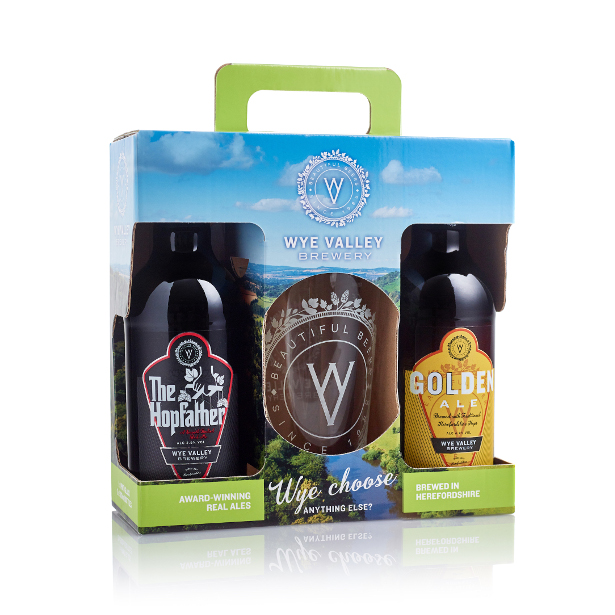 The brewery has brought together two of its favourite beers to give love-struck sweethearts something naughty and something nice this Valentine's Day. Let me know if you would like me to send you a sample?
A dark, reddish hue, The Hopfather is a smooth-bodied ale that will win you over with its malty undertones whilst the silken Golden Ale is sunshine in a bottle, bursting with zesty and citrus flavours. The set makes a romantic shared tasting experience or a gift that will win the heart of any beer-loving suitor.
Valentine's Gift Pack
Includes 1 x The Hopfather, 1 x Golden Ale and a Wye Valley Brewery pint glass.
Price £17.50
Available online from www.wyevalleybrewery.co.uk.
Notes to Editor
Golden Ale
Golden Ale is a characterful light golden ale that is simply bursting with zest and character. It has been brewed with a blend of two of Herefordshire's finest hop varieties, Goldings and Fuggles, alongside Maris Otter pale malt. 4.2% ABV
The Hopfather
A smooth-bodied red ale with malty undertones, The Hopfather is brewed using Herefordshire Jester, Centennial and Goldings hops, giving tropical citrus flavours. 3.9% ABV
Wye Valley Brewery
A family business that takes great pride in brewing the best cask-conditioned beer. The brewery is based in Herefordshire and sources over 80% of their hops from local farms. The brewery was established in 1985 and remains family owned by father and son, Peter and Vernon Amor.
THINK OUTSIDE THE JEWELRY BOX THIS VALENTINES DAY WITH BREAKFAST-IN-BED- INSPIRED PRODUCTS!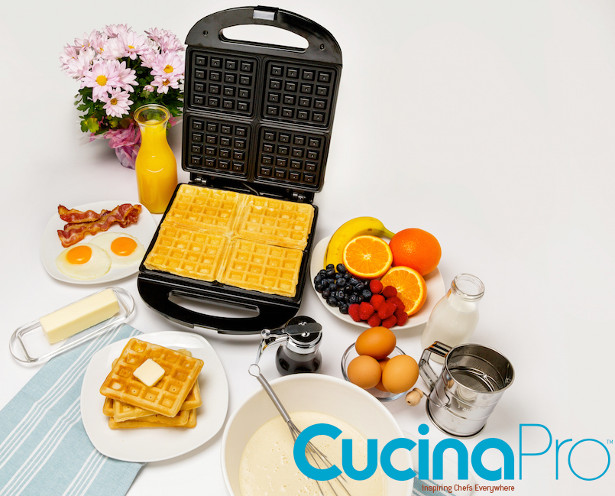 Valentine's day has arrived and once again, you are struggling with what to get your special someone. Are you tired of going with the usual inflated prices on roses, jewelry and chocolates? This year, take a unique approach and give your loved one breakfast in bed using your must-have CucinaPro products!
The CucinaPro Classic Heart Waffler makes it easy when deciding what to make your loved one for breakfast on V-Day. The adjustable browning control and a non-stick coating make these wafflers as functional inside as they are beautiful on the outside. This unique waffler makes five, seven-inch heart-shaped waffles at one time! With a beep that sounds when your waffles are done, it never lets you burn your waffles again. This must-have waffler also stands upright, making storage effortless.
Available for purchase on Amazon, cucinapro.com and scsdirectinc.com. Retail Price: $49.99
The CucinaPro Mini Pie and Quiche Maker is a compact, brunch style gadget makes six delicious bite-sized quiches in just minutes! The interior has nonstick coating for easy clean up, with a handy dandy dough cutting circle included for precise preparation every time.
Available for purchase at Bed Bath & Beyond, Amazon and cucinapro.com. Retail Price: $34.99. Whip up your sweetie a batch of emoji pancakes and waffles with the CucinaPro Smiley Face Pancake & Waffle Maker! The most popular breakfast dishes, pancakes and waffles, now come in one compact emoji-themed appliance. With four non-stick interchangeable cooking plates, those goofy couples can make smiley face waffles or pancakes in just minutes. The adjustable temperature and browning control feature ensures no one will be upset on their special day because of an undercooked or burnt waffle/pancake. Make breakfast more entertaining for you and your loved one by experimenting with different flavors and ingredients to make the most delicious funny face pancake or waffle.
Available for purchase on Amazon and cucinapro.com. Retail Price: $49.99.
The CucinaPro Bubble Waffle Maker brings the delicious popular pull apart treats of Hong Kong egg cakes known as egg waffles right to your own kitchen! Using this specialty designed pan you can create bubble-shaped waffles with crispy golden outsides and tender centers. The waffle maker has nonstick coated cooking plates for easy release and convenient cleanup. This Bubble Waffler Maker has an easy-lock closing mechanism and is available in both black and white colors.
Available for purchase on Amazon, Bed Bath & Beyond and cucinapro.com. Retail Price: $49.99.

Cupid already gifted you with love, what more can you possibly want for Valentine's Day? How about macarons that come with your favorite team logo on it? Or even your favorite team players face!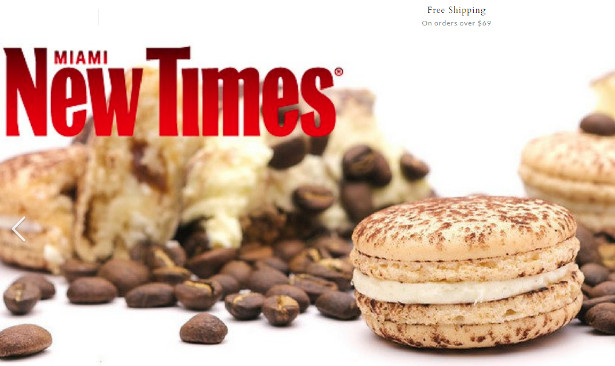 Ma-Ka-Rohn, a boutique patisserie, is waving the $90 set up fee so lovers can customize their box of macarons with any picture or logo they want for Valentine's Day. This will surely draw more "oohs" and "ahhhhs" than any flower arrangement arriving to the office that day.
Ma-Ka-Rohn bakes authentic French macarons with trendy American flavors such as Birthday Cake, Sm'oreo, and Toasted Marshmallow. For the holiday, they are also offering limited engagement flavors such as Rosé, Chocolate-Covered Strawberry, and Raspberry macarons.
Valentine's Day and Ragdale Hall – the perfect match!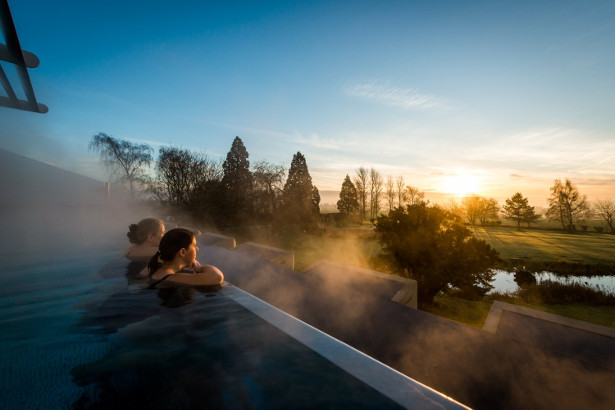 If you're compiling your guide to the must-have gifts or things to do on Valentine's Day, make sure you include spa days and spa breaks created especially for couples by award-winning Ragdale Hall Spa in Leicestershire.
Escape from everyday life and relax at the UK's Best Destination Spa*, where you're encouraged to switch off your mobile phone, put the world on hold and let the magic begin.
Choose Ragdale Hall's Cupid's Couples Day for nine hours of chilled-out relaxation. Enjoy the new Rooftop Infinity Pool – heated to a blissful 35 degrees and offering stunning views out over the rolling Leicestershire countryside. The Thermal Spa's series of heat and water experiences including the outdoor Waterfall Pool – exhilarating at this time of year – and the magical underground Candle Pool. What could be more romantic? Indulge in a three-course buffet lunch, be pampered with a manicure for her and a Soothe and Splash facial for him, and round off your day with a glass of pink bubbly each and a plate of tapas – made to share, of course!
If you'd like to keep the outside world at bay for longer, the two-night Romantic Getaway Break is the answer. From Champagne in your room on arrival to your 50-minute Full Body Massage or Blissful Face and Back Therapy (the choice is yours), and from breakfast in bed to three-course lunch and dinner in the Hall's sumptuous Dining Room – let the team at Ragdale take care of it all. And you'll still have plenty of time to drift away together in one of Ragdale Hall's many relaxation areas.
Ragdale's Valentine's packages are available throughout February and March only, so plan your time out together now – or surprise your loved one with a shared Valentine's experience.
Or perhaps a Ragdale Hall Voucher would make the perfect gift for your other half? Let them choose their own spa day or break from the extensive range of options by giving them a monetary voucher – and present them with their gift voucher on February 14th to make their Valentine's Day 2018 really special. All spa days and breaks include use of all facilities, including the Thermal Spa, indoor and outdoor pools, gym and daily programme of exercise classes, and a complimentary robe throughout your visit. Breaks also include all meals (breakfast in your room, three course lunch and dinner) and Ragdale Hall flip flops.
Vouchers start from just £25 and are valid for 12 months from date of purchase. The Cupid's Couples Day is priced from £249 per couple and the two-night Romantic Getaway Break is from £385 per person.
For more details on Ragdale Hall spa days, breaks or vouchers visit www.ragdalehall.co.uk or call 01664 434831.
Heart & Seoul Collection (amarteskincare.com)
This beautiful pink and gold luxurious skin care collection includes a Cleansing Foam, Hydrator, Hydrolift Cream, Eyeconic Eye Cream and two versatile shades of Natural Finish BB Cream. Designed to leave skin with a soft, radiant and rejuvenated glow. Packaged in a beautiful collector's gift box, it's the perfect gift for a loved one and the ideal pampering treat for you.
William Penn Inn surveyed over 400 people on how they celebrate Valentine's Day, and more importantly, what they expect on Valentine's Day. The holiday has been commercialized as a Hallmark Holiday – yet more than 70% of the people we surveyed continue to celebrate it.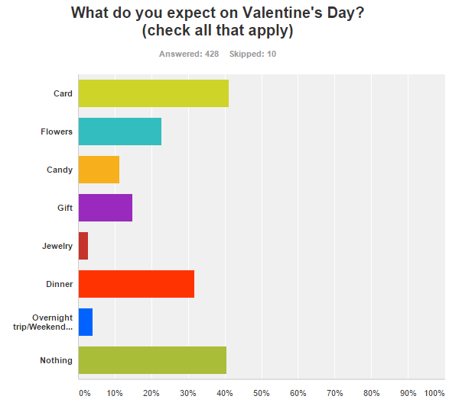 Most people expect nothing at all on Valentine's Day, claiming that love and devotion should be demonstrated on every day of the year. 72% of those who do expect a gift want a card or dinner as a token of love. Still others expect flowers, candy, gifts, jewelry, or an overnight trip as a Valentine's Day present.
Of the people who expect dinner on Valentine's Day, almost 100% prefer to be taken out. On average, people celebrating Valentine's Day with dinner spent between $51-$100 dollars, followed closely by those on a budget of $50 or less. 17% spent $101-$200, 5% spent $201-$500, and then there are those members of the 1% that spend over $500 on Valentine's Day dinner.
Eating at a restaurant or country club reigned supreme, second to cooking your own meal and ordering takeout. Many people enjoy the romantic atmosphere restaurants are able to create on Valentine's Day, which typically includes decorative tablecloths, candlelight, and dinner, drink, or dessert specials.
www.sockproblems.com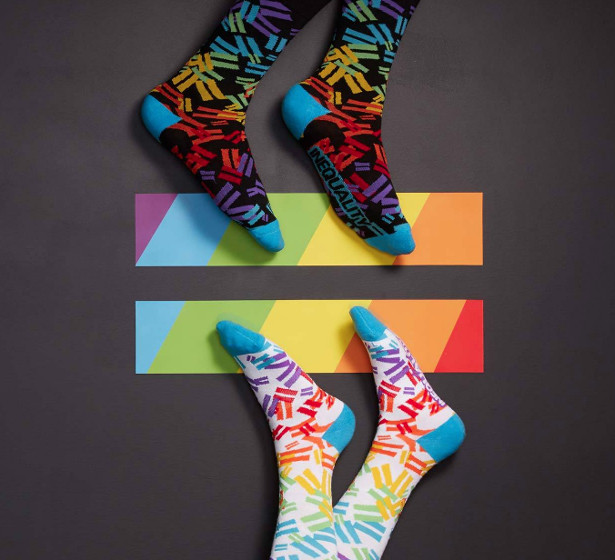 Sock Problems- With a mission to "Care, Wear and Share," this company launched this past November and has unique and cool designs that are design to "Sock" world problems from cancer to climate change, and more. Their goal is to give back 50% of all sales to the cause. This is a sweet gift for any friend, family member, or loved one that you want to share a bit of love with.
Although streaming services are steadily on the rise, the many traditions and novelties inherently attached to cable television have certainly not been forgotten. Sure, you've probably binged-watched an entire series over the course of one weekend more recently than you care to admit. But – remember the wonderful days where excitement built up leading to your favorite weeknight show? Remember when you'd congregate in the living room moments before "primetime" to watch your favorite show with your significant other, friends, and family? A great gift for this Valentine's Day (or any holiday, really) is the gift of cable television. Bring back enjoying the morning news with your cup of coffee. Stay up-to-date with shows like 60 Minutes before the start of every week. And despite what 'they' might say, Saturday morning cartoons aren't just for children. Cable packages offer a variety of options to choose from based on your interests and location. And for the sports-loving man in your life, there is no shortage of sports packages (yes, that even includes rugby)! To make the gift of cable a reality for your loved one, see which options are available to you in your neck of the woods. And when the Hallmark holiday has come to an end (and it's back to the normally-scheduled programming of your life), don't forget to spice up your evenings by using this fun tool to help you decide which shows to enjoy next. Television brings an unmatched level of variety and entertainment to our homes and lives.
Photo credit: Photo by Justin Schüler on Unsplash
Get hearts racing this Valentine's Day
With millions of people expected to celebrate Valentine's Day this year, and close to £1billion estimated to be spent on gifts, the 14th February is still one of the most celebrated dates in the annual calendar for love birds. Activities to celebrate can get quite monotonous though with the standard dinner, drinks, cinema, flowers and chocolates being the go to every year.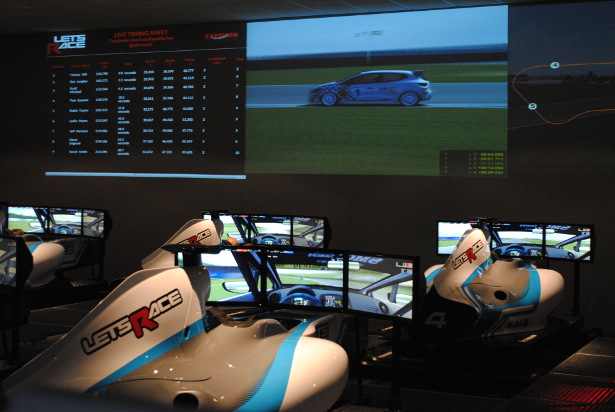 For those looking for an alternative way to get hearts racing for Valentine's Day this year, Lets Race, the UK's only full-motion Formula 1 simulation centre, has designed a unique evening to put love in the fast lane for couples with their 'Valentine's Love Trials' event.
Held for one night only, on Valentine's Day itself (Wednesday 14th February 2018), couples can race head-to-head against their partners in Lets Race's custom made full-motion Formula 1 racing simulators, battling it out on the circuit and having hilarious fun while proving who the best driver is.
For just £59.98 per couple, lovers will be greeted on arrival by the centre's expert team and treated to a glass of Champagne or a bottle of beer before heading through to race HQ for a safety briefing. Guests will then be taken through to Lets Race's blacked out simulator room where they will race in one of the centre's 10 networked simulators for 40 minutes driving a Formula Renault BARC, GP2-2013, Porsche GT4 and McLaren F1 GT (10 minutes trailing each car).
Once the racing is over, couples will be led out into the grandstand area to see who beat who as they are issued with a bespoke telemetry sheet highlighting each drivers lap time – a great opportunity to capture the podium moment on camera for use a proof who is really in the driving seat of the relationship!
Ben Stephenson, Commercial Director at Lets Race, commented:
"So often you hear people struggling with original activity ideas for Valentine's Day and they resort to the go-to dinner out which is so commercialised that most restaurants charge an extortionate amount for the same food and service they provide on any other normal day.
"The idea behind our Love Trails event is to provide a fun evening activity for couples to not only spend time together but to add that competitive element which adds an hilarious twist to their romance."
Lets Race is located in Horley, on the boarders of Surrey and Sussex, and is just five minutes away from Gatwick airport. The centre is also home to Lets Golf and their on-site restaurant Blacks Burgers so couples can enjoy a full evening of entertainment as well as some of the best burgers in the South East.
The Lets Race Love Trials sessions are being held at 8pm, 9pm and 10pm on Wednesday 14th February.
For more information or to book visit http://booking.letsrace.co.uk/details/74581/valentines-love-trials


Romance aromatherapy range from Absolute Aromas. The Romance Massage oil is the perfect gift to create some closeness between you and your loved one on February 14th.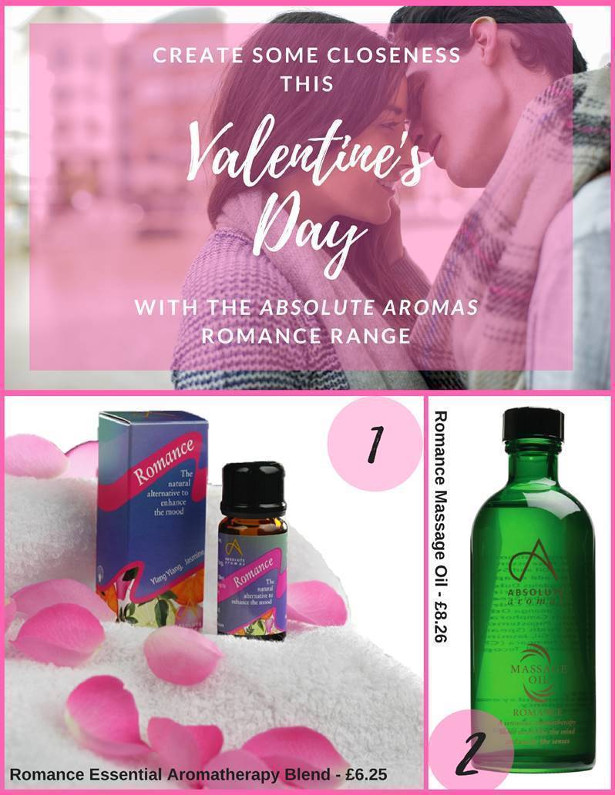 The love-inducing, all-natural Romance aromatherapy range from Absolute Aromas is just what you and your loved one need this Valentine's Day.
Each product is packed full of exotic aromas, such as aphrodisiac Jasmine and sensual Rose, that enhance the mood and excite the senses.
Available from selected health stores across the UK and online from
www.absolute-aromas.com
Absolute Aromas Romance Essential Aromatherapy Blend | £6.25
Invigorate yours and your partner's senses with the Romance blend. This essential oil blend has been formulated with pure essentials oils known to have romantic, mood-boosting properties. Containing Patchouli, Jasmine, Lime, Orange, Rose, Petitgrain, Ylang Ylang, Ho Wood, Spearmint and Cedarwood, this little bottle packs a potent punch! Just add a few drops to your essential oil blender to give your room a touch of romance.
Absolute Aromas Romance Massage Oil | £8.26 for 100ml
A sensual massage oil that can also be used as a bath oil…This blend combines Ylang Ylang and Rose with the exotic aromas of Jasmine, to tantalise the mind and enliven the senses.
Essential Oils: Orange, Cedarwood, Ylang Ylang, Camphor, Patchouli, Spearmint, Lime, Jasmine, Champac, Rosa Centifolia.
Carrier Oils: Sweet Almond, Evening Primrose, Jojoba.
ONE Mixed Pleasures condoms offer a variety of flavours and textures, making sure that any intimate encounter is memorable while keeping you protected.

ONE celebrates open and honest conversations around sex, no matter what your preference. ONE Lubes are available exclusively at Superdrug priced at £9.99 (Duo) and £7.99 (Oasis). ONE Mixed Pleasures Condoms are also available at Superdrug, priced at £9.99.
Botonique, a unique non-alcoholic botanical drink, which can deliver the perfect romantic, bubbly glass of fizz for those who love wine, but don't want to, or can no longer, drink alcohol.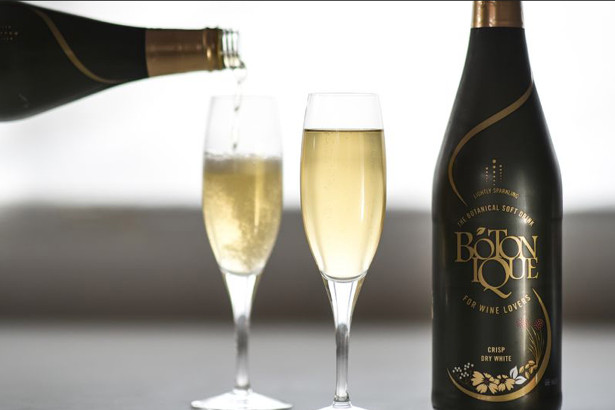 The lucky recipient of a bottle of Botonique will be looked after in more ways than one with the refreshing taste as well as some exclusive health benefits! This is because it contains the beneficial elements of Prelixir®, a unique blend of vitamins, minerals and amino acids which alcohol is known to deplete. This unique element means that Botonique is able to provide anti-oxidant, anti-inflammatory, alkalising, detoxifying and hydrating benefits, resulting in all the pleasure of drinking without the negative side effects.
Botonique is also perfect for those who are watching their waistline, but who still deserve to be treated due to it containing just 1/6 the calories of wine, with no added sugar, artificial sweeteners, flavours, colours or preservatives. Retailing at just £6.99 for a 750ml bottle or £39 for a case of 6, Botonique is currently stocked by Tabl.com as well as Ocado.com, and is due to appear on the shelves of several other major retailers in the coming months.
visit www.botonique.com for further details!
AmpliFi Teleport (https://www.amplifi.com/teleport/), a great new Wi-Fi travel gadget that connects you to your home network! This makes for the perfect gift with any cross-country lovers who want to start a shared watch list on Netflix to watch their favorite shows together or access the same local broadcasts from anywhere in the world.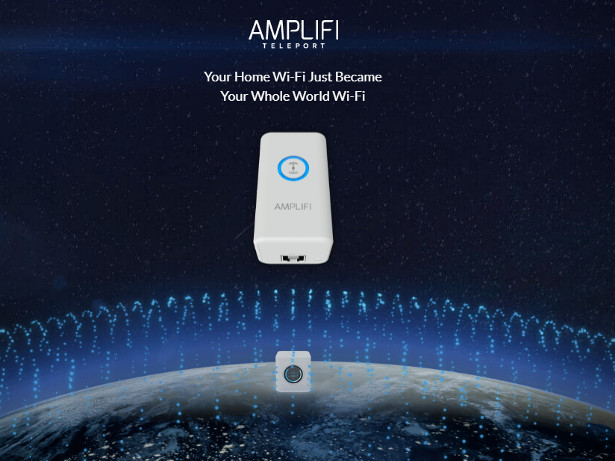 AmpliFi Teleport provides a secure and convenient way to access resources at home, even when you are not. Utilizing any Wi-Fi hotspot or wired Ethernet connection, Teleport is able to create an encrypted connection to your home network, expanding it wherever you go.
BORN FREE: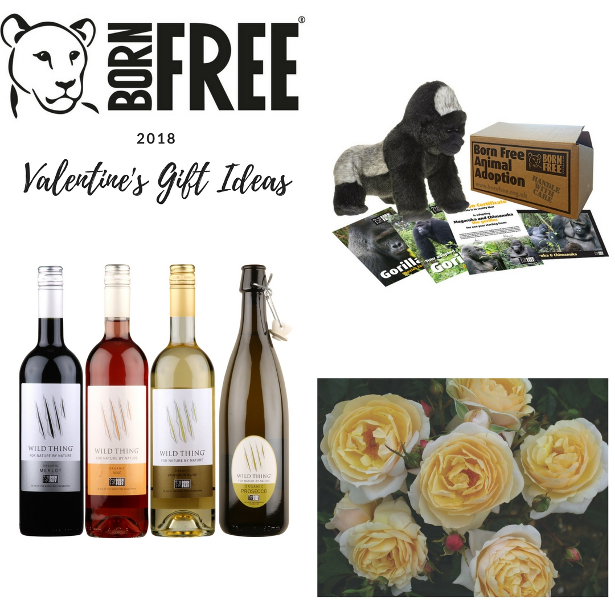 The dynamic international wildlife charity Born FREE, which was founded in 1984 by the actors Bill Travers MBE and Virginia McKenna OBE, have three perfect gifts for Valentine's including:
Virginia McKenna Rose – £13.95 per bear root plant (pot grown plant also available)
Go traditional with a rose for your Valentine but add an eco-twist with a plant rather than cut flowers so it can bloom with your love. Harkness Roses offers a stunning rose named after Virginia McKenna, profits from which go to Born Free. Versatile and stunning it has a citronella element to its scent. It comes as the flower opens, not in a young bloom and is very good in wet weather. A rounded bush covered in flower and leaf that can be used in beds, borders, low hedges or a scented patio planter.
Wild Thing Wine or Prosecco – £7.99 per bottle / £11.25 per bottle for prosecco
Vintage Roots has a range of 'Wild Thing' wines and prosecco, from which a percentage of profits goes towards Born Free's work. Choose from their Sauvignon Blanc, Merlot or Rosé from La Mancha, Spain, or their Prosecco from Veneto, Italy.
Animal adoption – £2.50PM / £30
Perfect for those animal lovers out there. Supporters receive a unique pack including a cuddly toy and glossy photo of their chosen animal, a personalised adoption certificate, a copy of the animal's story, a Born Free window sticker, a Born Free folder and two copies of Born Free's Adopt! Magazine throughout the year with updates on the adopted animal's progress.
I have attached a product contact sheet for your reference and a varying percentage of profits from these sales (depending on the product) go directly to Born Free so they really are the 'feel good' gifts to give and receive. Prices are highlighted on contact sheet but all items can be purchased from: www.bornfree.org.uk
P-P-Pick up the perfect penguin gift this Valentines
Valentines can find the p-p-perfect product in rockhopper penguins from ZSL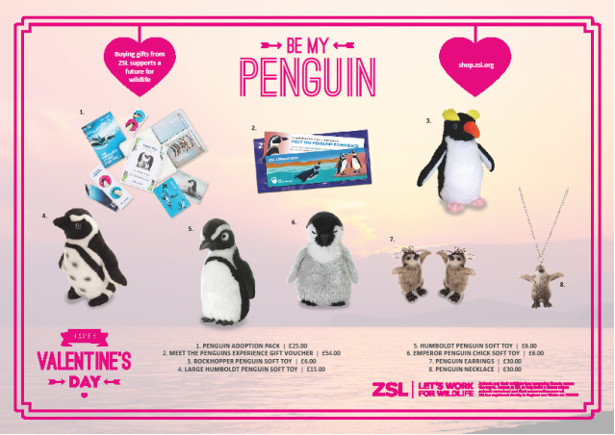 With Valentine's Day around the corner love is in the air, and it is no different for the rockhopper penguins (Eudyptes moseleyi) who mate for life.
There is something particularly special about the rockhopper penguin, one of the smallest penguin species who are known for their distinguished crest of spiky yellow and black feathers on top of their heads. They bound from rock to rock in their sub-Antarctic rocky terrane in large colonies, and they mate for life. Studies have shown theses incredible penguins are monogamous, mating with the same penguin their whole lives. The mates form a strong bond as they collaborate to take care of the egg and their chick. Every year after brutally cold winters and long journeys the mates come back together ready for breeding season.
The 'be my penguin' range from ZSL (Zoological Society of London) is the p-p-perfect gift this valentines to show your loved one that they are your penguin.
Valentines gifts available for purchase at the ZSL shop, including an array of penguin toys, help to support international conservation charity ZSL and its wildlife projects. The penguin retail collection starts at £6.00 and can be shopped online with international delivery available.
The rockhopper penguin was listed as Endangered in 2008 by the IUCN (International Union for Conservation of Nature). The rapid population decrease over the last three generations (30 years) throughout its range are down to changes in sea temperature, competition, incidental capture in fisheries and introduced predators.
Funds raised from purchases at the ZSL shop enable the wildlife conservation charity ZSL to continue active conservation projects in more than 50 countries and support its two Zoos.
The 'be my penguin' collection is available online now. shop.zsl.org/collections/be-my-penguin



Ethically Traded Bean to Bar Chocolate Launches in Cornwall www.rionuevochocolate.com (You can buy them online delivering in time for Valentine's Day!)
Rio Nuevo Handcrafted Chocolate is a premium ethical chocolate with natural ingredients and no preservatives, soy, or dairy, it is also vegan friendly, so perfect for those with any dietary requirements. Rio Nuevo is stunning dark chocolate with direct links to Ecuador where the finest cocoa beans in the world come from. It was founded by married couple, Andres from Ecuador and Sara from Colombia, both of whom love chocolate and want to improve the livelihoods of cocoa farmers and their families. Their core values are to act responsibly and with integrity so you can feel good about indulging in their chocolate. "Our dream is to see a real change in how the chocolate industry can help develop sustainable livelihoods for cocoa-farming communities" said Andres. They import the beans directly from small scale farmers in Ecuador, this way they ensure the farmers get a premium for their produce. This is not just chocolate…it's chocolate with a purpose! "Rio Nuevo is one of only two bean-to-bar chocolate makers in the UK who buy the cocoa beans directly from the farmers" Now living in Cornwall-England and with their direct connections to the cocoa farmers in Ecuador, they create delicious, slow roasted and stone ground chocolate in micro batches using only ethically sourced single estate Arriba Nacional cocoa beans. Every step of their journey is carefully considered; from sourcing the world's finest cocoa beans, to packaging.
Rio Nuevo Chocolate is available in six varieties and you can buy them online or find out more on www.rionuevochocolate.com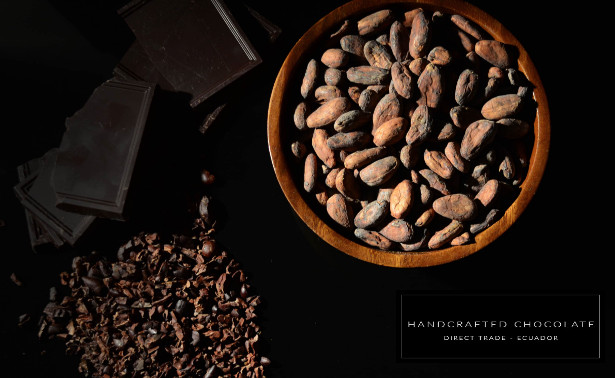 |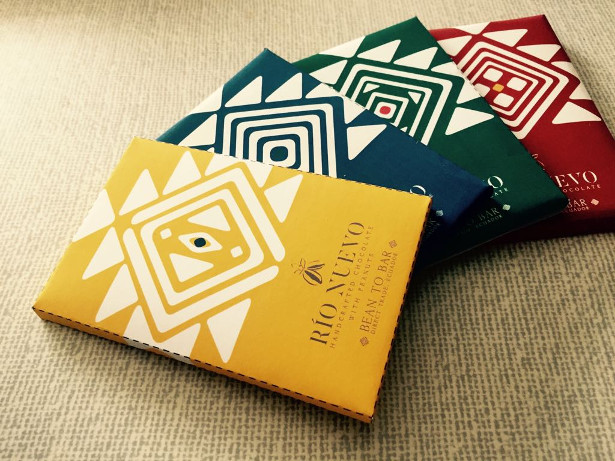 |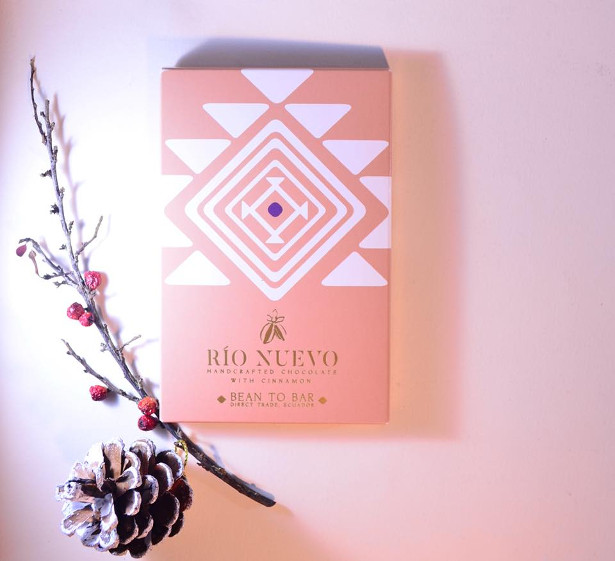 |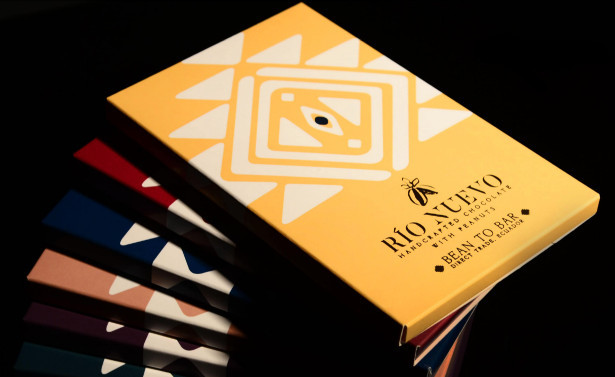 |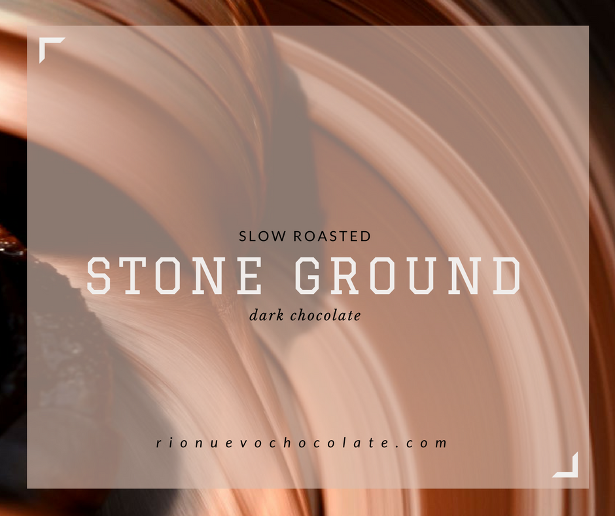 Love Yourself This Valentine's Day With Centros Unico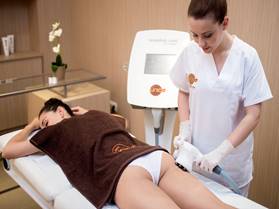 Centros Unico, one of Europe's leading specialists in Laser Hair Removal and non-invasive aesthetic treatments is encouraging people to treat themselves this Valentines. The latest innovative facial Centros Unico has to offer, is the Pulsonic Facial, a non-invasive and rejuvenating treatment, exclusive to the brand that will give your skin the much needed TLC it needs. With other treatments on offer such as DoubleCorp and Chemical Peels, there is something for everyone to enjoy.
Further information….
Pulsonic Facial: A high-tech facial for women, that uses a pen-style tool to gently heat the skin, boosting the blood circulation in the face and stimulating the production of collagen, visibly encouraging plumpness and elasticity
DoubleCorp: The only body treatment that combines two technologies simultaneously—three-dimensional ultrasound waves and multipolar radio frequency—to boost and enhance the desired firming and toning results
Chemical Peels: A treatment where normally an acid is applied to prepare skin to eliminate surface layers of dead skin. This treatment combats the after-effects of acne, sun spots, and shallow wrinkles; and will also improve the appearance of baggy eyes and give your face a natural glow
With 12 established clinics across the UK to choose from, including the newly opened Braehead clinic in Glasgow, these treatments are available to customers nationwide.
For more information on Centros Unico and how to love yourself this Valentine's day, book a consultation or find your nearest branch, please visit www.centrosunico.co.uk or call us at our Ealing clinic on 0203 318 3089.
This Valentine's Day, never be too far from the ones you love.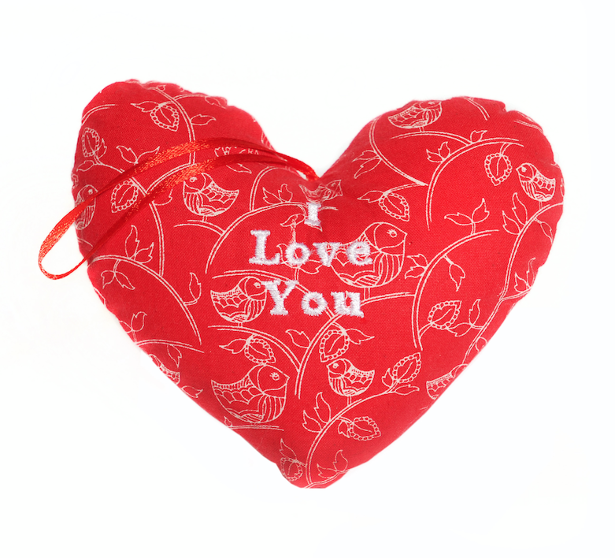 Perfect for long-distance loves or even just romantic reminders, send your Valentine a sweet message no matter how far you are with the Heartfelt Message from LoveKeepCreate.
Inline images 1
Equipped with a sound device in the back, this beautiful, handmade cotton heart is ready to record and play your personal message to them at any time.
£25 from LoveKeepCreate.co.uk

Glo Skin Beauty have launched the perfect red lippy just in time for Valentine's day, the perfect gift for a loved one.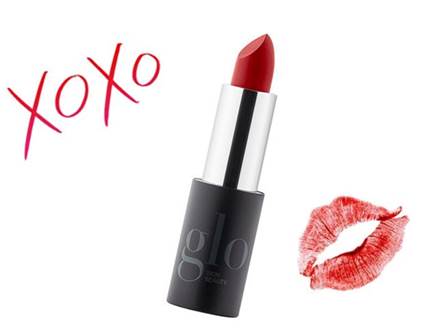 This long lasting natural lipstick is formulated with our exclusive blend of antioxidants, including Vitamins A, C, E and Green Tea, plus Titanium Dioxide, to provide broad spectrum UV protection, to keep lips healthy while looking beautiful. It is also cruelty free.
Credit: http://gloskinbeautyuk.com/lipstick/
Price: £22.50
Masterclasses at The Botanist, Leopold Square, Sheffield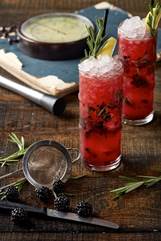 For the one that loves the taste of a delicately crafted cocktail or the taste of a fresh ale, The Botanist situated within luxury leisure destination Leopold Square, is the perfect place for a quirky, romantic date with your loved one and friends.
P10310-047-Final Web Use JPGIf you've always wanted to know your maize from your barley or your soda from your tonic, The Botanist's masterclasses at Leopold Square provide the chance to sample and discuss up to eight different spirits, ales or beers of your choice with their expert mixologists.
Providing the ideal night out for those looking to do something a little different this Valentine's Day, tipple lovers can choose from one of three masterclasses including cocktails, ale and gin which all include a 90-minute session.
To enjoy making (and drinking) cocktails in your own private area this Valentine's Day visit The Botanist within Leopold Square for more details.
Facebook: @LeopoldSquareSheffield
Twitter: @LeopoldSquare
THINGS ARE HEATING UP THIS VALENTINE'S DAY… GET UP CLOSE AND PERSONAL WITH THE NEW LIMITED EDITION HEART EMOJI LANAIBLO

If you're looking for something a little extra special to give your other half this Valentine's Day then make it personal with LanaiBLO. THE hottest advancement in hairdryer technology that you can uniquely personalise* for that special someone (or even to treat yourself: you deserve it!).
Simply choose to personalise with a name of your choice and get a limited edition heart emoji symbol for Valentine's. Choose one of LanaiBLO's three gorgeous colours (white, pink or black) to heat up this Valentine's and make a smooth impression – not just a hairdryer but the most supreme secret weapon in haircare so you feel prepped to perfection year-round:
Each LanaiBLO can be personalised – making it the perfect romantic gift and an insta-sensation. In true romantic fashion as a special extra, every LanaiBLO will also feature a printed heart so you can really say it with love this Valentine's Day.
It's a SAVVY TIME-SAVER
Boasting an impressive power rating of 2400 Watts, LanaiBLO employs fast-drying technology to give you perfect results in no time.
It's SUPER LIGHT – PERFECT FOR ROMANTIC BREAKS!
Weighing in at only 520g, one of the lightest on the market**, the ergonomic design means it's easy to use with maximum control – and the perfect hair travel companion.
It's ANTI-FRIZZ
Special ionic technology gives an anti-Static effect to tame frizz and smoothing the cuticle to give a smooth and shiny finish.
PLUS it has special tourmaline crystal components to help seal in moisture and counteract frizz
It's HAIR EXTENSION FRIENDLY
Super-fast drying technology and special ionic technology means that it is kind to extensions and helps to give a smooth, shiny finish to hair extensions.
It looks AWESOME
For the ultra-professional finish at home, the design is sleek and super-cute. LanaiBLO comes with two different sized narrow nozzles, allowing you to control both heat and air flow.
It can be CHANGED TO SUIT ALL TYPES OF HAIR – so you can share the love!
With 6 control speeds and 6 different heat options you get the ultimate blow-dry control to suit your personal hair needs.
It's SUPER CONVENIENT WITH FREE DELIVERY
The extra-long cord to make styling at home super easy and you get free delivery with every purchase!
The LanaiBLO Professional Hairdryer is available in Black, Pink and White and is £99.99 or £114.99 for the personalised version. Available to buy at www.lanaiblo.com with free delivery nationwide.
The last day to order the Limited Edition Heart Emoji LanaiBLO in time for Valentine's Day is February 5th 2017. Standard units can be ordered right up to and after Valentine's Day!
LanaiBLO, your perfect hair day – every day – awaits.
Instagram @lanaiofficial – Facebook @lanaiofficial – Snapchat @katiejanegoldin