University friends launch pollution mask designed and manufactured in the UK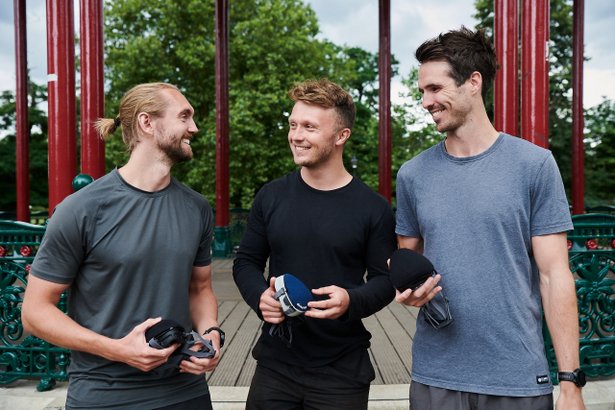 Designed with the help of experts at Brunel University London, the Airhead mask is a game-changer for commuters, cyclists, and runners in cities
British-made Airhead's revolutionary mask, founded with the purpose of protecting wearers from city pollution, is now available to purchase.
The brainchild of socially conscious entrepreneurial university friends Harry Young, Alex Smith, and Elliot Denvir, Airhead was founded in June 2019, before the pandemic, as a solution to the lack of effective pollution masks on the market.
The friends were determined to launch a mask that combined personality with real, research-backed innovation, and, as London commuters themselves, fed into their mission of helping city workers combat pollution.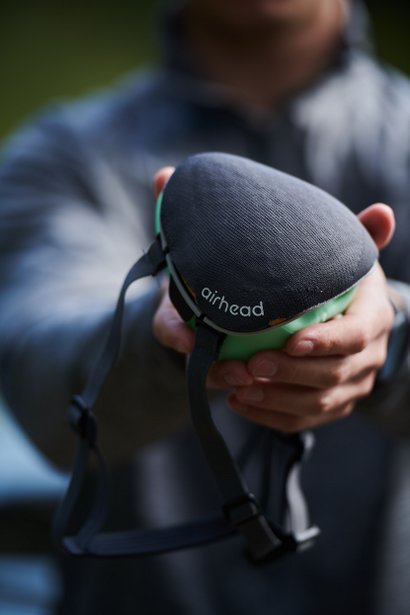 Providing maximum comfort and breathability, effective filtration, an airtight fit which prevents leakage, and offering a sustainable alternative to disposable masks, the Airhead Mask is aimed at those who love being active outdoors, and to improve their lives when they are on the move around the city.
After quitting their jobs and with very little funding, Alex, Elliot and Harry would take to the streets of London promoting Airhead with guerrilla street marketing tactics before a record-breaking Kickstarter campaign propelled them into becoming one of the top 0.5% most funded projects on the crowdfunding platform.
The trio enlisted the help of a team of industry-leading researchers and scientists from Brunel University in 2019 to create a mask capable of blocking PM2.5 particulates from the air, as well as tiny particles down to 0.3 microns in diameter. Crucially, it features a TPE seal to ensure no air leakage, as well as rear-facing valves to quickly move hot air away from the face. The mask also comes with exhalation valve blockers, to make it suitable for use as a Covid face covering in crowded places.
In 2020, Airhead became an award-winning member of the NatWest Entrepreneur Accelerator and won a government-funded competition to help it expand in India. Following this success, the company launched its Kickstarter campaign in April, with its target of £30,000 achieved in just four hours and a total of £315,511 raised overall, emphasising the demand for pollution protection.
Designed and produced in the UK, the masks were initially only available through crowdfunded pre-orders, but are now for sale to the general public through Airhead's website.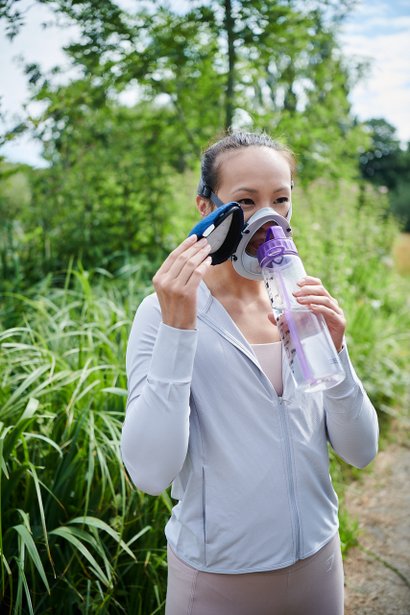 Harry Young, Airhead Co-founder said: "Air pollution is a global health emergency, killing 8.8 million people each year. Airhead was born with the vision of creating a face mask that protects people from air pollution, combining performance with comfort and a good look."
"We are delighted to be launching our masks to the general public, and to bring Airhead to the forefront of the pollution protection mask sphere. None of this would have been possible without our supporters through Kickstarter, as well as the team at Brunel University and, more recently, our partners at Realise Product Design. It has been a long journey to get here, with the three of us even sharing a one-bed flat in the first year, to save money and get the business off the ground – we are over the moon to get to this point."
The Airhead mask is available in three colour options (blue, grey, and black) and comes with two filters, a carry bag and exhalation valve blockers. RRP £89 purchase through Airhead's website at: https://www.airhead.cc/products/the-mask/?utm_source=PR&utm_medium=prqbf&utm_campaign=Airhead.
Replacement filters are also available on the website – RRP £12 for a pack of three, £38 for a pack of ten.
Website: https://www.airhead.cc/
Key product features:
• Powerful filters provide PM0.3 filtration capability
• Backward-facing valves efficiently move hot air away from the face to keep the user cool
• Reinvented airtight fit to prevent leakage
• Modular design for easy cleaning
• Anti-fog when worn with glasses
• Exhalation valve blockers made from breathable melt blown filter media to help prevent the spread of exhaled droplets in crowded settings
• Unclip the front of the mask for a breeze, drink or snack
• AirSkin® – remove the cover and replace it with a different one to suit the user's style or mood. RRP £15. (More designs and colours to be added in the future).
• Push-fit pins for quick and easy removal when washing or replacing
• Magnetic lock to easily snap together the straps behind the user's head
• Double strength elastic – pull the cord to tighten the straps for a snug fit
• Non-slip head band – for even weight distribution and a slick look
About Airhead
Airhead is on a mission to encourage people to be more active outside and empower people by educating them about air quality and helping them to make choices about their respiratory health. Backed by smart science, fuelled by community spirit, clear your head with cleaner air.