LOVE RUGBY? LOVE BEER? THEN YOU'LL LOVE THE ULTIMATE RUGBY SHED.
www.badgerales.com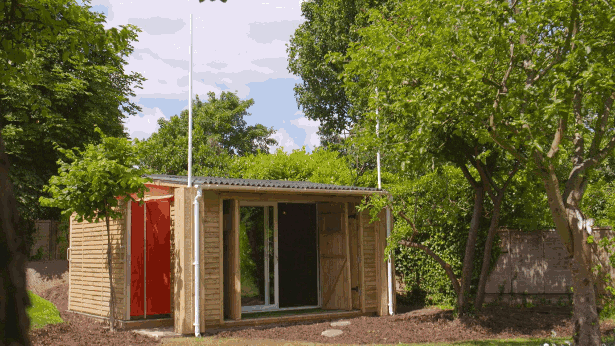 FACEBOOK | TWITTER
• 65" 4k surround round TV
• Plush leather reclining seats
• Extending back wall which reveals stadium style seating
• Telescopic rugby posts
• Double door glass fronted fridges filled with cold #BadgerAles
• A hot pie oven for when Nick gets peckish during the game!
Think you're ready for the Lions game this weekend? You've got your shirt, your beers, your mates – but have you got the perfect venue in your back garden? Nick Ward, a fan of real ales and Maidenhead local does, thanks to Badger ales who have built him his very own ultimate rugby themed beer shed.
Nick was one of thousands of Badger ale drinkers who entered their idea for the ultimate beer shed into a competition earlier this year. The lucky winner submitted his ideal hideaway to watch the rugby in a luxury, one-of-a-kind £50k shed that now stands at the bottom of the garden.
What looks like an ordinary garden shed from the outside transforms into a glass-fronted marvel complete with sliding door entrance and telescopic rugby posts. This ultimate shed has everything you could need for rugby viewing such as a 65" 4k surround sound television.
As the game kicks off, Nick and his mates will be relaxing in plush leather reclining seats, or if a bit more room is needed the back wall can be extended to reveal stadium seating to make space for more rugby fanatics! Badger ales know the game prep can be thirsty work, which is exactly why they've installed a double-door fridge, filled with bottles of cold, refreshing Badger ale. There's no doubt someone's stomach will start to rumble halfway through the game so the British brewers have installed a pie oven to keep hunger at bay while the teams battle it out. To finish off the ultimate rugby themed beer shed, astro-turf with painted rugby pitch lines carpets the floor and the walls are decorated with home nation rugby balls and a magnetic tactics board.
Costing £50,000 to design and build, Nick's dream shed has been installed just in time for the big game this weekend. Over the moon with the realisation of his competition entry, Nick said "I've been an avid England rugby supporter since the early 90's, so I thought what would be better than creating a place not only to watch the rugby and have a Badger ale, but a place that was rugby themed too! I've been a Badger fan longer than I've been watching rugby, with my favourites being Tangle Foot and Fursty Ferret – it was quite fitting that it was a bottle of the latter where I saw the ultimate beer shed competition advertised! The shed has many incredible features from the stadium style seating, to the pie oven, but the best has to be the massive screen and surround sound system to watch every try and hear every hit."
Badger Ales have been brewed in the heart of the Dorset countryside since 1777 by independent brewers Hall & Woodhouse. As one of the leading independent brewers in the UK, Hall & Woodhouse is well known for its range of award-winning ales brewed under the Badger brand and its network of public houses throughout the South of England. The brewery is now managed by the seventh generation of the Woodhouse family.
For more information about Badger, please go to www.badgerales.com