DO YOU LISTEN TO YOUR BODY WHEN IT SPEAKS?
WITH NEW TROPICANA ESSENTIALS – A RANGE OF DELICIOUS FRUIT, VITAMIN AND VEGETABLE JUICES – LISTENING STARTS WITH JUST A GLASS.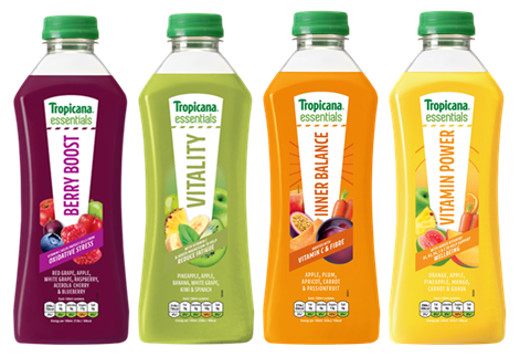 FACEBOOK | INSTAGRAM | YOUTUBE
NEW Tropicana Essentials has arrived in time for spring to inspire the nation to turn over a new leaf and to check in with their bodies. Charged full of flavour and a source of vitamins, Tropicana Essentials combines scrumptious fruit and vegetables to help you maintain your wellbeing throughout the day.
Specifically designed for your everyday health and wellness needs, a glass of Tropicana Essentials is one of your five a day; and what's more, just like you expect from juices, there's no added sugar! Available in four vibrant 750ml flavours: Vitamin Power, Vitality, Inner Balance and Berry Boost; you can rest assured knowing that your day will get the kick-start that you deserve.
• Vitality, combines delicious pineapple, apple, banana, white grape, kiwi and spinach with vitamin C and magnesium, which helps reduce fatigue and stifle the dreaded yawns
• Berry Boost, blends grape, apple, raspberry, acerola cherry and blueberry. The vitamin C rich recipe helps protect the body's cells from oxidative stress which can occur in response to external factors such as pollution and UV rays
• Vitamin Power, balances kiwi, guava, passionfruit, carrot, mango, white grape and orange with Vitamins B1, B2 & B6 to help support the normal function of the immune system
• Inner Balance, is an appetising mixture of pineapple, mango, plum, passionfruit and carrot and is fortified with vitamin C and fibre to help normal energy-yielding metabolism
Caroline Wilding, Marketing Manager at Tropicana comments: "We all know day-to-day life can be extremely busy. It can often be difficult to take time out to listen to our body when it speaks to us. That's why we have launched the new Tropicana Essentials range, bursting with flavour and vitamins. The delicious fruit and veg blends are designed to deliver against common everyday wellness needs so you can tackle a busy life head on, with an easy-to-drink glass of juice".