NapAnywhere: For Rugby players on the go and for all travellers! The neck pillow re-imagined! >> www.napanywhere.net
Rest easy en route with this portable head-support device.
FACEBOOK | TWITTER | PINTEREST | GOOGLE+ | INSTAGRAM
NapAnywhere is a travel pillow that was designed by a physician and won the Product Innovation Award at the International Travel Goods Show.
Its features include:
Design that enables it to provide better support and rest than many of its competitors — no more crick in the neck!
It flattens to be less than an inch thick and weighs only about 8 ounces, so it's easily packable in a laptop bag, backpack or briefcase.
It comes with a strap to help ensure support
Has its own carrying case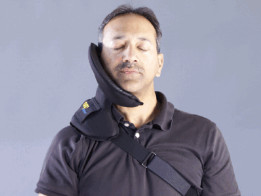 Can be worn on either side of the head, or turned slightly forward to prevent chin-drop.
With the new Holiday Sale, the NapAnywhere is at an all-time low price of $39! And two colors are even on clearance so you can try out the NapAnywhere for only $29! In addition, an add-on purchase of high-quality headphones ideal for sleep is available on the site now as well.
The NapAnywhere is not a neck pillow. It is a minimalist, head-support device. It effectively provides head support while in a seated position and is convenient to carry anywhere. Part engineering and part origami—the NapAnywhere's design is one of a kind.
No more Airplane Neck ! A portable head-support pillow, created by a physician, to make traveling a comfortable experience. NapAnywhere.net