TOP TOOLS FOR FOODIES THIS CHRISTMAS FROM MICROPLANE®, THE FAMOUS PIONEERS OF PHOTO-ETCHED GRATERS
If you've got a budding chef among your family or friends, here are some top tools they'll love. The
right kitchen kit always delivers the best results and Microplane® helps to make every task effortless.
MICROPLANE® GOURMET GRATER SET, RRP £49.95
Available from hartsofstur.com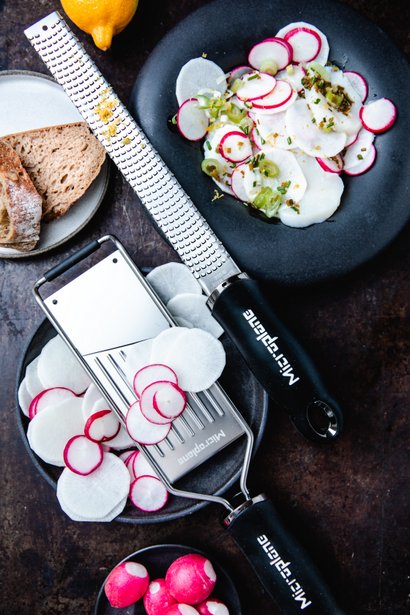 Already presented in an elegant black box – no need for extra wrapping! The Gourmet Grater Set in black includes two culinary essentials;
– the long, iconic Premium Classic Zester, with photo-etched blade and 400 ultra-sharp micro-teeth which act like little knives to cut ingredients with ease and precision rather than tearing or shredding like most stamped graters.
– the brilliant time-saver Gourmet Series Slicer, with ergonomic soft-touch black handle, which quickly and precisely creates uniform slices of fruit, vegetables and cheese.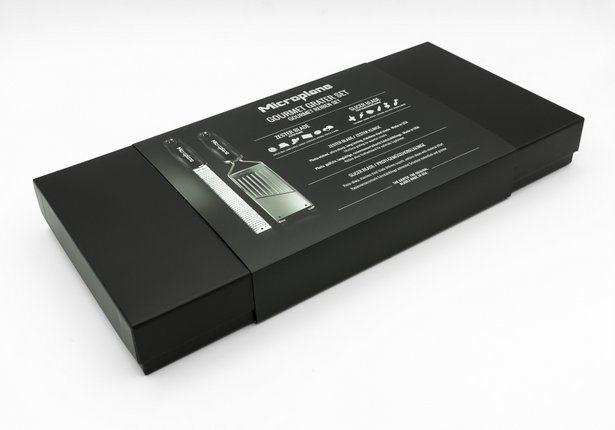 MICROPLANE® LIMITED EDITION PREMIUM CLASSIC ZESTERS, RRP £21.95
Available from hartsofstur.com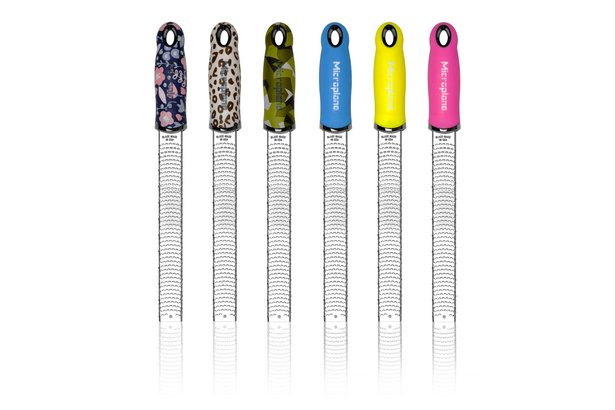 Christmas drink making is even merrier with one of these limited-edition designs. There's Liberty, Leopard and Camouflage to choose from as well as bright, punchy neon colours – Blue, Yellow and Pink. The famous long, narrow, rasp-style design of the Premium Classic Zester is used and loved by professional chefs, TV cookery show presenters, home cooks and mixologists around the world.
Ideal for zesting citrus fruits and grating all hard cheeses as well as chocolate, ginger, cinnamon and nutmeg, with no pressure. The ingredients slide quickly and easily from the blade to produce perfect flourishes and aromas to finish off an array of festive drinks (and dishes too, of course).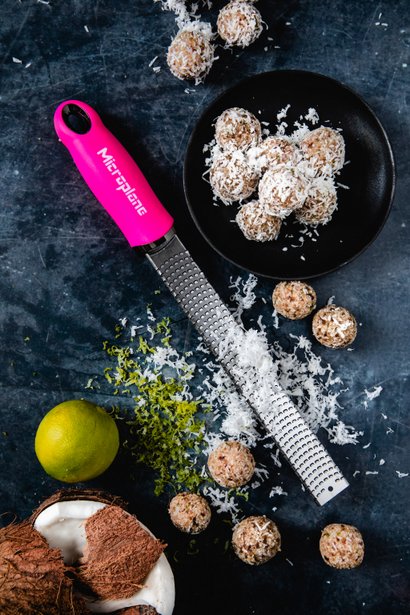 NEW MICROPLANE® BOWL GRATER, RRP £19.95
Available from John Lewis
There's no end of grating at Christmas time; for the cauliflower cheese sauce, for the potato rosti, for the mincemeat and the Boxing Day gratins. The list goes on. Get one for yourself and a friend. The extra coarse blade with two rounded, non-slip handles on both sides – rather cleverly moulded to the contours of a bowl to preventing slipping – is designed to sit comfortably across, or inside at an angle, any round bowl (up to 16cm in diameter) to directly, and tidily, catch the grated vegetables, fruit or hard cheeses.
The photo-etched, ultra-sharp, long-lasting stainless-steel blade, made in the USA, effortlessly grates the toughest ingredients from cabbage, cauliflower, courgettes to carrots, potatoes and hard fruits.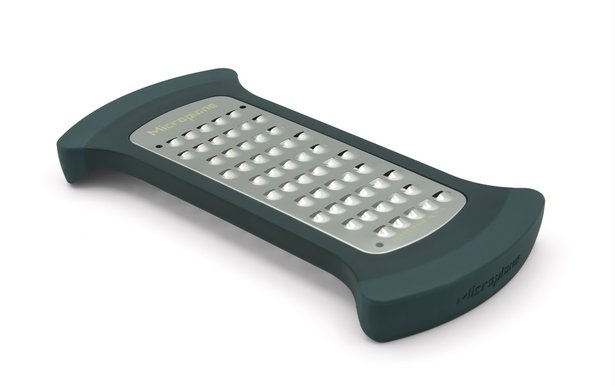 MICROPLANE® Spice Mill, RRP £24.95
Available from hartsofstur.com
How handy is this for Christmas? The look, feel and performance of the Spice Mill makes it a great gift for gourmands. The iconic razor-sharp stainless-steel blades (or teeth) of the 2-in-1 Spice Mill precisely grate spices such as Indian Long Pepper, nutmeg and cinnamon effortlessly, it also stores gratings in a small, airtight compartment for future use. Easy to use; simply remove the top, place hard spices in the base, replace the top, push down and twist clockwise with one hand while holding the base with the other.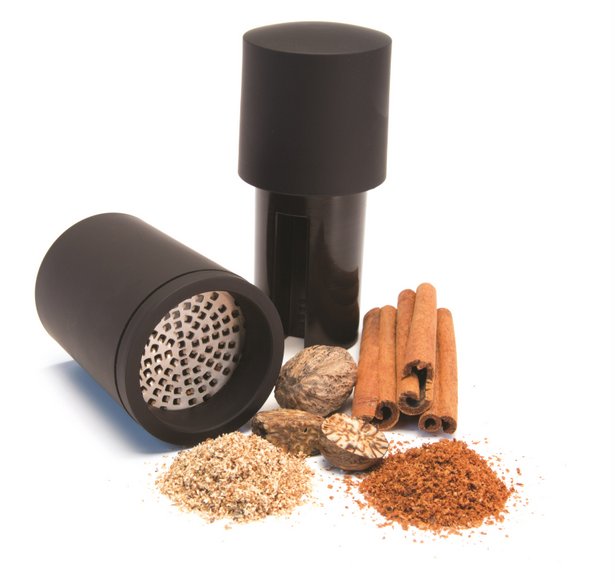 The evenly grated texture of the spice depends on the amount of pressure used when twisting the top. Two versions are available, one in classic black and the other with a stylish stainless-steel cap. Both have a luxurious satin-touch body for a comfortable and secure grip.
www.microplaneintl.com @microplaneintl #microplaneint