TOMY toys have created a Christmas gift guide for parents who want to save money and invest in long-lasting toys for their children, friends and family.
Timeless Toys for Christmas
With Christmas on the way and families becoming ever-more conscious of waste creation and product longevity, buying engaging toys for kids
can be challenging. One way to get the most for your money, while also being environmentally friendly, is purchasing toys that are timeless
and will last way after the Christmas season – being able to be passed down to the next generation.
TOMY, the world's most trusted toy brand, has a variety of Christmas gifts that are built to last. From board games to creative yet
mess-free projects, whether you're looking for toys for your own children or looking for a present, these are the greatest toys that will last the longest. An excellent investment throughout the years!
Pop Up Pirate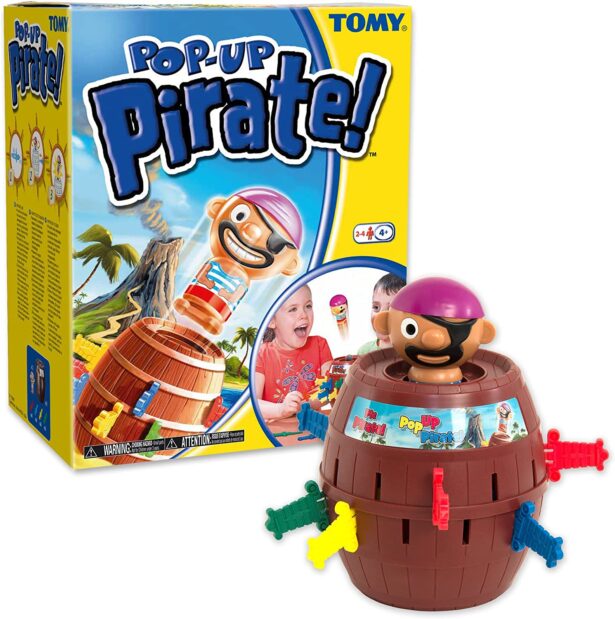 Welcome aboard, me hearties! Pop-up Pirate is a classic action game that is plenty of fun! This product is a fan-favourite among gamers.
This board game, which has been around since the 1980s, never gets old and keeps the whole family engaged for hours on end.
Take turns shoving swords into the pirate's barrel, but don't be the one to explode him! As you run out of swords, the stress might become
excruciating. The game may be played by two to four people. It also serves as a learning tool for children, since it fosters decision making and thinking.
RRP: £15.99
Suitable for ages: 4+ years
Stockists include: Amazon, Smyths, Argos, Tesco, Very
Aquadoodle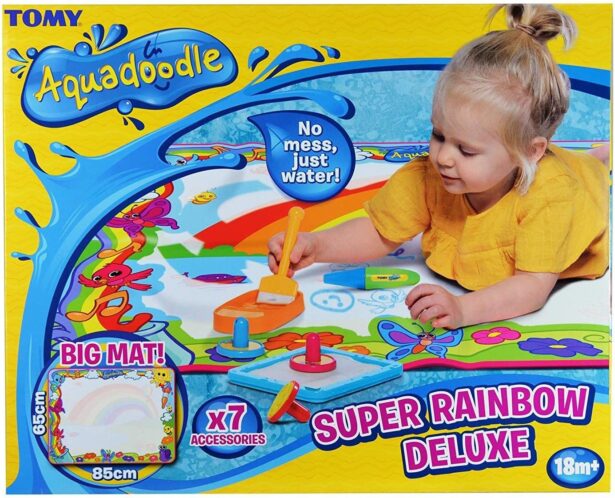 Aquadoodle brings four contrasting corners together on the one mat for hours of magical drawing fun and creativity – but with no mess to spoil the party.
Simply fill the Aquadoodle pen with ordinary tap water, run the nib over the magic mat and see the colours appear! Any water that does run off the mat, runs clear. No mess, no stains, nothing to clear up, meaning no tissue or chemical waste!
Around the edges, kids will discover lots of different shapes and colourful characters to copy and inspire them. Combine them into a story, perhaps, then start all over again. Inside the border are
hidden letters and numbers to trace and colour over – a great way to learn basic writing strokes.
As the drawings dry, designs fade away ready for the mat to be used again, repeatedly – endless fun and extended playtimes.
RRP: £20.99
Suitable for ages 18months+
Stockists include: Amazon, Smyths, Argos
Build a Johnny Tractor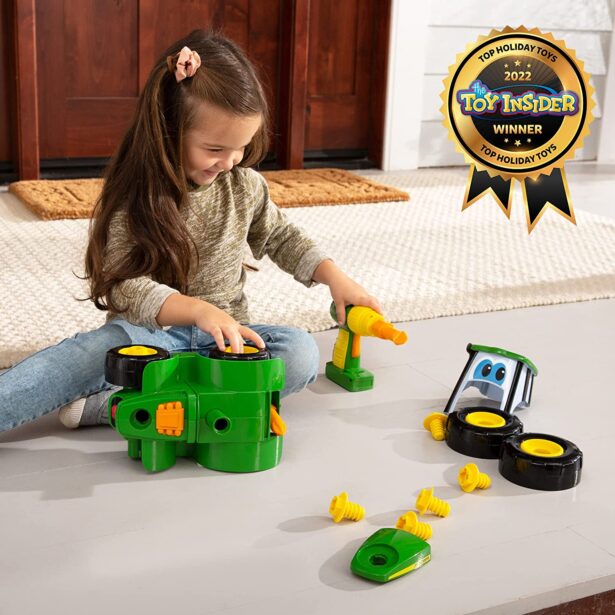 Inspire your young farmer's imagination with the Build-A-Johnny Tractor farm toy. This long-lasting 16-piece set has 2 ways to play: a free-rolling tractor toy or a buildable set.
Use the battery-powered drill to take apart Johnny Tractor. Take off the wheels, lift open the roof, and then piece your tractor toy back together again for hours of building fun.
Made from chunky, hard-wearing parts, the Build-A-Johnny Tractor farm toy is easy for little hands to assemble and can be passed down through the generations.
RRP: £25.99
Suitable for ages 18months+
Stockists include: Smyths, The Entertainer, Shop Direct, Amazon and Independents Toy Stores
Hide and Squeak Eggs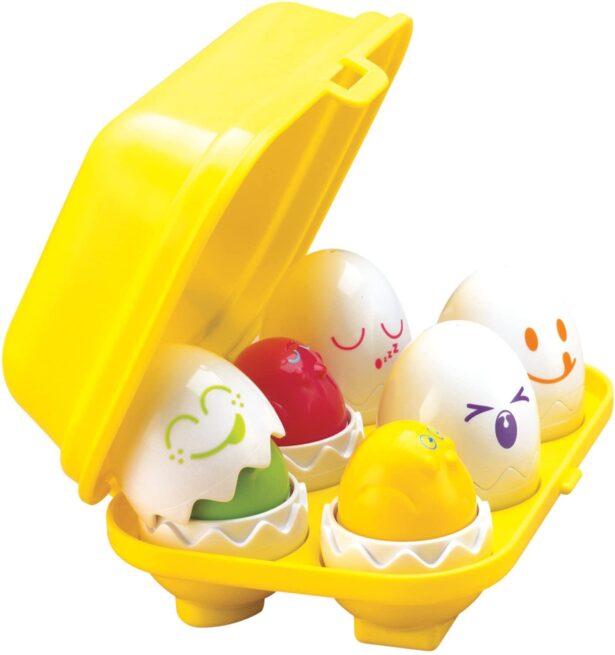 Crack open the Hide 'n' Squeak Eggs to reveal the brightly coloured press-and-cheep chicks! Encourage your little ones to learn while playing with these egg-cellent eggs… It's also a fun shape-sorting
game. Simply place the egg bases in the appropriately shaped hole in the box.
Hide 'n' Squeak Eggs are a fun technique to improve hand-eye coordination and memory. Longevity is at the heart of this toddler game as they can be used all over the place, in the bath, in the sandbox – the choices are endless.
RRP: £10.99
Suitable for ages: 6+ months
Stockists include: Amazon, Smyths, John Lewis, Sainsburys, Toys R Us, Hamleys, Next
Screwball Scramble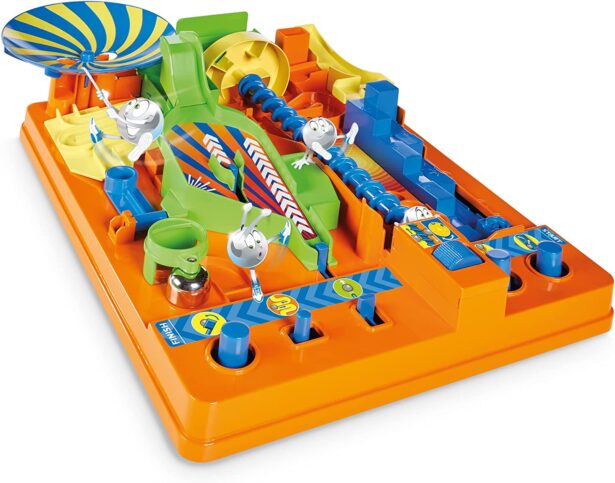 Master the maze in TOMY's nostalgic Screwball Scramble Game. Created in the late 70s this game is a gift that keeps on giving, even in the 21st century.
Players guide the screwball through a crazy obstacle course in a race against the clock. Rock across the tilting walkway, swing the magnetic crane to catch your screwball and wobble across the table maze.
You'll need determination and skill to find your way through the tunnel maze and catapult to the finish. Set a time on the Screwball Scramble board game and see if you can beat it to become the Screwball Scramble champion.
Play solo or challenge your friends to master the Screwball Scramble Game. This colourful board game is packed with playful screwball
obstacles that kids can move in different ways to get their ball to the finish.
RRP: £20.99
Suitable for ages: 5+ years
Stockists include: Amazon, Smyths, Argos, WHsmiths, Hamleys
Megasketcher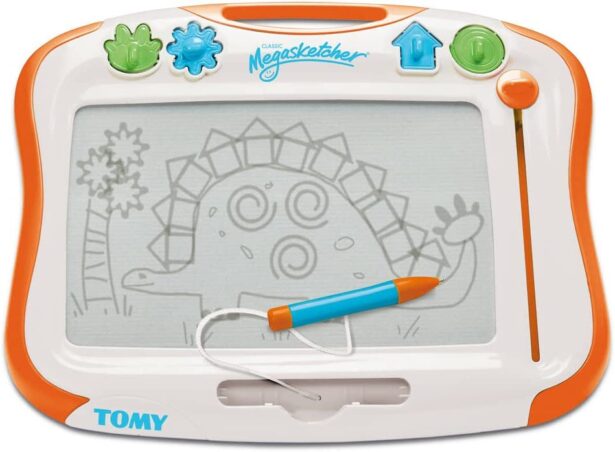 The magnetic Megasketcher drawing board has a unique special screen that allows budding artists to draw clear, crisp pictures. The pictures magically disappear with one sweep of the eraser ready to start again, enabling extended fun and less product waste than regular art and craft toys.
Not only does this gift help develop your child's imagination and motor skills but there's no need for batteries, ink or paper – ideal for parents who want a creative gift that keeps on giving… and without the mess.
RRP: £16.99
Suitable for ages 3 years+
Stockists include: Amazon, Smyths, Argos, Very, John Lewis
Britain's Case Maxuum 150 RC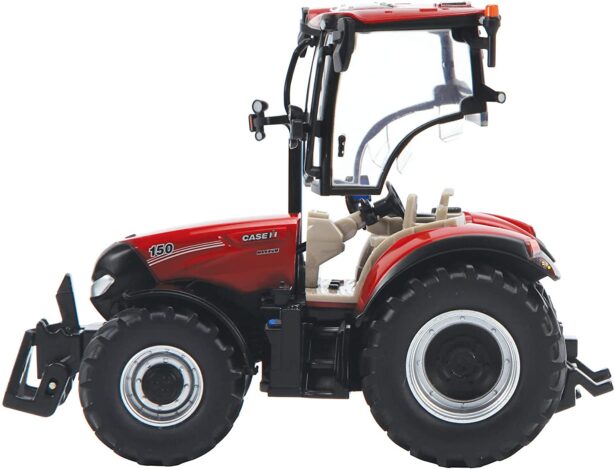 TOMY are delighted to bring New Radio-Controlled Case Maxxum 150 to the Britain's Big Farm range. This 1:16 scale tractor features radio controlled forward, reverse, left and right steering, cab lights and realistic sound effects.
The Big Farm tractor is more than tough enough to take on any outward-bound activity inside or outside the home. Finished in high quality durable plastic this collectible vehicle is built to last through all the adventures that lie ahead.
Not only will this gift keep the little one busy but it is also a fab collector's item and will last through generations of play time.
*Batteries included
RRP: £64.99
Suitable for ages 3years+
Stockists include: Amazon and Independents toy stores
Lamaze PuffaBoo Elephant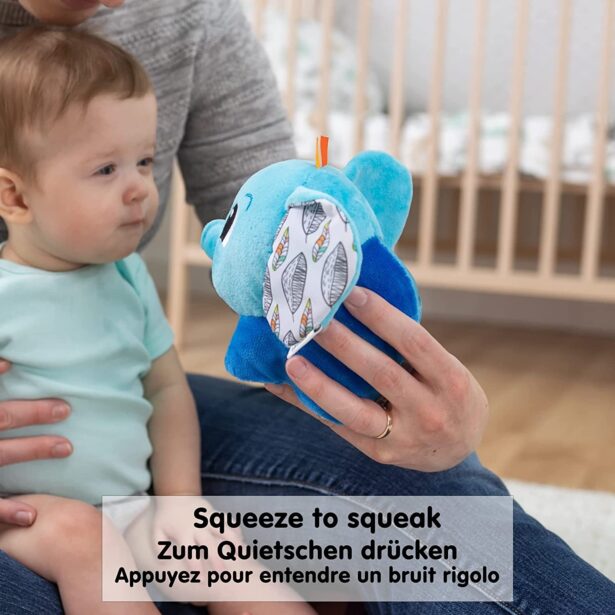 And if you are looking for toys for babies, the Lamaze elephant is an adorable friend and an instant baby-soother! Fold the crinkly ears over the eyes for a game of peek-a-boo. Explore the fascinating fabric textures and then give it a squeeze to hear it squeak.
But it doesn't just squeak! The trunk blows a puff of air for a gentle distraction that quickly turns tears into giggles! With no batteries and a good looking after, this elephant can last way after the
Christmas season is over and can be passed on to family or friends for extra use.
This one is definitely going in the baby bag…
RRP: £12.99
Suitable for ages 3months+
Stockists include: Amazon, Argos, Boots, John Lewis and TRU Online