Tolpa Dermo Face takes a problem-solving approach to men's skincare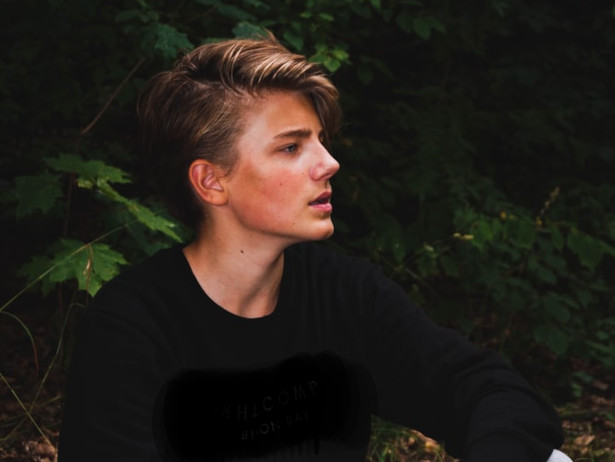 New cult skin care brand, with a bespoke range tailored to men's specific skin needs, launches in the UK
The latest buzz in skin care, Tolpa – is a new dermocosmetics skin care range launching in the UK in June 2021. Tolpa is a comprehensive line-up of nature-inspired and dermatologically proven skin care products, which includes a collection to treat men's skin – that is designed to deal with challenging skin issues. Tolpa has achieved cult status thanks to incredible consumer testimonials showcasing impressive results.
The Tolpa dermo face range of skin care treatments are designed to address specific skincare concerns such as blemishes, acne, rosacea, oiliness and dehydration. Tolpa lands in the 'sweet spot' between the natural and the scientific – benefiting from the best that nature has to offer, with formulations that are rigorously lab and dermatologically tested to help improve skin.
The results are formulations that are highly efficacious, with active ingredients blended at the optimum potency to deliver tangible results without irritation. This is all achieved whilst delivering product textures that are formulated for comfort, with appealing fragrances, cooling effects and tone-evening benefits.
Tested and trialled under dermatologist-supervised conditions, on those with some of the severest acne, Tolpa is delivering stand-out results with significant visible improvements in spot lesions and visible scaring.
Men's skin is different
Men's skin differs from women's in a number of ways. For this reason, Tolpa believes that it is important for men to use skincare products that are tailored to their specific physiology. Men's facial skin is approximately 25% thicker than women's, which means they tend to need a richer moisturiser. Male skin also has more collagen with larger pores, which are therefore capable of producing more sebum.
Other factors that result in different skin behaviours, include the difference in hormones, with testosterone influencing skin's thickness and the rate of activity of sebaceous glands. This mean that men's skin can tend towards oiliness – and therefore the potential to experience more blackheads and skin breakouts. This can be exacerbated by having facial hair or growing a beard, since the oil is kept close to the skin.
Understanding these differences has inspired Tolpa to create a range of dermocosmetics for men which take into account the specificity of men's skin and address their care needs, whilst combining this with potent active ingredients and creating formulae that are effective and pleasant to use.
Tolpa Dermo Face for Men
The Tolpa Dermo Face for Men range consists of four products, each designed specifically for men, that are suitable for sensitive skins and tackle key issues such as oiliness, blemishes, skin dehydration, skin redness, irritation and tightness – as well as the signs of ageing, including fatigue, wrinkles and loss of skin firmness and tension:
Tolpa Dermo Men Pure Carbon Face Wash Gel 150ml RRP £5.99
Tolpa Dermo Pure Anti-shine Gel Cream 40ml RRP £9.99
Tolpa Dermo Hydro Intensive Moisturising Water Gel 75ml RRP £9.99
Tolpa Dermo Anti-Age Anti-Ageing Cream 40ml £11.99
Tolpa Dermo Men Pure Carbon face wash gel
This refreshing gel wash delivers a deep cleansing action powered by the Tolpa peat combined with activated charcoal. It is idea for those with enlarged pores and excess sebum since by stimulating skin cell energy it helps boost skin regeneration to leave a mattified effect. Use twice daily in the morning and evening as part of a skincare regimen.
Active ingredients include:
Tolpa's peat which is a powerful antioxidant that naturally strengthens and protects skin
Certified activated charcoal
Sodium hyaluronate which acts as a moisture reservoir to maintain proper hydration, as well as helping protect skin against external factors
Key benefits include:
Deep cleansing action through certified activated charcoal
Mattifies by minimising discomfort of shiny skin due to excess sebum
Minimises pores
Stimulates skin cell energy
Ensures a gentle action, with no strong cleansing detergents and 0% SLS, to avoid aggravating skin
Size and RRP: 150ml / RRP £5.99
Tolpa Dermo Pure Anti-shine Gel Cream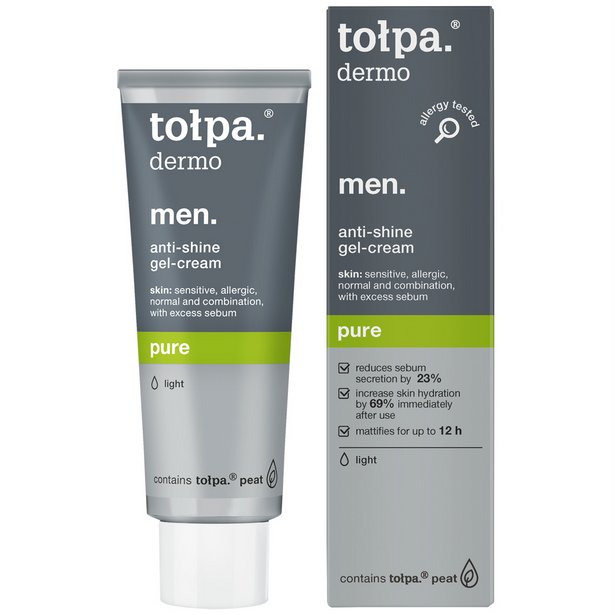 This lightweight gel cream formula is gentle on senstitive skins but instantly effective at helping to minimise excessive shine – whilst also ensuring long-lasting moisturisation. Ideal for use in the morning after cleansing.
Active ingredients include:
Tolpa's peat which is a powerful antioxidant that naturally strengthens and protects skin
Cinnamon bark extract which has a bactericidal and anti-inflammatory effect and helps regulate the activity of the enzyme responsible for sebum production, regulates keratinization and reduces the number of blackheads
Zinc PCA which regulates the secretion of sebum and inhibits the growth of bacteria
Glycerin to moisturise and facilitate the transport of actives into the skin
Key benefits include:
Reduces sebum secretion by 23%
Increases skin's hydration by 69% immediately after use
Mattifies for up to 12 hours
Lightweight and suitable for sensitive and allergic skins
Size and RRP: 40ml / RRP £9.99
Tolpa Dermo Hydro Intensive Moisturising Water Gel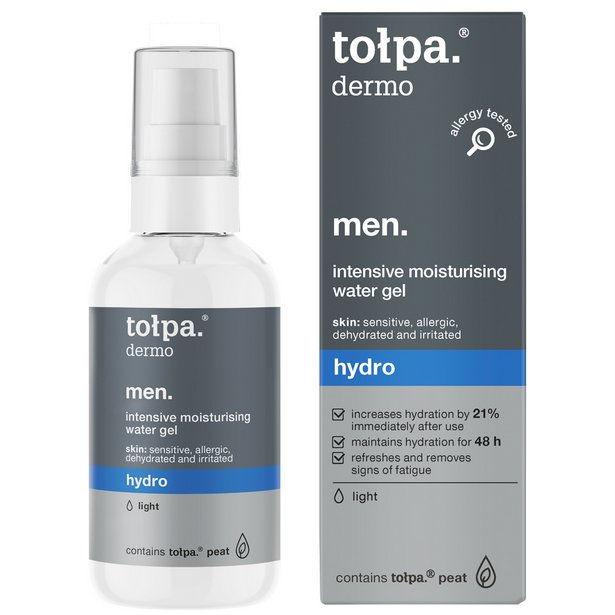 This innovative formula based on a water-gel, provides effective and longlasting skin hydration that can be felt up to 48 hours after application. It is super easy to use with a lightweight formula that is instantly absorbed by the skin and leaves no sticky residue. Perfect for use in the morning after cleansing.
Active ingredients include:
Tolpa's peat which is a powerful antioxidant that naturally strengthens and protects skin
Urea derivative
Complex of wheat germ, yeast and sodium hyaluronate
Chestnut extract
Panthenol
Key benefits include:
Increases skin moisturisation by 21% immediately after use
Longlasting moisturisation, that keeps the skin moisturised for 48 hours
Lightweight and efficient formula that absorbs quickly, leaving no greasy residue
Size and RRP: 75ml / RRP £9.99
Tolpa Dermo Men Anti-ageing Face Cream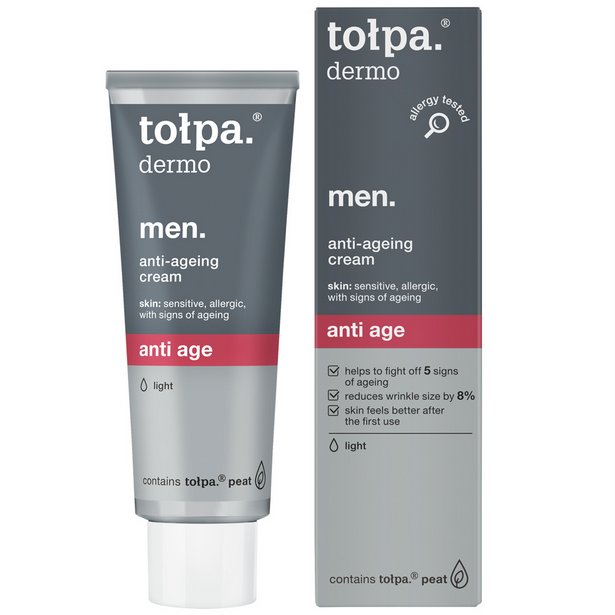 This is a powerful daily anti-ageing moisturising cream that right from the first use helps restore smooth, hydrated and younger-looking skin. With a rich blend of anti-ageing skin actives, this daily skin care essential helps hold back the signs of ageing for a fresher and firmer look. Use twice daily – in the morning and evening after cleansing.
Active ingredients include:
Tolpa's peat which is a powerful antioxidant that naturally strengthens and protects skin
Cotton extract
Argan tree extract
Complex of wheat germ, yeast and sodium hyaluronate
Key benefits include:
Eases any feelings of tight skin and restores comfort after the first use
Delivers smoother, hydrated and younger looking skin
Helps combats the 5 signs of skin ageing: wrinkles, loss of firmness, slowed down skin regeneration, lack of skin tension and helps protect against negative environmental factors
Size and RRP: 40ml / RRP £11.99
Acne is common
Approximately 80% of people will experience acne at some time. So it is a good idea to look for dermatologically proven treatments to tackle either occasional or persistent spots with a lab-tested, efficacious yet gentle range like Tolpa. Excessive sebum, a certain bacteria and clogged pores are the combined key culprits causing acne. The other factors to bear in mind are genetics and lifestyle. Help to keep acne at bay with a good cleansing and moisturising routine using tried and tested products, such as the Tolpa dermocosmetics range – along with a healthy diet and regular exercise to help keep skin plump and fresh.
The Power of Tolpa's Peat
Peat is in the DNA of all Tolpa skincare products. It has antibacterial and astringent properties. It contains potent antioxidants that, in conjunction with minerals, rejuvenate, regenerate, moisturise, soothe irritation and fight free radicals. It is well tolerated by sensitive skin making it much less prone to irritation but more resistant to external factors. Tolpa's peat also stimulates the cell renewal processes, strengthens the skin's structure, protects it from drying and makes it less susceptible to irritation.
Ela Denes, Tolpa's R&D expert said: "Who knew that a handful of soil could be your skin's best friend! It really is nature's gift to your skin – because it delivers dermatologically-proven skin clarifying results."
Tested and proven
The benefits of the Tolpa range are proven via lab and dermatological tests. Results show:
Improvements in skin elasticity and moisture levels (TEWL)
Wrinkle reduction
Minimisation of pore size
Reduced sebum production and redness
Pure and safe
All Tolpa products are:
Allergy tested to be safe for sensitive skin with no irritating ingredients
100% vegan friendly and cruelty free
Formulated to supercharge the power of nature through science, to deliver proven results
Availability
Exclusive to LloydsPharmacy, Tolpa is available in stores and on-line to bring skin clarifying results to those suffering from acne, blemishes, rosacea and excess sebum. Inspired by nature and rigorously lab and derm-tested, Topla skincare really delivers.
Tolpa's launch range is available on-line at https://lloydspharmacy.com/pages/tolpa from 23 June 2021 and in LloydsPharmacy stores nationwide from 19 July 2021. Recommended retail prices range from RRP £8.99 to £12.99.