THINK YOU'RE A TRUE BELIEVER?
GUINNESS PUTS RUGBY FANS TO THE TEST TO PROVE THEIR BELIEF WITH NEW PINT-SIZED POLYGRAPH TEST
The 'Belief Test', puts rugby fans through their paces to prove support for their team out in Japan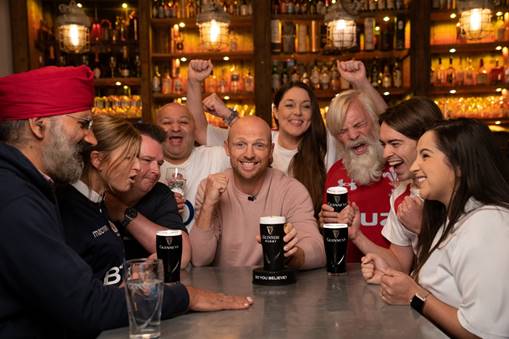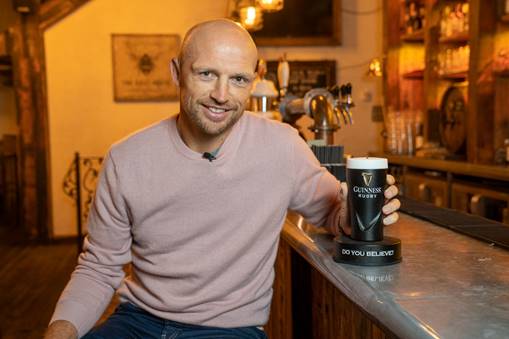 Created by the GUINNESS team, the Official Sponsors of Belief, the tests can be found in pubs across the home nations so all fans can show the true strength of their belief
Research has shown that 85% of Wales fans believed they would beat Australia, whilst 87% of Scottish fans still think their team have a chance of beating Japan on Sunday. This optimism can now be proved as the Belief Test will test whether home nations fans truly do believe, or whether it's all a front
9th OCTOBER: Rugby fans are to face the ultimate test of their support this autumn, as the GUINNESS team calls upon fans to prove their belief in their team with a new pint-sized polygraph test.
Dubbed the 'Belief Test', fans are invited to take the test in pubs across the UK as they strive to prove their faith in their team out in Japan. True believers will be rewarded with prizes including a free pint of GUINNESS and branded t-shirts.
The launch comes following research* which revealed that the nation of England has the strongest confidence in their rugby team this tournament, with Irish fans having the second most belief, followed by Welsh fans and finally the Scots.
As someone who knows the importance of having the fans support behind them, former England International, Matt Dawson said:
"Having played for my country, I can't stress enough what an amazing feeling it is when the fans around you believe you can win. They can be the 16th player that can honestly make a difference to the way you perform.
"Personally, I have always believed in England's ability to win games and pick up trophies. However, I appreciate there is a big difference between saying you believe in your team and truly believing. So, it's great to see that GUINNESS has launched their 'Belief Test', giving fans the opportunity to prove their support for their team during the tournament in Japan. I couldn't resist giving it a go and even though I never had any doubt, thankfully the test proved I do think England can win the tournament!"
The research, released by the GUINNESS team, in partnership with the sport app MatchPint, found that 99.5% of English fans backed their team to win all four of their group stage matches. This can be compared to just over half of Japan fans who believed their team would beat Ireland, as well as their other group contenders. In arguably the group stages biggest crunch match, 85% of Welsh fans believed they would come out victorious against their Australian rivals.
As teams head into the final week of the group stages, research has found that 99% of England fans think they will beat France in the group stage crunch match this week. Scottish fans are still hopeful their side can make it through the group stages with 87% of fans thinking they'll beat hosts Japan on Sunday. But the question is, are these beliefs true, or just some good old-fashioned rugby bravado?
To put this to the ultimate test, the GUINNESS 'Belief Test' has been created for fans cross the UK to prove that they really do have confidence in their team at a crucial stage in the tournament: the last week of the group stages.
Fans should prepare to have their nerves tested as they take hold of the pint sized 'Belief Test', before having their belief questioned with some simple, yet pointed questions such as, 'Will your team get through the group stages' and 'Will England beat France?'. Sweaty palms and nervous reactions will set true fans apart as the 'Belief Test' works out whether they believe in their team's chances, in which case the pint glass will turn green, or if they lack belief, in which case it will turn red.
Niall McKee, Head of GUINNESS Stout Europe said:
"As the Official Sponsors of Belief this tournament we're big advocates in the power of communion and bringing people together through their belief. Having found from our research the different levels of confidence fans have in their teams out in Japan, we wanted to put this to the test and give fans the opportunity to prove their belief and support.
"By putting our 'Belief Test' in pubs around the UK, we're giving fans the chance to prove this, whilst rewarding them with a free pint if they pass the test."
The 'Belief Test' will be available for fans to try throughout the tournament at the following bars across the United Kingdom:
The Cabbage Patch, Twickenham, London
Flat Iron Square, London
The Three Sisters, Edinburgh
Oasthouse, Manchester
Kiwi's Bar, Cardiff
Fans will be able to continue to show their support for their team through the MatchPint app, with prizes up for grabs for the biggest believers.