Tea you can Eat
Edible Tea Launches from Nim's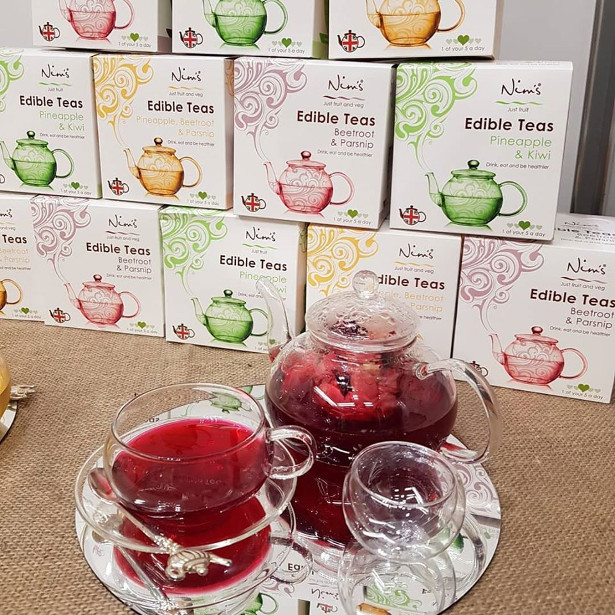 FACEBOOK | INSTAGRAM | PINTEREST | TWITTER
With everyone's thoughts turning to abstemious habits in the New Year, here is a product range that is as exciting and innovative, as it is delicious; And, as one of your five a day, it packs a feel good punch too.
Nim's Edible Teas are naturally vegan and made from a nutritious combination of air dried fruit and vegetables. When you introduce hot water to the tea, rich intense, natural colour fills the pot and the aromas fill the room. The flavours are as authentic as the fruit and vegetables used, which have been air-dried (not fried) to give the fullest flavour and nutritional value.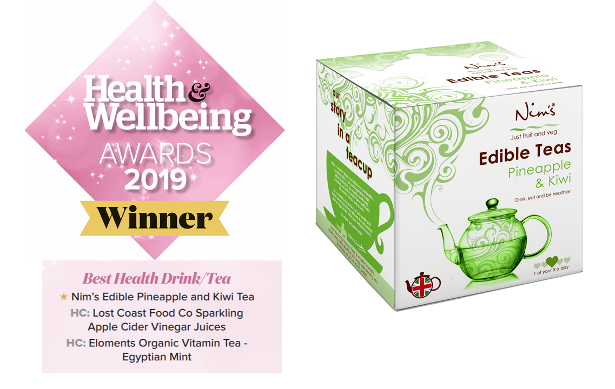 Once the tea has been enjoyed, the fruit is fully rehydrated and ready to snack on. Enjoy the fruit teas on top of porridge and yoghurt or try the vegetable teas as an extra ingredient to soups and warming pasta dishes. So from tractor to teacup, there is practically zero waste.
One portion of Pineapple and Kiwi tea provides 49% of your recommended daily intake of vitamin C with Pineapple, beetroot and parsnip providing 42%. Nim's teas are not only high in fibre and Vitamin C but they are so natural and safe that they can be consumed by children (and even toddlers – but take care with hot water!) making them a real family favourite.
"There is an appetite for healthier, yet adventurous drink choices in the UK" says owner Nimisha Raja, Founder of Nim's Fruit Crisps.
This Drink and Snack in one, is available online and through independent retailers. The loose leaf tea infusions are presented in beautiful boxes of 12 single sachets of 12g portions priced at £7.95
All Nim's products are manufactured using just pure fruit and veg; the range is entirely fat, gluten and dairy free, as well as being Vegan and Kosher certified.
www.nimsfruitcrisps.com @nimsfruitcrisps @nimsinfusions