Swizzels adds more sweet treats to its vegan range
Swizzels has expanded its range of vegan products to celebrate Veganuary, offering shoppers the chance to enjoy some vegan-friendly sweet treats throughout the month – and beyond.
Last year more than 629,000 people signed up to the challenge to try a vegan diet for the month of January*, and Veganuary 2023 is shaping up to be the biggest yet.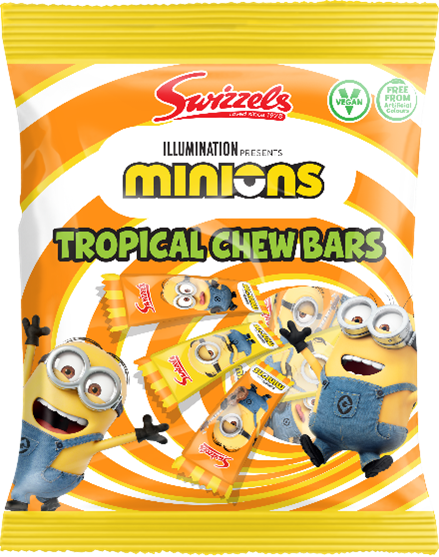 For those looking for something to satisfy their sweet tooth this Veganuary, Swizzels has introduced six new products to its vegan range: its Minions Tropical chew bag, Minions 15p chew bars, its redesigned
Variety bag range (Scrumptious Sweets, Luscious Lollies and Curious Chews) and the Party Mix tub.
Vegan-friendly, Swizzels released its pack of Minions Tropical Chew bars 140g this year. The bag includes two tasty new flavours: Peach & Passionfruit and Mango & Pineapple, with 6 different Minions featuring
on the individual wrappers.
Also released this year and featuring a surprise sherbet centre, the Minions Tropical Fizz individual chew bar is made for those looking for a sweet treat on the go. RRP of 15p.
Minions Tropical Chew Bars and Individual Tropical Fizz chew bars are widely available in supermarkets and convenience stores.

Swizzels have been busy reformulating their classic Drumstick lolly to a vegan suitable recipe. Now a fully vegan-friendly range, Swizzels' Variety bags have recently been redesigned to include everyone's
favourites in three different packs, such as Luscious Lollies 132g, Scrumptious Sweets 134g, and Curious Chews 171g, with a clear vegan call-out on front of pack.
If you're looking to share sweets with friends and family this Veganuary, Swizzels Party Mix tub 785g has also been reformulated to be vegan and includes all your favourites in one place.
Already established products in its vegan collection include Drumstick and Refreshers Choos, the brand's 15p chew bars, Swizzels' novelty products including Rainbow Drops and Double Dip, as well as its
Originals bag range which features packs of Parma Violets, Love Hearts and Double Lollies.
Swizzels is also in its fourth year running a consumer marketing campaign in support of Veganuary, with the key focus message: "All These, All Year, All Vegan", to promote the extensive range of vegan
sugar confectionery which Swizzels has to offer all year round – not just for Veganuary.
Holly Drescher, Brand Manager at Swizzels, said: "As more and more people are becoming conscious of their eating habits and switching to a vegan diet, we are keen to continue to create products that everyone
can enjoy, no matter their lifestyle.
"We want Swizzels fans to feel confident they can still enjoy a sweet treat with a wide range to choose from and that they're available all year round, not just for Veganuary."
*Veganuary, 2022