Fig & Thunder ceramics from Sthål
Fig & Thunder
New colours for Autumn/Winter 2017 from Sthål…..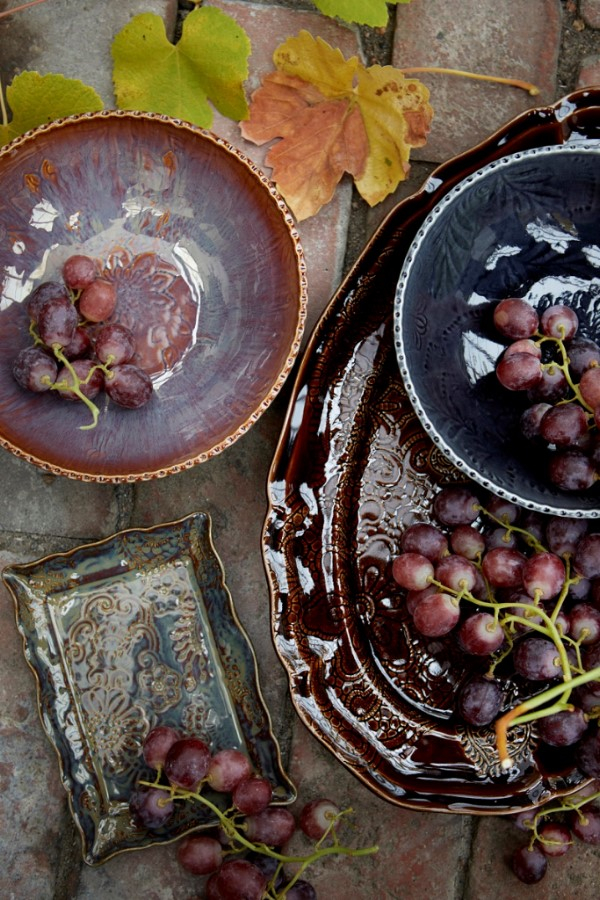 Swedish ceramics brand Sthål are introducing two new dark and dramatic colourways, Fig and Thunder, to their range of mix and match tableware for Autumn/Winter 2017 (launching at Top Drawer in September – stand H-I2).
As food stylists and designers, Sthål's founders Susanna Theander and Helena Åkesson-Liedber know how to make food look good and the new colours have been designed to provide a rich contrast to their existing range.
"A lot of people shy away from darker colours for their tableware but they can really make your food stand out and celebrate its vibrancy" comments Susanna.
Passport to security
Protect the home with Somfy One this summer
The coming months are likely to see a rise in home burglaries as a result of many properties being left unoccupied whilst owners jet off abroad. As a result, there's no better time to invest in smart security products, such as the Somfy One.
Ideal for holiday makers, working professionals and families, the Somfy One offers an affordable option for individuals to monitor their valuables and loved ones throughout the holidays to ensure that they can enjoy a tranquil break. As an all-in-one solution that encompasses a Full-HD camera, a siren and advanced motion detection, the Somfy One also connects to additional alarm accessories. An ideal feature that ensures that the Somfy One can evolve with a growing family or securely protect both a flat or large home as singles move up the property ladder, this system provides a solution for life.
The only security camera on the market with an automatic shutter for privacy, combined with easy set-up that takes less than a minute, the Somfy One is ideal for everyone.
For holiday makers
Unsurprisingly, a home burglary is likely to happen when a home is empty. The Somfy One is an affordable, DIY solution that allows individuals to monitor their home through HD camera footage that is streamed directly to their smartphone from anywhere in the world. Boasting advanced motion detection that enables individuals to define detection free areas, this complete security system has been designed to ensure pets can live inside the house and only trigger a 90dB siren in the event of an actual break-in.
For working professionals
With limited annual leave for working parents, it's difficult for many to take the time off during the school holidays. Ideal for families with teenagers, the Somfy One provides peace of mind for any parent that is leaving a younger one unoccupied during the working day, allowing parents to monitor teenagers via live footage. Using an additional key fob, the Somfy Protect App provides parents with peace of mind thanks to presence detection which notifies parents when their teenager is coming and going.
For families
Somfy One incorporates a handy feature that allows users to communicate through the camera when the privacy shutter is raised. Perfect for parents that work away regularly or grandparents that like to be kept in the loop, kids can easily talk and be heard through this sleek unit.
Somfy One
£229 / Available from www.somfy.co.uk and Amazon
The Somfy One is an all-in-one security solution that deters intruders whilst seamlessly fitting in with the sleek aesthetics of a modern home. Offering a reassuring and unobtrusive footprint of 10x9cm, this DIY system also boasts:
A best in class camera – A wide-angle, full-HD camera that allows you to see perfectly well both day and night, with a x8 zoom
A loud siren – A built-in 90+dB siren that triggers automatically when intruders are detected to scare them off
A unique privacy shutter – Automatically covers the camera's lens and microphone when users come home
A two way microphone – The possibility of hearing and speaking to family members thanks to the built-in speaker and microphone
Immediate downloads – Smartphone alerts which allow you to download 10s videos of the event free of charge, stored in the Somfy cloud in order to prevent them from being destroyed by an intruder
A pet friendly feature – A fully pet-immune motion sensor to avoid false alarms
Demijohn Midsummer Muddle
Demijohn invented the Midsummer Muddle Cocktail on a Scottish summer evening in June when they needed a special drink to celebrate with friends. Having rained all day and with just 20 minutes prior to the first guests arriving at 6pm, the sun finally came out. They decided it was time to be brave and create a new cocktail drink for the new summer conditions and moved the whole party outside into our garden. Our Midsummer Muddle Cocktail was born, and what a drinks party it was! So if you make this cocktail perhaps the sun will come out for you and the rain clouds will disperse – try it!
Ingredients
· 50ml of Morello Cherry Brandy Liqueur 17%
· 50ml of Somerset Pomona 20%
· 50ml of Seville Orange Gin 26%
· 1 litre of Lemonade
· Cucumber
· Fresh Lemon
· Ice
Preparation
This drink is designed to be made up in a large pitcher or jug and drunk long in high ball glasses. Add a good quantity of ice to a jug with a squeeze of fresh lemons and slices of lemon and cucumber. Add measures of Morello Cherry Brandy Liqueur 17%, Somerset Pomona 20% and Seville Orange Gin 26%. Top up with lemonade. Serve with additional ice in tall glasses.
· Enjoy!
http://www.demijohn.co.uk/blog/midsummer-muddle-cocktail/
The Easy Way to Clean Exterior Windows at Home
www.forlifeproducts.com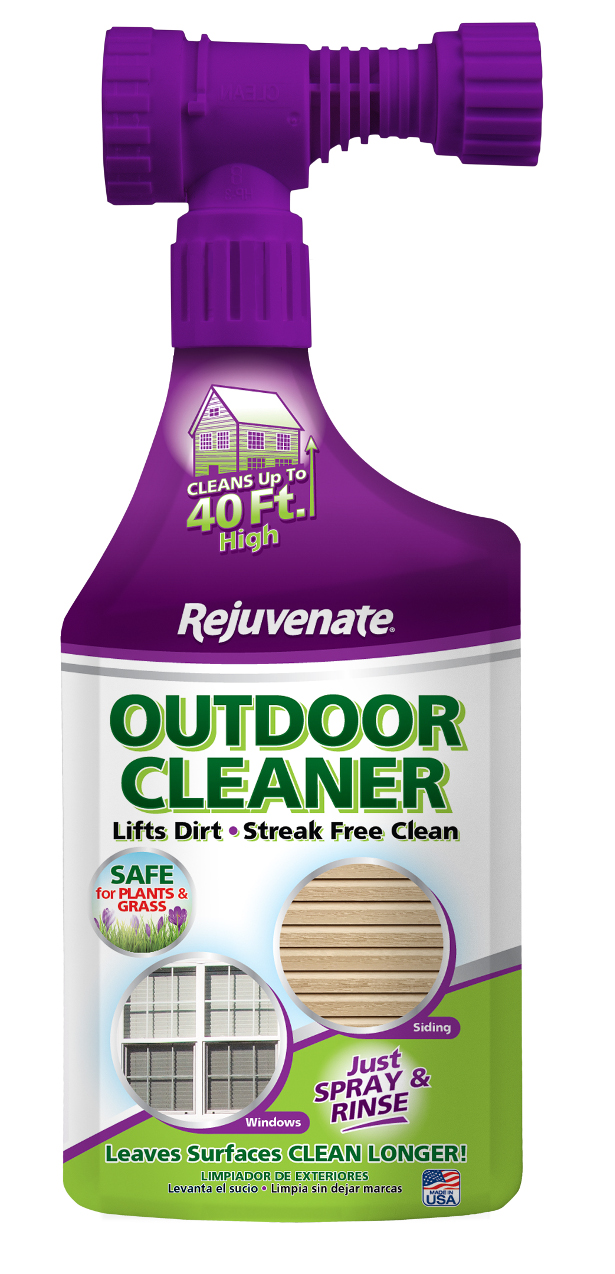 Cleaning windows, especially outdoor windows, is a tedious task. Dirt, pollen, salt and many other residues make their way on your windows and they seem to hang on for dear life. Today we'd like to share with you the quick and easy way to clean your windows minus all the hard work of climbing up and down ladders, washing, scrubbing and wiping.
When it comes to the exterior care and maintenance of your home, it's really important to use the right kind of outdoor cleaning products to help make your job easier. Today we'd like to share with you how to wash your exterior siding and windows with ease with a simple spray on and rinse clean formula.
Rejuvenate Outdoor Window & Surface Cleaner
Dirty windows and siding are no problem when you use Rejuvenate's® Outdoor Widow & Surface Cleaner. The special non-toxic formula is highly concentrated and designed to instantly remove dirt and water deposits from outdoor windows and siding with no scrubbing required. The specially designed nozzle sprays up to 40 feet and works great on windows, vinyl siding, wood siding, brick, stucco and more.
Outdoor Window Cleaner Lifts Dirt for Streak Free Shine
Attach your garden hose to the specially designed spray nozzle on the Rejuvenate Outdoor Widow & Surface Cleaner bottle. Set the dial to rinse, turn on the water and thoroughly wet down the surface of your windows. Now set the dial to clean and spray the windows working from the bottom up to the top back to the bottom. Let the window cleaner penetrate heavily soiled areas for up to 1 minute. Now set the dial back to rinse to hose off your windows and let dry for a streak-free finish on your outdoor windows.
Pro Cleaning Tip: Always remember to clean the outside windows first, before tackling the ones inside your home. You'll always wonder if you got all the dirt and grime off the inside of your windows if you haven't cleaned the ones outside first.
THREE QUARTERS OF PARENTS SAY TECHNOLOGY HAS BOOSTED THEIR CHILD'S DEVELOPMENT
74% believe tech has improved their children's problem solving skills
67% believe tech has improved their children's writing skills
54% of parents worried their child will be behind peers if they don't use technology
More than half (54%) of parents are worried that their child will start school behind their peers if they don't have any interaction with technology at home, according to a new report.
Indeed, the majority of parents (91%) believe it is important for children to be familiar with current technology and software, and that it will be beneficial as they get older.
Despite this, there can be too much of a good thing, as 71% of parents' still like to monitor the amount of time their children spend using technology, revealed a survey of 2,000 UK adults published in the Technology Trends Report 2017 by gadgets and technology e-tailer, LaptopsDirect.co.uk.
Traditionally, parents have often agonised over how much time their kids spent using gadgets but as technology develops, an overwhelming proportion of parents now recognise the necessity of kids getting to grips with it, and being comfortable in a digital world.
Three quarters (74%) of parents admitted using technology had helped improve their children's problem solving skills, while more than one in two (56%) believe technology has bettered their motor skills.
Two-thirds (67%) of parents felt the use of technology had improved their children's literacy skills as they now read more, while 46% felt it has enhanced their language skills, with applications such as voice command and Siri now commonplace.
Mark Kelly, marketing manager at LaptopsDirect.co.uk said "Incorporating gadgets such as tablets, laptops and smartphones into interactive play with children is a good way to familiarise them with today's technology. There are plenty of apps designed to boost literacy, mathematical and motor skills in children. It's great to see the vast majority of parents recognise the importance of familiarising kids with gadgets at a young age.
"Parents' concerns about their children being behind their peers if denied access to technology shows that they understand how important it is for their children to be able to interact with the latest gadgets, as school learning and tests become more technology based."
Parents believe their children should be of high school age (11 years old) before they own their own smartphone or tablet with internet capability.
LaptopsDirect.co.uk is the UK's largest online laptop specialist, selling a wide range of new and refurbished laptops from leading brands, as well as a wide range of other lifestyle gadgets.
For more information, visit www.laptopsdirect.co.uk
Almost half of football fans would avoid scheduling their wedding day on match day
Power management company, Eaton, reveals the lengths fans will go to in order to watch their team, with 39% of Brits admitting they would only miss a match on TV if a power cut forced them to
London, UK, 10 August 2017 – Almost half (41%) of British football fans wouldn't schedule their wedding day on a match day, reveals power management company Eaton, and a third (35%) would prioritise catching the game over going on holiday.
The results from the survey of 2,000 football fans – commissioned by Eaton to celebrate its partnership with Manchester City Football Club – demonstrates the loyalty fans feel to their football team and how much of a priority keeping up-to-date with it is to their lives.
In fact, over a third (39%) admit the only reason they would miss a football match on TV would be due to a power cut giving them no choice in the matter. The unfortunate reality is that sometimes these loyal fans don't get a choice – one in 10 fans reported that a power cut, affecting their home and surrounding area, has led to them missing a match. Eaton has developed xStorage Home, which is available for pre-order now, to provide homes with electrical energy in the event of power cuts – powering lights and even a TV and broadband router to retain power if needed.
Pedro de la Horra Calomarde, Segment Manager Residential Buildings EMEA, from Eaton responded to the research:
"It's surprising to learn how many fans have missed a game due to power cuts. We partnered with Manchester City to share best practice on how the use of power management solutions highlight the benefits of improved quality of life and to the environment. By developing battery storage solutions, such as xStorage Home, we're making sure people have a reliable power supply and that there's back-up in place to avoid outage and mean no one ever misses a match due to power cuts."
Almost a third (30%) of the fans surveyed said they would pay £100 or more to avoid missing a match. Millennials proved to be the most eager to cough up the cash to overcome any issues preventing them from tuning in, with 80% saying they would pay to ensure they could watch their team play.
One fan who has gone above and beyond to catch every game is City fan, Sean Riley. Sean, 51 years old from Manchester, has missed just one City match in 28 years, including away games. Sean said: "I started going to matches with my dad in 1974 and have been an ardent City supporter ever since," says Sean. "For the past 28 years, I have been very fortunate and privileged to attend every competitive game played by the club, at home, away, and in Europe. The single exception was the CSKA game in Moscow in 2014 which was officially played behind closed doors so no one could attend". He continues: "My wife is also a committed fan of the Club, so naturally, we got married outside of the football season, to ensure our big day didn't clash with any of the fixtures!"
Most fans (72%) put their devotion down to a love for their team and wanting to be with them every step of the way. A quarter (24%) said it's because they want to be a part of the post-match analysis and 18% admitted they like to know the results because they have a Fantasy Football team.
Martha Newson, cognitive anthropologist at University of Oxford, commented:
"Typically, our families are the people we experience life's highs and lows with – and are the people we are most likely to sacrifice ourselves for. In some ways, football clubs and other such groups evoke, and even manage to exaggerate, our evolved tendency for this kin psychology so that we treat other group members like our closest kin. For some football fans, the ritual of the game becomes more important than our most cherished family rituals, like birthday parties and weddings."
In May 2017, Eaton became Manchester City's new Official Home Energy Storage Partner in the UK. Eaton signed a multi-year deal with the Club who are committed to lead the way in sustainability.
Eaton, who have more than 100 years of experience in the industry, will share best practice in energy storage to help enhance the Club's efforts across all its daily operations at the Etihad Stadium and City Football Academy.
For more information on xStorage Home, please visit: www.eaton.com/mancity
Sema Tosya, Accessory Designer, working with semiprecious natural stones, creating bespoke jewellery commissions.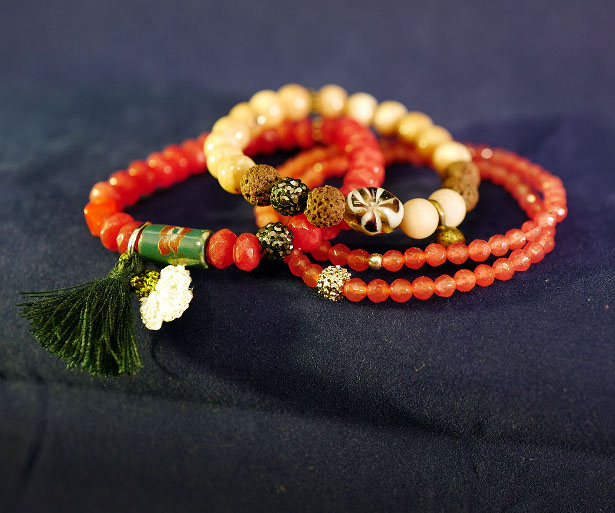 Having started wishing to explore my creative side by designing jewellery for myself, I soon found that friends were placing orders for my creations, what started as a hobby soon developed into a business, my designs progressing, growing, taking shape, evolving.
Inspiration comes to me from my surroundings, in nature far and wide, woodland, beaches, flora, fauna, even fabrics luxurious silks, lace, crisp cottons, linens of the world famous Grand Bazaar, Istanbul as well as ancient and modern crafts.
Every piece of jewellery is as unique as the individual, choose your style from styles on the website :
www.xplandirect.com/sema-s-jewellery-designs
Lovingly and patiently designed and handmade for you.
If you do not see what you are looking for, please ask me to customise your style.
Bespoke orders welcome
Win Designer Furniture with NOXU Home!
NOXU Home is excited to announce their latest competition, giving you the chance to win £350 of outstanding designer furniture!
www.noxuhome.com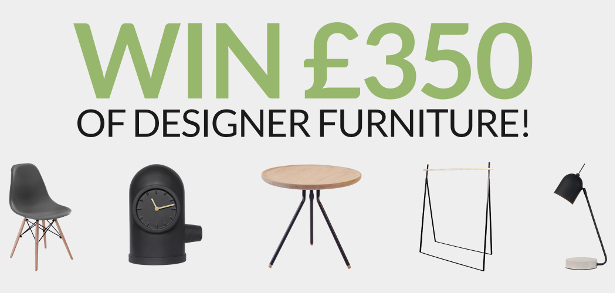 NOXU Home is an online furniture destination, with a team of interior design professionals dedicated to bringing you fantastic furniture pieces by independent designers from across Europe. Helping you find what you've always wanted without the hassle of shopping around, NOXU Home makes designer furniture easy. From breathtaking lunar-inspired pendant lighting to sturdy dining tables and elegant rugs for every space, NOXU Home brings you the best furniture designs from leading independent European designers.
With a mission to make the process of filling your home with beautiful designer furniture as simple as possible, NOXU Home has made this fantastic opportunity as simple as possible too. Simply proceed to NOXU Home's competition page and make your entry. No tricks, no trick questions, just the opportunity to win £350 of designer furniture for your home or stylish office!
NOXU Home has a vast and varied range of designer furniture pieces, available to be brought into your home! Whether you're looking for a statement centrepiece such as Jaanus Orgusaar's minimalist bookshelves, or the perfect minimalist accessory from LEFF Amsterdam, you'll find it on NOXU Home!
NOXU Home's competition opens on Tuesday 1st August 2017 and closes on Tuesday 31st October 2017. Entries received after the closing date shall not be included in the prize draw, so enter soon and be sure not to miss a fantastic chance to bring brilliant designer furniture into your home!
10 things people can do and experience in the Maldives staying at Grand Park Kodhipparu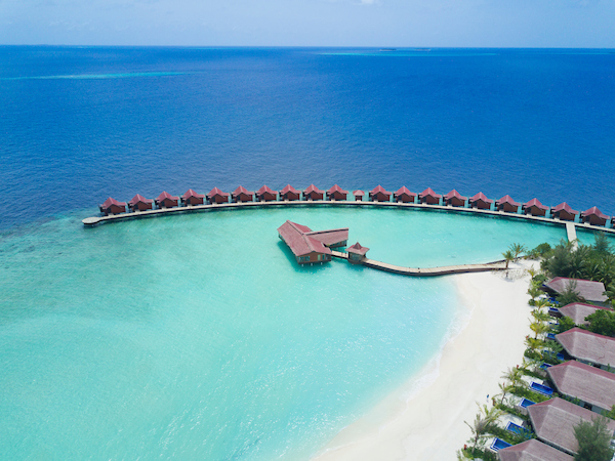 We are sure you see a lot about Maldives resorts with beautiful beaches and crystal water. However what you might not know is that to access these resorts you usually need a sea plane – which sounds like great fun but is actually very expensive and only departs the international airport once or twice day. This means you end up starting you holiday spending several hours waiting around and missing out on valuable beach time!
The new resort Grand Park Kodhipparu, the latest all- villa luxury resort, is offering something different. The resort is 20 minute speed boat ride of Male airport and a boat will be there to collect guests whatever time they arrive so they can be checking in and enjoying the Maldives before their fellow travellers have even left the arrivals lounge!
A one-island-one-resort concept with luxury villas, world-class experiences, incredible dining choices and wide-ranging facilities, the new destination resort is truly paradise on earth.
With this in mind, we've drafted a list of the 10 things people can do and experience in the Maldives with the time and money saved from not getting a sea plane.
Enjoy 1 Leg-Jet treatment and 1 Kodhipparu Fusion Massage
Try every single one of the Kodhipparu Special cocktails (all 16 of them!)
Each 20 Tropical Fruit Platters from Breeze Bar
Take a Boat Exploration Trip
Have a Windsurfing Lesson and a Jet Ski session
Take a sunset fishing trip (120mins)
Learn to cook Maldivian Curry
Swim with Sea Turtles
The kids could have been on a crab hunt and race at the Little Explorers club
You could have read 60 pages of a book laying on the beach
For more information, please visit www.parkhotelgroup.com/en/maldives
FlasKap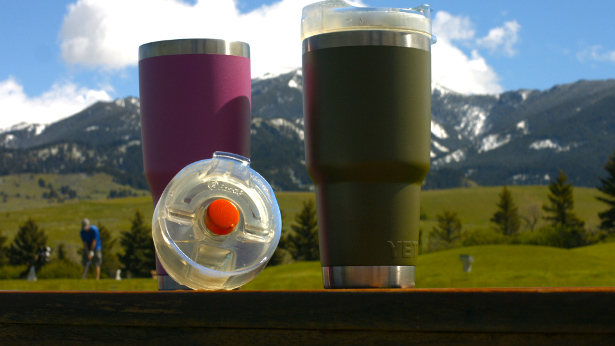 Outdoor enthusiasts can now mix and transport the perfect cocktail while enjoying outdoor activities. FlasKap is the first ever flask built straight into a tumbler-style lid! It fits securely onto most standard stainless steel "YETI style" tumblers to give you the ability to discreetly enjoy your favorite beverage no matter where you adventure. FlasKap is perfect for outings where drinks may not be served but are always desired.
Founders Cailley and Drew Tonn are outdoor enthusiasts and have been product testing the FlasKap for over a year. Drew Tonn shares, "my main goal was to have a reservoir with a metered dispensing function. When I achieved that I incorporated other improvements such as a sipping hole large enough for a straw and superior thermal-insulating properties. The built-in flask allows you to make your drink as strong or light as you want. Plus, as your ice melts you can add more to your drink so it doesn't get watered down. FlasKap also functions as an excellent lid even when not using its enhancer function — it's the the only lid you'll ever need."
The FlasKap is clear, splash-resistant, dishwasher safe, insulated, and BPA-free. The food grade stainless steel rod and double piston transfer alcohol. The double piston is made of a food grade silicone type material as an overmold. The FlasKap dispense button screws onto the end of the stainless steel rod is made of a tough and reliable plastic.
The FlasKap is available for pre-order through Kickstarter. Learn more about FlasKap at www.FlasKap.com
UrthBox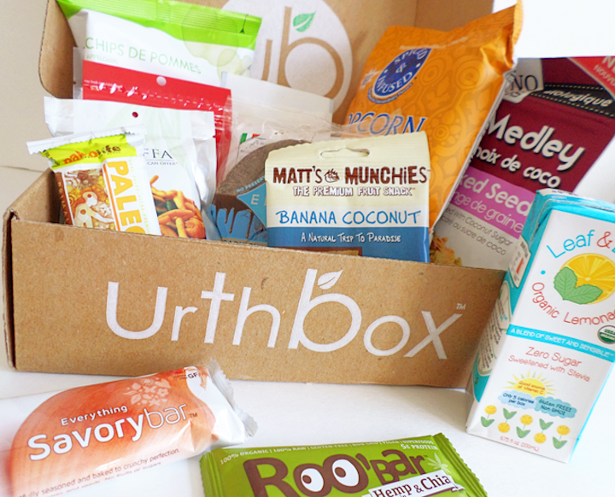 When keeping up with healthy habits, finding the right snacks can be hard. Our friends at UrthBox have taken the guesswork out of snacking by helping their members discover awesome (and new!) healthy snacks each month! They are the #1 snack subscription service that offers EXCLUSIVELY non-gmo and organic snacks and beverages.
Their organic, all-natural, non-GMO snacks fit into all diets — from gluten-free to vegan and more. UrthBox snacks are ideal for satisfying your post-workout cravings, as the perfect add-on to your kids' packed lunches, and can even make a great gift for the snack-loving foodie in your life.
See more at :- www.urthbox.com
Beaverton Foods launches Beaver Brand All Natural Stone Ground Mustard HILLSBORO, OR – (April 3, 2017) – Oregon's 88-year-old specialty condiment manufacturer is adding to its Beaver Brand™ line with an all-natural Stone Ground Mustard. The Beaver Brand™ is the top selling specialty branded mustard in the West.*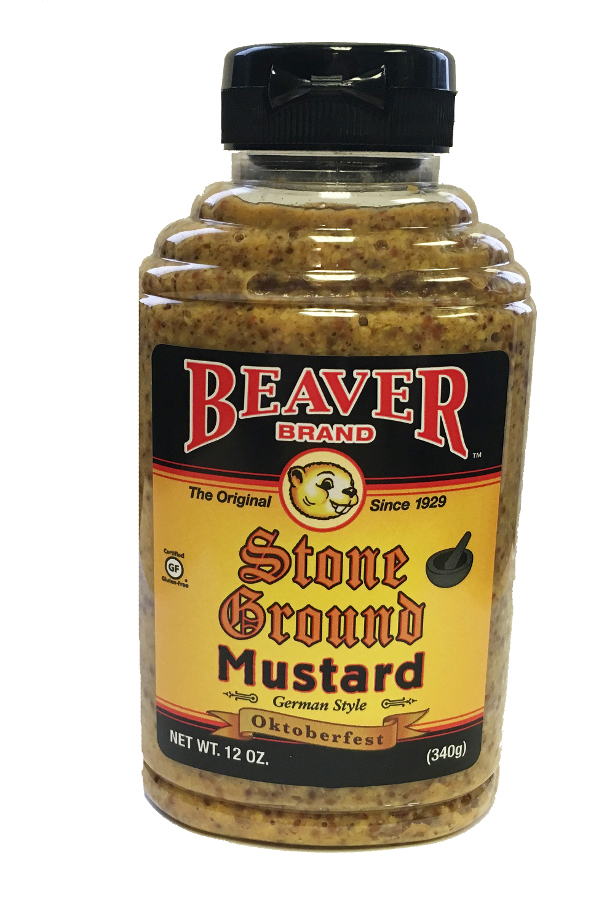 Domonic Biggi, CEO of Beaverton Foods, said the fourth-generation, family owned and operated company is continually looking for ways to improve its products' ingredients. The new 12 oz. Beaver Brand Stone Ground Mustard features all-natural mustard oil and no preservatives. It is also Certified Gluten-Free® and SRP is $2.99-$3.29.
"This is our single best-selling specialty mustard and in the past two years it surpassed our No. 1 selling Creamy Style Horseradish," Biggi said. "We are loyal to our outstanding condiment recipes. However, we want to be as responsive as possible as it relates to taste, quality, and consumer demand."
The company entered the all-natural category with its Beaver Brand Gourmet Ketchup in 2010. Beaverton Foods will feature the Beaver Brand Stone Ground Mustard and other specialty condiments at booth #4577 at the Natural Products Show Expo West, March 1012, at the Anaheim Convention Center, CA and Summer Fancy Food Show in New York.
According to Supermarket News' 13th annual Survey of Center Store Performance, specialty foods are a good way for grocers to compete. The report found that food retailers are using specialty foods (19%) to combat its center store competitors. Specialty food sales hit $120.5 billion in the U.S. last year, noted by The State of the Specialty Food Industry report, produced by the Specialty Food Association and Mintel.
Beaverton Foods' Beaver Brand and Inglehoffer are the leading shelf-stable horseradish and award-winning specialty mustards in the US*. It is the largest Safe Quality Food (SQF) certified processor of authentic wasabi products in North America. The company offers a variety of best-selling gourmet sauces, garlic, spices, and other unique specialty condiments packaged under these labels: Beaver, Inglehoffer, Napa Valley, Tulelake, Pacific Farms and Charlie's Salsa. In addition to its brands, the company develops, produces and co-packs a wide range of products for companies in the US and abroad
Robert Welch become Official Cutlery Supplier for Wasps and the Ricoh Arena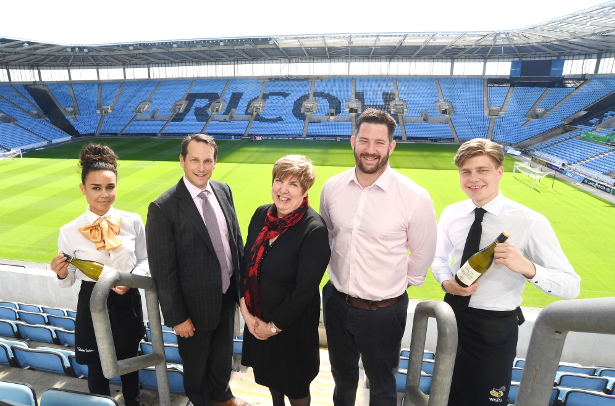 Iconic, award-winning, international homewares brand Robert Welch based in the Cotswolds has become an official hospitality supplier to Wasps and the Ricoh Arena.
Robert Welch, has signed a multi-year deal; with its renowned Radford cutlery range being showcased for the first time at the Ricoh Arena during Wasps' pre-season friendly against Connacht Rugby on Wednesday, August 23.
The Robert Welch cutlery collection is widely recognised as one of the finest in the world. The company has been serving the hospitality industry for over 60 years; working with establishments as diverse as the dramatic Burj al Arab in the UAE, the prestigious Cheltenham racecourse, and the first-class experience on-board at Emirates Airline. The company's cutlery ranges are meticulously designed to create the perfect dining experience.
Following on from last year's Queens Award for Enterprise in International Trade, 2017 saw the team at Robert Welch recognised for a second successive year, this time in the Innovation category.
Jacky Isaac, Group HR Director and Operations Director at Wasps and the Ricoh Arena, said "Robert Welch is a welcome addition to our portfolio of official partners and suppliers. Robert Welch is renowned throughout the world for the excellence of the design and manufacture of its products particularly its stainless steel cutlery," she said.
"Their innovation and high standards will fit in perfectly in our hospitality suites where their branding will be reflected on our match-day menus and staff livery.
"Thousands and thousands of people enjoy hospitality at the Ricoh Arena each year and we are looking forward to working with the company to further improve the experience for people visiting the venue."
Peter Churchill, Operations Director at Robert Welch, said "We are proud and excited to become a partner supplier with Wasps and the Ricoh Arena.
"Working with the Wasps brand makes perfect sense for us. Our respective organisations have many shared values – teamwork, excellence, integrity, leadership – that are as important to the design of award winning products as they are to sporting achievement."
Robert Welch is the 21st official partner and supplier of Wasps and the Ricoh Arena which also includes HEINEKEN, Majestic Commercial, Ricoh, Ericsson, EQ Nutrition, Matrix and Greenfields.
Local SIM
www.localsim.net
Local SIM is an application that helps to get connected to local cellular network provider (carrier) while traveling or moving to another country. Our mobile app accesses the database and gives our clients a way to quickly and easily discover the provider that fits their needs best as well as guides them to closest point where they can register for the network. We are testing now the virtual sim technology, which allows to connect providers through our app without changing sim card and visiting stores.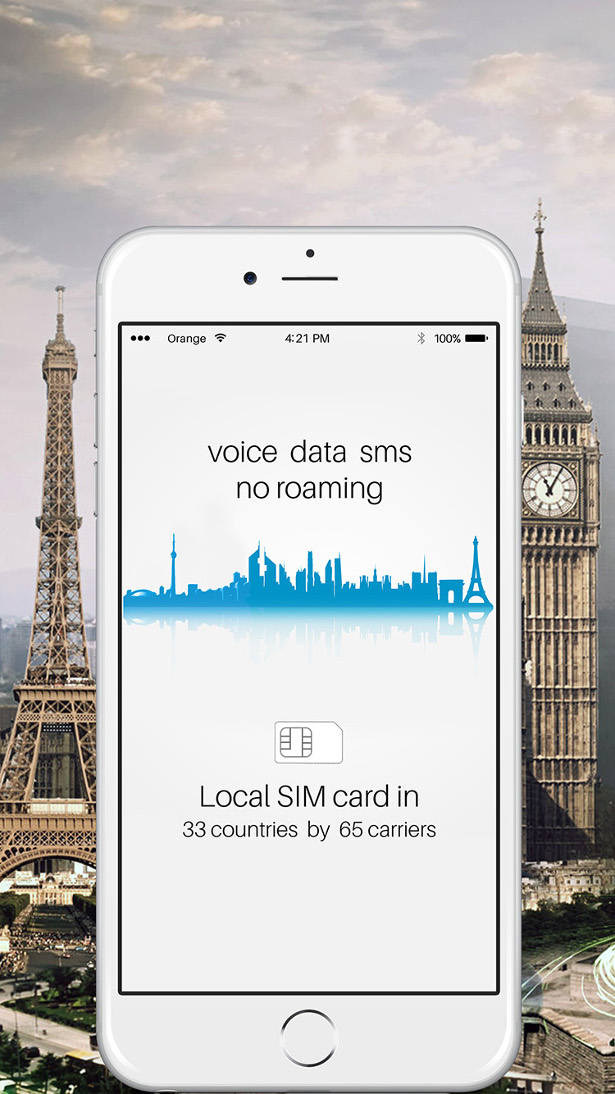 ARTAS Robotic Hair Transplants – the first and only robotic hair transplant system.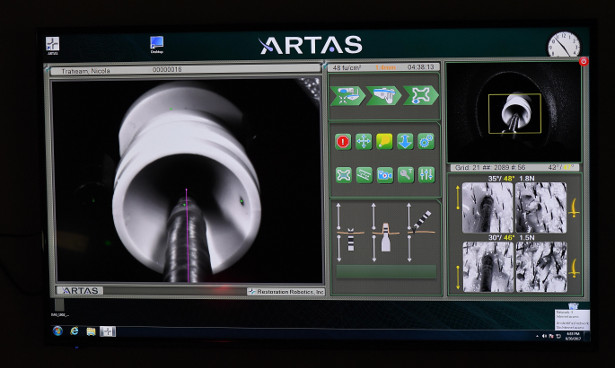 Developed with leading hair transplant physicians and researchers, this state-of-the-art technology was created to eliminate the guesswork and fatigue associated with manual handheld methods, along with the scarring, complications and downtime of existing invasive surgical techniques. Unlike older transplant methods, no stitches are required, rendering the procedure nearly undetectable. Patients can now expect natural-looking results without the side effects and recovery times resulting from older techniques. http://www.artashair.com/
KIDS FASHION
Join the traveller lifestyle with some fashion pieces that have been designed to stand out. If it's not iconic then we aren't interested!
GIRLS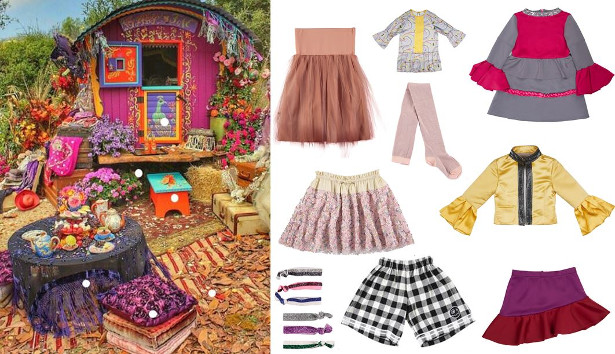 Brands pictured above: molo, Isossy Children and Loud Apparel
BOYS
Brands pictured above: molo, Isossy Children and Loud Apparel
GUINNESS PRO14 ANNOUNCES 2017/18 FIXTURES
Fixtures can be found here: http://www.pro14rugby.org/fixtures/
The highly-anticipated fixture announcement follows the announcement that the Toyota Cheetahs and the Southern Kings have joined the Guinness PRO14 and that the Championship will move to a Conference format.
Martin Anayi, CEO PRO14 Rugby, commented: "Our expansion into South Africa has the future of the Championship at its heart – more sustainable clubs, attracting the best players, taking on different styles of rugby and entertaining the fans from whistle to whistle – and the release of these fixtures aims to immediately deliver on that. With all the exciting news that has surrounded the unveiling of the Guinness PRO14 we know the fans have been eager to see the fixture list, but hopefully the wait has been worthwhile as we believe these fixtures will further enhance the excitement across each of the Championship's five territories."
The new season opens on the evening of Friday 1st September as Ulster take on Toyota Cheetahs live on BBC Northern Ireland, the game will also be screened live in South Africa with our broadcaster who will be confirmed in due course.
The next day sees champions Scarlets welcome the Southern Kings live on Sky Sports at Parc Y Scarlets. Last season the Kings scored notable away wins in Super Rugby against the Bulls and the Waratahs and will be eager to make an early statement against a Welsh team packed full of international talent.
All existing Derby games have been protected in the new Conference format, while Italian, Scottish and South African teams have the bonus of playing a total of three Derbies each against their domestic rivals.
In 2016/17 the Guinness PRO12 featured 295 internationals and for the forth coming Championship season organisers of the Guinness PRO14 have worked closely with each of the unions to ensure that where possible derby games do not clash with international call-ups.
Rounds 6 and 7 of the 2017/18 season fall either side of the European window and will see big derbies for the Irish and Welsh teams, with Munster visiting Leinster in Round 6 at Dublin's Aviva Stadium and Scarlets hosting the Cardiff Blues in Round 7. Scottish and Italian clubs will face off against each other in rounds 11 – 13 along with further derbies for the Welsh and Irish teams in Rounds 11 and 12.
To close the season fans from all the regions will be treated to a round of full-blooded derby action on Super Saturday in Round 21. Judgement Day returns to the Principality Stadium in Cardiff to add something truly special to the final day of regular season action.
The Guinness PRO14 Final Series will begin on May 4 with the Quarter-Final stages and the Semi-Finals are slated for May 18. The two teams who emerge from these fixtures will meet in the Gunness PRO14's showpiece Final on Saturday, May 26.
Anayi added: "Working closely the clubs, unions and broadcast partners, who turned this schedule around very quickly, we believe we have created a calendar which will give fans the best experience possible to enjoy all of the Positive Play that the Guinness PRO14 prides itself on. Fans will be able to enjoy the fiercest rivalries, best international players and biggest variety of playing styles on offer in the history of the Championship."

Introducing the Movado 1881 Museum Ladies Collection

Movado was founded in 1881 and this collection pays homage to a proud heritage with watch designs for today's contemporary, discerning consumer.
Movado's 1881 collection is designed with an eye for simple yet striking femininity, these luxuriously modern watches exhibit sophisticated style and elegant engineering.
The 1881 collection features 3 models; stainless steel, rose gold and a rosegold/steel mix. All models are designed with a 28mm case with index markers on 2 in the range with the rose-gold model featuring 11 diamond markers.
1881 Museum Collection prices start from: £650
Available at Ernest Jones, Selfridges and online www.movado.co.uk
Villa Park will host spectacular Rugby 7s tournament
Villa Park will host Rugby 7s in 2022 as part of Birmingham's Bid
Aston Villa CEO Keith Wyness says they will host a fantastic event
England Rugby 7s legend James Rodwell is fully backing Birmingham

Birmingham, 08 August 2017: Rugby 7s is a fantastic showcase of sport, demonstrating energy, skill and passion, with both players and fans actively engaging in the game.
As one of the Midlands' premier sports stadiums that successfully hosted Rugby World Cup fixtures for the 2015 Championship, Villa Park Stadium, with 42,700 seats and home to English Football League club Aston Villa, was the obvious choice for hosting Rugby 7s, as part of Birmingham's 2022 Commonwealth Games bid.
Aston Villa Chief Executive, Keith Wyness, is fully backing Birmingham's bid and believes the venue will host a spectacular Rugby 7s tournament:
"Villa Park is a great sporting venue and an iconic Midlands sports institute. It has an amazing sporting history dating back to the 1900s and, as well as our regular football fixtures and the two Rugby World Cup 2015 matches, we have hosted many major events over the years, from boxing matches to concerts for music legends such as Springsteen and Take That.
"Rugby 7s is a fantastic event, providing a great day out for sports fans. I am sure that many Villa fans would want to be there and will be thrilled that Villa Park is playing a role.
"Our players and coaching staff would also welcome the Commonwealth Games in Birmingham. There will be great opportunities to share information in the pursuit of sporting excellence and it would just be fantastic to be part of the event.
"Everybody at Villa Park said that hosting the Rugby World Cup was one of the most fulfilling things we have done for our community. We are a great community based club and it is important that we play our part in delivering the best ever Games in 2022.
"Being part of Team Birmingham and helping to bring the Commonwealth Games to Birmingham is something we are proud to be doing. This will be another first for Villa and we look forward to playing our role.
"I spent five years managing The Olympic Club for the Sydney 2000 Olympic Games and then seven years on the board of the SECC Hydro Arena, which was a focal point for the Glasgow 2014 Commonwealth Games. I have seen multi-sport events close up and know the amazing effect they can have and the positive impact they can bring to a host city.
"It is fantastic to be part of Birmingham's Bid and with the role of the Commonwealth likely to become more important for Britain going forward, we will do all we can to bring the Games here.
"Bring it on!"
Villa players agree and cannot wait to see the Games come to Birmingham. Aston Villa FC and Wales national team player, James Chester said:
"Villa Park is one of the most inspiring stadiums a sportsperson could wish to compete in. It is both a traditional and iconic arena.
"Emerging from the tunnel and walking out into a wall of noise from all four stands is an uplifting experience. The Rugby 7s teams will have an incredible experience playing at Villa Park during Birmingham 2022 so let's back the bid. "
James Rodwell is England's most capped Rugby 7s player of all time. He won a Silver medal at the Rio 2016 Olympic Games in the sport's inaugural Games and is a two-times Commonwealth Games player (Delhi 2010, Glasgow 2014). Having studied at University of Birmingham and played for Moseley Rugby Club, Rodwell is championing Birmingham's bid:
"Rugby 7s is one of the most popular events at the Commonwealth Games. The atmosphere is electric and the fans get passionately involved so, as a player, it is an amazing experience to be part of. I have great memories of competing at the Commonwealth Games and would love to be representing England at Villa Park in 2022. Rugby fans who watched the Rugby World Cup fixtures at Villa Park will agree it was sensational. Let's back Birmingham 2022 so we can recreate that again."
Backing #BrumBid2022
How you can support Birmingham 2022:
Follow us on Twitter (@birminghamcg22)
Like us on Facebook (Birmingham2022)
Join in the conversation (#BrumBid2022)
Visit the website (www.birmingham2022.com)
Historic Newspapers Launch New Illustrated London News Archive Book
Illustrated London News Book
www.historic-newspapers.co.uk
4th August 2017 – Personalised gifting group, Historic Newspapers, announces today a new, Illustrated London News Archive Book – a collectable for any history enthusiast. The special edition newspaper book is available to purchase now, retailing at £29.99.
The new London Illustrated News Book is a collection of vivid pictorial newspaper covers from the publication, featuring the illustrated work of distinguished artists and engravers from the era. Released during the boom of the Industrial Revolution in 1842, the London Illustrated Newspaper established itself as the world's first fully illustrated newspaper to depict a moving panorama of the Victorian era and thereafter.
Make Your Bedroom into a Palace with Antoinette
www.my-furniture.com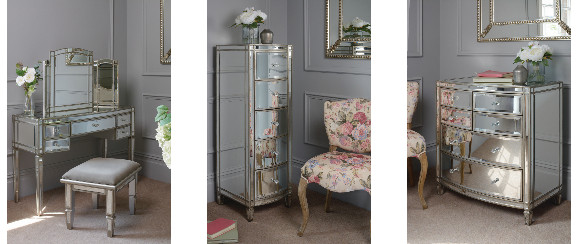 Mirrored Furniture is a trend that has stood the test of time. Adding a mirrored piece to a room gives it irresistible character and sophistication, as well as bringing depth and light to your interior scheme. MY Furniture's latest range of mirrored furniture, Antoinette, is a shining example of this. The stunning collection is ideal for anyone looking for a bit of bedtime glamour.
Ambulance Chasers Hit a Brick Wall
Number of Claims Management companies now at an all-time low
Figures released last week by the Claims Management Regulator (CMR) show that the number of companies providing Claims Management is now at an all-time low. The annual report, covering the period 2016 to 2017, indicate that there are now only 1388 regulated companies providing Claims Management in the UK.
These companies shared combined revenues of some £726 million in the year to 30 November 2016. Their activities cover PPI, personal injuries etc. But over the past few years thousands of companies have been struck off or have voluntarily given up. At the peak in 2011 there were 3213 companies active in this sector.
The number of companies seeking to register for Claims Management is also at an all-time low. Only 107 new applications to become a CM company were made in 2016 and applications were down 47% in the "personal injury" sector. Overall, fewer than a quarter of all the 6722 companies registered on the CMR database are still operating.
The fall in number of companies, and low registration of new companies is due in part to a stricter regulatory environment. Claims Management companies must abide by a range of statutory conditions and comply with conduct rules. During 2016 some 69 companies were shut down by the regulator for non-compliance.
Helen Dewdney, The Complaining Cow consumer champion and author of How to Complain: The Essential Consumer Guide to Getting Refunds, Redress and Results! says she is pleased to see this reduction in claims management companies. "So often we see companies doing what consumers can easily do themselves. There are plenty of template letters available for the likes of PPI claims and flight delays which people can use to claim 100% of what they are due. The more complicated cases, where you may need help from a third-party, are very rare."
Marcus Williamson, editor of the consumer website http://CEOemail.com – which provides contact details for CEOs – says that it's not worth losing 20-30% of a claim to a CMC. "It's time that people stop wasting money on using Claims Management Companies and take matters into their own hands", says Williamson, "Whether it's PPI or flight claims, just write to customer services, demand redress and escalate to the CEO if necessary."
PPI claims remain high but with a slight decline. The deadline for making PPI claims is August 2019, so it is likely that there will be continued decline in CMCs, as the last remaining PPI claims are made.
The CMR report cites a "substantial increase" in the emergence of CMCs working in the area of holiday illness. There have been recent reports of claims management companies encouraging people to make false claims of illness against holiday companies. The regulator says it has established a team to work with reputable CMCs, tour operators, ABTA and solicitors to clamp down on this behaviour.
Latest CMR report, released on 4 August 2017 https://www.gov.uk/government/collections/claims-management-regulator-annual-reports
Delayed flight template letter available from The Complaining Cow website http://www.thecomplainingcow.co.uk/airline-claim-compensation-letter-template/
Grilled Zucchini Recipe
By www.simplynecessaryinc.wordpress.com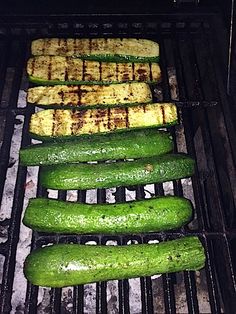 Though it is treated like a vegetable, zucchini is a fruit. Zucchini is a summer squash with ancestry in the Americas. "Zucca" (the Italian word for pumpkins or squash) was combined with the root "ina" (which means little). Zucchini is the plural form. Zucchini is calorie friendly. There are about 21 calories in a one cup serving. It's a good source of vitamin C. It provides lutein and zeaxanthin, which are good for vision. It is also a source of manganese. Grilled zucchini is easy to prepare.
Ingredients
• Zucchini (rinsed clean and dried)
• Olive Oil
• Salt
• Garlic Powder
• Onion Powder
• Paprika
• Pepper
Directions
• Pre-heat the grill.
• Slice the clean zucchini lengthwise. (Each medium to large zucchini should yield 3 to 4 slices.)
• Drizzle the zucchini slices with olive oil, coating them well.
• Lightly sprinkle the zucchini slices with salt, garlic powder, onion powder, paprika, and pepper.
• Place the zucchini on the hot grill.
• Cook the zucchini for about 3 to 5 minutes (depending on the thickness of the slices).
• Gently turn the zucchini over and cook for another 3 to 5 minutes.
• Remove the zucchini from the grill with a spatula.
• Drizzle the cooked zucchini with more olive oil.
• Sprinkle more of the seasonings on the zucchini if desired. Serve it immediately.
Add flavor to zucchini by sprinkling it with fresh or dried Italian herbs. Parmesan cheese also adds flavor to grilled zucchini. Sprinkle it on while the zucchini is warm.
Roasted Green Beans Recipe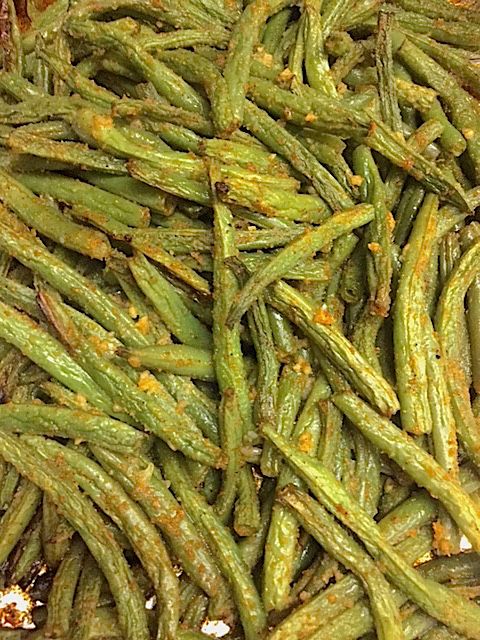 Green beans are low in calories and they contain zero saturated fat. The following recipe makes an excellent side dish.
Ingredients
• 2 pounds of fresh green beans (ends trimmed and rinsed cleaned)
• 4 tablespoons of olive oil (divided into two 2 tablespoon portions)
• 2 teaspoons of salt
• 1 teaspoon of ground black or white pepper
• 2 teaspoons of paprika
• 4 crushed or minced garlic cloves
• 2 tablespoons of butter (optional)
Directions
1 Preheat the oven to about 400 to 450 degrees F.
2 Place clean, dry green beans in a large bowl.
3 Toss the green beans with 2 tablespoons of olive oil. (Reserve the remaining 2 tablespoons for later.)
4 Sprinkle the green beans with salt, pepper, and paprika and stir to coat them evenly with the spices.
5 Spread the seasoned green beans out evenly on a baking pan lined with aluminum foil (sprayed with non-stick cooking spray).
6 Roast the green beans in the preheated oven uncovered for about 10 minutes.
7 While the green beans are roasting, peel and prepare the garlic cloves.
8 Heat the remaining 2 tablespoons of olive oil (and the optional butter) in a small pan or pot.
9 Saute' the prepared garlic gloves in the olive oil (and the optional butter) for a few seconds.
10 Remove the green beans from the oven and drizzle the sauteed garlic and olive oil over them.
11 Stir the green beans to coat them with the garlic infused olive oil.
12 Return the green beans to the oven and allow them to roast for about 10 more minutes, or until they reach the desired tenderness.
13 Serve the green beans immediately.
Adjust the olive oil and seasoning to the quantity of vegetables. Denser vegetables may need to be roasted longer. Diced or minced onions can be substituted for, or used in addition to, the garlic.
Fruit Smoothie Recipe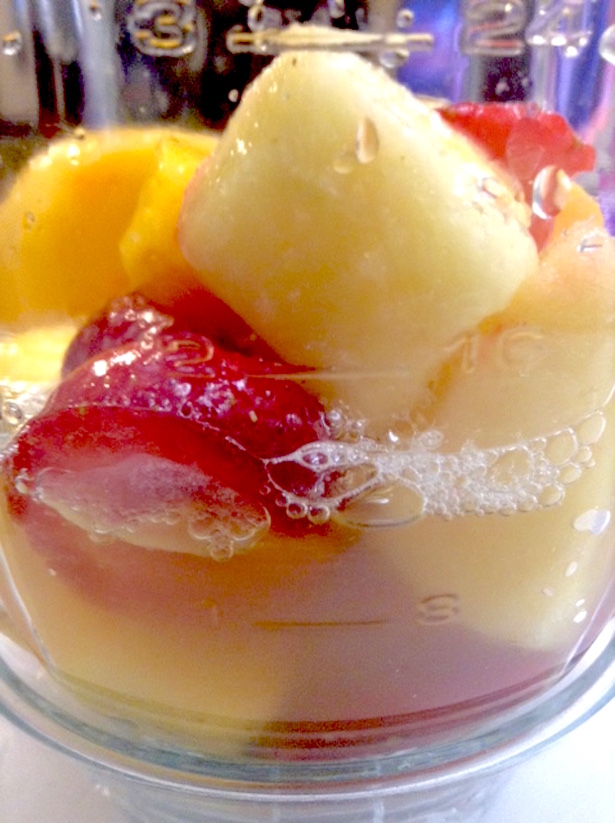 Making a homemade smoothie only requires a well-made blender (or food processor), one's choice of fruit and/or vegetables, and enough liquid conducive to blending the ingredients together. Frozen smoothies can be made with frozen fruits or vegetables, or by simply adding ice to the smoothie's other ingredients. The following is a recipe for a refreshing, homemade fruit smoothie. The listed ingredients can be adjusted to suit different tastes.
Ingredients
• 1 cup orange OR pineapple juice [Use 100% juice for the healthiest option.]
• 1/2 cup frozen mango cubes
• 1/2 cup frozen pineapple cubes
• 1/2 cup frozen sliced strawberries
• 1/2 cup frozen (or fresh) sliced banana [optional]
• cane sugar OR a natural sweetener like honey [optional]
• ice
Directions
1 Pour juice into the blender.
2 Add the frozen fruit and choice of sweetener.
3 Blend until smooth.
4 Add the desired amount of ice.
5 Blending all of the ingredients a little at a time until the drink is at the desired consistency.
See more at :- www.simplynecessaryinc.wordpress.com
Not all ice cream is created equal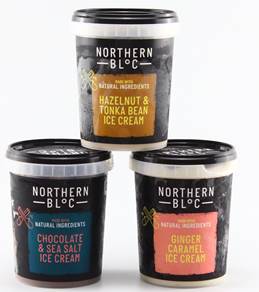 The ice cream fanatics at Northern BloC believe that everybody deserves bloody good ice cream. Inspired by the energy and pioneering spirit of their home city, they're determined to challenge conventions and start an ice cream revolution – one triumphant scoop at a time.
Intense and unexpected flavours; a smooth texture that you can scoop straight from the freezer; rich, satisfying and uncompromisingly natural – this magical combination of qualities is what makes Northern BloC ice cream better than the rest.
These unique ice creams and sorbets are made with only responsibly-sourced natural ingredients, including rich Yorkshire milk, fresh fruit and the finest Venezuelan cocoa, but what makes them radical is the knowledge and science that goes into developing each and every flavour.
Ice cream magician Manolo Imperatori is a third-generation Italian ice cream maker. Manolo might have gelato in his veins, but his magic comes from his geekery – his absolute dedication to the science of ice cream. Thanks to Manolo's techniques and discoveries, Northern BloC ice cream can deliver a unique combination of texture and flavour, without the need for any additives or ingredients that you need a dictionary to spell (unless you're wondering how many Rs there are in sorrel).
Northern BloC ice creams are also lower in fat and sugars than most premium ice creams. For those looking for delicious free-from options all Northern BloC's products are suitable for vegetarians, gluten-free and contain no egg.
And now consumers across the country can get a taste of this bold young brand, choosing from Northern BloC's deep and complex Hazelnut & Tonka Bean Ice Cream, sweet and spicy Ginger & Caramel Ice cream and intensely chocolatey Chocolate & Sea Salt Ice Cream all RRP £4.50 for 500ml pots, available from selected CO-OP and Waitrose stores nationwide.
Visit www.northern-bloc.com for a full list of stockists
**Just announced – anticipated from the end of July, Ocado will be stocking Black Treacle, White Chocolate & Strawberry Meringue and Ginger Caramel **
AUTUMN SHADES FROM BLINDS 2 GO
www.blinds-2go.co.uk tel 0800 862 0464.
Get cosy this autumn/winter with the hottest looks as they go from the catwalk to your home. Blinds 2 Go, shows you how to dress your windows in the latest fashion trends.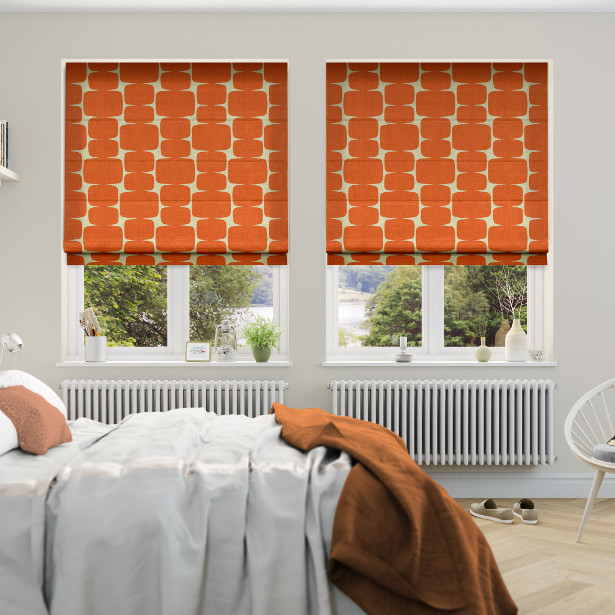 ALEXI London is a beautifully edited, online only, range of gorgeous Sterling Silver Jewellery. From trend led and directional to contemporary classic, we truly believe we have something for everyone.
All pieces Sterling Silver or Sterling Silver with 18ct Gold/Rose Gold Plating.
——————————————————————————–
NEW: Plain Mini Disc earrings, £45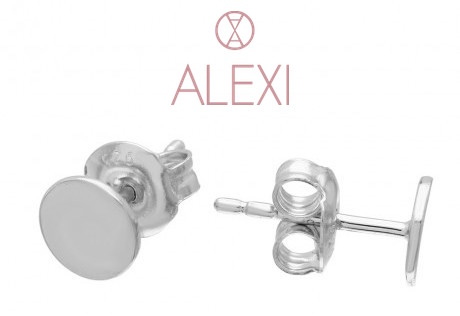 www.alexilondon.com
Zportix.com is a sports site with free apps for iOS, Android and Windows.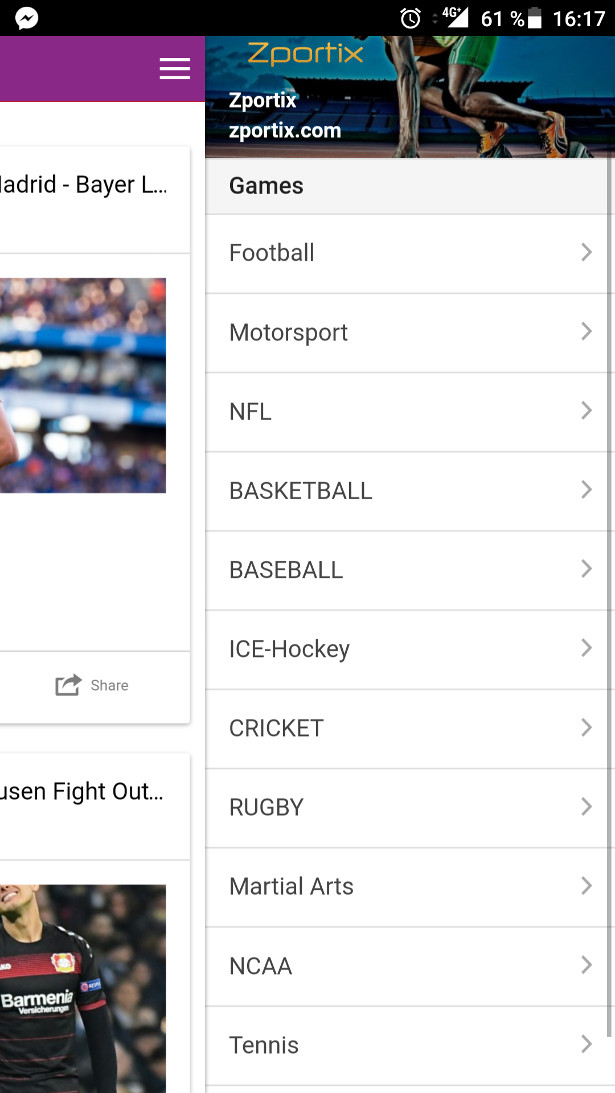 Zportix forums are different! We have forums for Rugby, Football, Cricket, Ice-hockey, Basketball, Baseball, American Football, Martial Arts and more.
Each team has its own forum where fans of other teams can also write posts. Sports such as Tennis and Athletics have their own forums. In MMA and Boxing the forums are different for each weight class. In Motorsport each team and driver have their own forum. Articles are written by the fans themselves.
You can read articles and post on forums through our website or our apps for iOS, Android and Windows. Commuting to work? On the train? In the Underground, Subway or Metro? We want you to be able to discuss your favourite team wherever you are and also with fans of other teams.
We want to make the sports communities come closer to each other.
We are looking for editors to write fan articles about their favourite teams as well as moderate their team forum.
The editors will write articles concerning their favourite team. Users are able to post in their favourite teams forum. The difference between Zportix and other forum sites is that fans from other teams are welcome to discuss in other team forums as well.
Mommy's Time Out® Wine
Introduces Mommy's Time Out Prosecco

East Hanover, NJ (August 6, 2017) – Mommy's Time Out Wine is adding a new item to their line of popular wines named Mommy's Time Out Prosecco. This wine is fresh, crisp, and fruity, with a wonderful aroma. The structure and character of this great Italian wine makes it easy to drink with or without food and has a suggested retail of approximately $10.99 per bottle.
"Mommy's Time Out is purchased primarily by women, who are also avid fans of Prosecco wines. It seemed logical to extend the brand offerings with a Prosecco wine that our existing fans would enjoy," said Mike Cincotta, president of Selective Wine Estates, Inc. importers and brand owners of Mommy's Time Out.
Mommy's Time Out has steadily grown in popularity as a result of its four existing varieties; Mommy's Time Out Garganega Pinot Grigio, Mommy's Time Out Moscato, Mommy's Time Out Delicious Red and Mommy's Time Out Delicious Pink. All are made from grapes grown in Italy and have wonderful fruity undertones. All the wines are fresh, fruity and well balanced and are delicious for sipping with snacks, or to complement a meal.
Mommy's Time Out comes in 750-ml and 1.5-L sizes. The suggested retail price of the existing varieties, is $9.99 for the 750ml size and $18.99 for the 1.5L size (Mommy's Time Out Garganega Pinot Grigio only).
"No matter what stage you're at when it comes to being a Mommy, it's one of the toughest and most rewarding jobs there is. That's why we believe Mommy deserves something special for herself now and then with Mommy's Time Out Wine."
Mommy's Time Out should be enjoyed responsibly by adults over the age of 21.
For more information on Mommy's Time Out, please visit www.mommystimeoutwine.com.
Almost £35,000 raised by Wasps and George Pragnell to benefit children with learning difficulties in Coventry & Warwickshire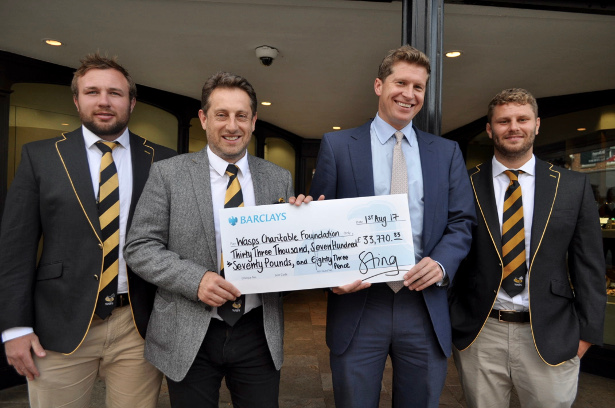 Wasps' internationals Matt Mullan and Thomas Young linked up with George Pragnell jewellers in Stratford-upon-Avon this week, to support a cheque presentation of £33,770 to Wasps' Community Foundation.
The impressive sum was raised by the club's supporters and players at Wasps' End of Season Awards in May, for which George Pragnell were the elegant event partners.
The Awards Dinner is the flagship event in Wasps' off-field calendar, where players, coaches and guests gather to celebrate stand-out performances of the season, as well as to raise funds for charity through a variety of auctions and raffles, which George Pragnell contributed prizes to.
The money raised will support the Playing Advantage Club which provides an out of school rugby and sports club for children with learning difficulties.
It will also fund Wasps Community Foundation's on-going commitment to SEND [Special Educational Needs and Disabilities] schools across Coventry and Warwickshire.
The funding provided will allow Wasps to build on the important work already invested over the last 12 months, which has included taking children to their first ever rugby tournament in Oxfordshire over Easter.
Speaking about the significant impact the funds can have on children's lives in the area, Wasps' Head of Community Neal Coupland said: "It was a fabulous sum of money raised for the charity and our thanks go to George Pragnell and everyone who donated to help us reach that figure.
"It's vital for us to continue building these funds as it means we can do so much more, particularly with this specific programme which works with a number of special educational needs schools around Coventry and Warwickshire.
"It has also enabled us to open a "Playing Advantage Club" for the first time, which is an out of school provision on a Sunday for children with learning difficulties, where they can enjoy rugby and sport in general, just as we would on a weekend."
Managing Director, Charlie Pragnell, was delighted to have been able to help support the initiative, saying: "I think it's very important that those of us who have been fortunate to find some success locally, contribute to that community. Wasps are a great example to all of us in the local area in the way in which they've done that.
"It was partly that attitude and the club's innovative approach, led by Derek Richardson at the top, that attracted us to form a partnership by sponsoring Wasps' End of Season Awards. As well of course as the exciting and positive style of rugby that Wasps play that always makes for an entertaining day at the Ricoh Arena."
England international, Matt Mullan, also appreciated the support shown by sponsors and supporters alike: "Firstly a big thanks to George Pragnell for putting on such a great show at the End of the Season Awards, which was a fantastic night and certainly the most stylish Awards I've attended at the club.
"There was also a deeper meaning to the evening. I remember watching the video that the Community Foundation showed and you realised just how much is involved and how many people it brings enjoyment to in the wider community, particularly young people. As a player, you want to support those projects and hopefully help to contribute further in the future."
Thomas Young, who made his debut for Wales on their summer tour, added: "It's great to be able to help support kids with learning difficulties and to give them an opportunity to get together and enjoy sport. On a personal note, I feel it's important to get behind programmes like this and try to back them in any way we can."
Wasps players are gearing up for the new season start as they are being put through their paces in pre-season training. The squad came agonisingly close to being crowned Aviva Premiership Champions last season, narrowly losing by three points to Exeter Chiefs after the contest went to extra-time to determine the winner.
The Premiership finalists are back in action at the Ricoh Arena on Wednesday 23 August, 7.30pm kick off, for a pre-season friendly against Connacht before the Premiership campaign kicks-off against Sale Sharks on Saturday 2 September, at the Ricoh Arena.
Tickets are available from wasps.co.uk/tickets
Rugby and meditation may seem like the most unlikely of bedfellows at first glance, but the two have been combined with fantastic results over the past few years.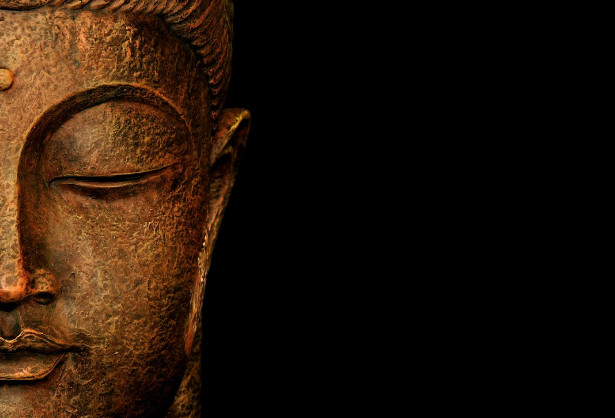 England centre Sam Burgess, who has played both League and Union, is an advocate of meditation when it comes to improving his performance.
The 28-year-old first tried meditation when he was playing rugby league in Australia.
"I was quite sceptical when we first started meditating at South Sydney, but I began to connect with the people who were doing the sessions so I bought into it," he said in an interview with the Daily Mail.
"It was all about opening up our minds and talking to each other a bit more, and also about clearing your own mind in terms of being calm and ready to perform."
Apart from the mental benefits gained from meditation, deep relaxation has also been shown to increase muscle recovery times, help with training focus and improve discipline.
Ireland full-back Rob Kearney is also a vocal proponent of mindfulness training and meditation. He told the Irish Times: "The margins at the moment between people at high levels in sport or high levels in business are just getting smaller and smaller and smaller. If I can improve myself even by that 1 per cent then I will improve my own performance . . . and then you are adding more to the team, which is the primary goal when you go out to play at the weekend."
A new product on the market, Synctuition.com, uses a revolutionary combination of 3D soundscapes, binaural beats, gamma waves and guided meditation to not only induce deep meditative states, but improve user's intuitive decision making. Intuition is often credited as the element that separates the merely good players from the truly great. The ability to make the right decisions consistently, without having the time to rationally think through the situation seems like magic to the observer, but the great players will tell you they simply 'know'. This is intuition.
Why not check it out for yourself? Synctuition.com listen to 3 tracks for free and, if you do decide to buy, we have arranged a special 50 Euro discount for the first 50 people.
First 50 people can use 50 euros gift card code: 2Z5LBUUS25, on www.synctuition.com/a/fes1m7q
NEW from MY Furniture
Make Bedtime Shine with Antoinette Furniture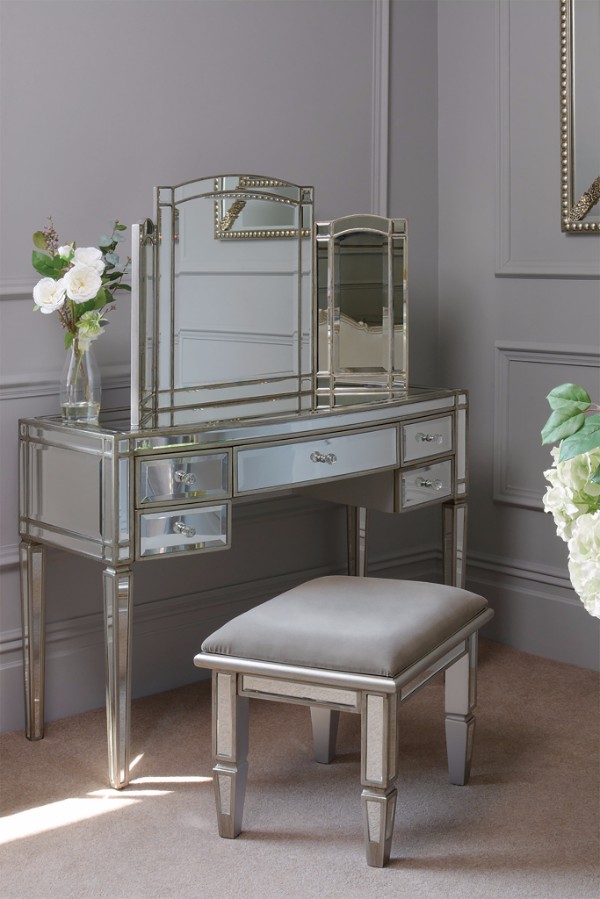 Mirrored Furniture is a trend that has stood the test of time. Adding a mirrored piece to a room gives it irresistible character and sophistication, as well as bringing depth and light to your interior scheme. MY Furniture's latest range of mirrored furniture, Antoinette, is a shining example of this. The stunning collection is ideal for anyone looking for a bit of bedtime glamour.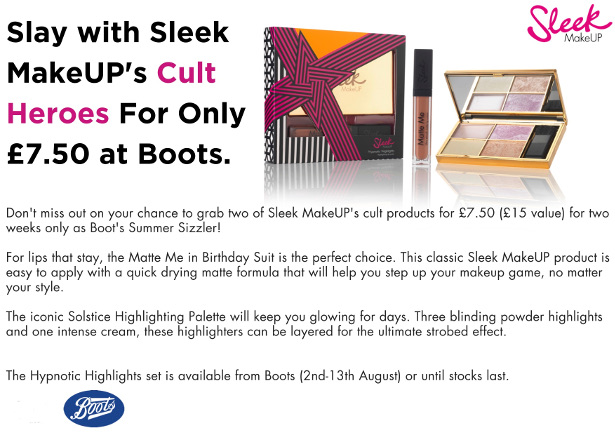 KIDS FASHION
Nothing quite beats a cup of tea with a few treats. So, why not dress to impress and throw yourself a little afternoon party with some of these iconic new pieces?
GIRLS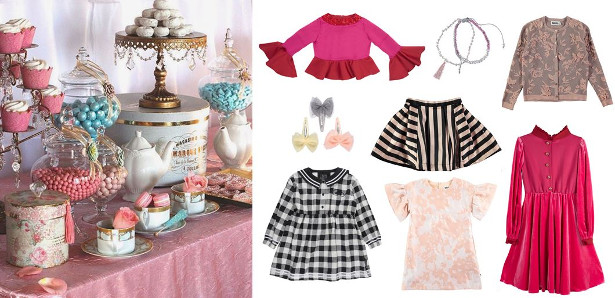 Brands pictured above: molo, Isossy Children and Loud Apparel
BOYS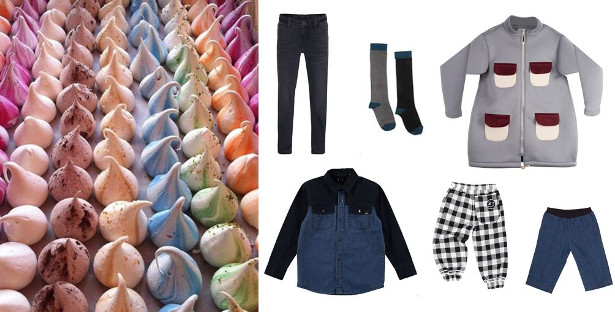 Brands pictured above: molo, Isossy Children and Loud Apparel
PEYOTITO IBIZA OFFICALLY OPENS AT NOBU HOTEL IBIZA BAY, IBIZA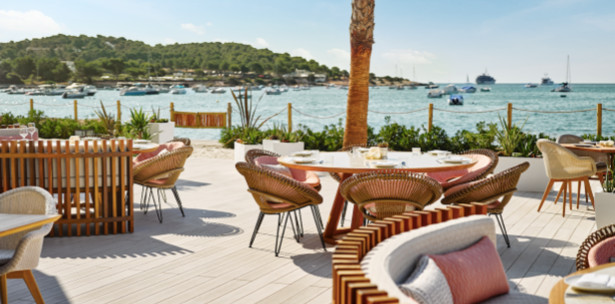 1st July 2017, saw the opening of Peyotito Ibiza, the sophisticated modern Mexican restaurant from Notting Hill London, in the island of Ibiza, Spain. Located in the highly anticipated Nobu Hotel Ibiza Bay, this exciting new addition to the islands exciting food scene is set to become a fast favorite on the buzzing island with locals and visitors. Set along the white sandy beaches of Talamanca Bay, Peyotito Ibiza will offer stunning views of the Mediterranean Sea and a bespoke menu of delicious Mexican dishes with an influence of Spanish tradition and Ibizan flavours.
Bought to you by the Peyote Group and following Eduardo Garcia and Adriana Cavita's hugely successful menus at Peyotito (London) & Peyote (London and Dubai), Peyotito Ibiza's menu encompasses an arrange of the most popular dishes from these admired establishments while including numerous new dishes influenced by spices, ingredients
and cooking customs from Spain and Ibiza. A far cry from the typical Mexican 'Tex-Mex' cuisine, Peyotito Ibiza boasts a colorful menu offering contemporary and refined Mexican fare from Verde Vuelve a la Vida with Lubina (local Ibiza fish), to Papas with chorizo and chili pasilia.
Offering a multi-sensory experience of modern and unique Mexican dishes based on a sharing concept and set in earthy, stylish interiors, Peyotito Ibiza is the picture-perfect setting to dine with friends while enjoying the extensive cocktail list, including favourite mezcal concoctions such as the signature Peyotito Margarita; a refined version of London's shaken Margarita with a spicy Tajin rimmed glass, blanco tequila, Cointreau, agave syrup, lime juice and a Mezcal vial for you to personalise the flavor, while watching the sunset.
Choose either a casual lunch by the pool, sundowners overlooking the sparkling bay or a group dinner nestled by the outdoor fire pit, Peyotito Ibiza will be the ultimate refuge for all foodie travelers, sophisticated visitors and island locals alike
MeetnGreetMe is an award-winning global platform for international travellers for getting travel concierge services and personal assistance delivered by local people promptly and around the world.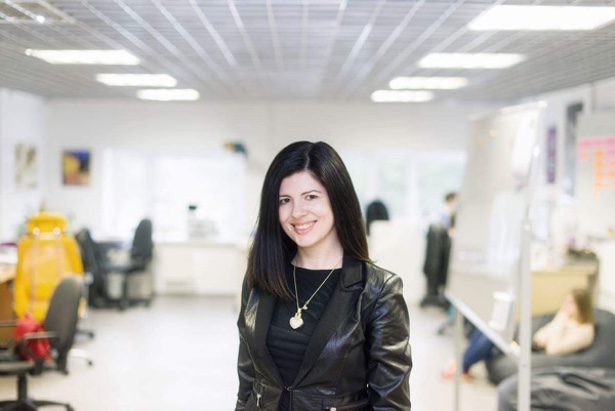 From organizing a bachelor party or accompanying top business delegations to arranging a tank riding or a beer tasting tour, local MeetnGreeters are delighted to share their hospitality, local expertise and enrich your travel experience taking into account your interests and preferences.
Local MeetnGreeters will help you choose the most convenient area to stay, meet you upon arrival and help you find your accommodation, recommend on the local cafes and restaurants so that you don't need to study endless Top 10s, arrange a personal shopping tour, show you around, be your personal Google and help with any travel issue that may arise before or during your trip.
MeetnGreetMe gives you peace of mind and helps you travel carefree with the help of local personal concierges. All you need to do is just to describe your needs to a local MeetnGreeter in the city of your destination and get ready for a tailor-made experience. Every local MeetnGreeter is thoroughly verified to make sure that you will enjoy your travel experience in the city of your destination and travel carefree.
Local MeetnGreeters provide personalized concierge services in more than 200 cities around the world. What city are you planning to visit next? Maybe bustling London, ancient Rome, or unexplored Minsk? Then you are welcome to contact local MeetnGreeters there. If you are looking for a concierge in more exotic countries, then you are free to choose between Singapore, Rio de Janeiro, Jakarta, Kathmandu and other cities where local concierges are waiting for your request.
MeetnGreetMe is more than a hotel concierge and definitely far beyond what travel companies offer. It is a way to meet local people, to travel carefree and save your time, to find really authentic places and experiences and to enjoy your business or leisure trip to the full. Curious? Try it out!
A dog jumper for all seasons – don't go on your summer holidays
without an Equafleece!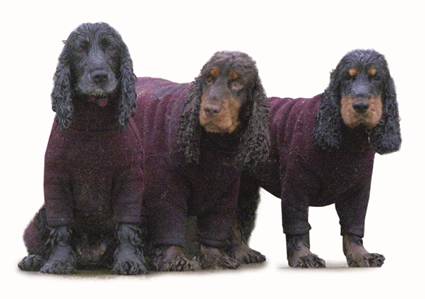 Dog owners opt for 'Staycations' with 35% considering their dog an ideal travelling companion, over 44% of owners choose to holiday in the UK to make it easier to stay with their dog.*
According to the Telegraph, Britains now spend approximately £450m each year taking their pets on holiday.*
Make sure you are prepared for any type of British weather with an Equafleece jumper for your dog.
100% rain-proof and water-repellent, Equafleece Polartec jumpers are breathable, lightweight and washable.
If your dog enjoys a quick dip in the sea, lake or pond, just pop an Equafleece onto your 'soggy doggy'.
The super absorbency of Equafleece will transform a 'smelly' wet dog into clean dry dog within minutes.
Any smells or debris will be conveniently trapped inside, leaving your car, tent, motorhome, hotel room clean and dry.
Designed and made in Devon, Equafleece prides itself on its tailoring to fit every size and shape from a Pug, Whippet, Dachshund, Bulldog or Great Dane.
Without uncomfortable fastenings or straps, Equafleece doesn't restrict a dog's movement in any way. It just brings extra warmth and protection any time of year.
Bulldogcrop.jpgAvailable in over 32 sizes, in 12 stylish colour ways Equafleece retails from £20.00. For more information visit: www.equafleece.co.uk
· Figures from an RAC survey.
· Euro-monitor 2016
The sunny islands of Malta, in the middle of the Mediterranean Sea, are home to a most remarkable concentration of intact built heritage, including the highest density of UNESCO World Heritage Sites in any nation-state anywhere.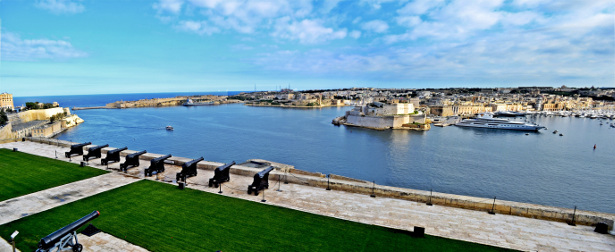 Valletta built by the proud Knights of St. John is one of the UNESCO sights and the European Capital of Culture for 2018. Malta's patrimony in stone ranges from the oldest free-standing stone architecture in the world, to one of the British Empire's most formidable defensive systems, and includes a rich mix of domestic, religious and military architecture from the ancient, medieval and early modern periods. With superbly sunny weather, attractive beaches, a thriving nightlife and 7,000 years of intriguing history, there is a great deal to see and do.
Megaliths, medieval dungeons and Calypso's Cave – The Maltese Islands are positively mythic. The narrow meandering streets of their towns and villages lead to the main square, which is invariably dominated by the huge baroque church. As the countryside is dotted with medieval towers, wayside chapels and the oldest known human structures in the world, the Islands have rightly been described as an open-air museum.
The Maltese archipelago lies virtually at the centre of the Mediterranean, 93 km south of Sicily and 288 km north of Africa. The archipelago consists of three islands: Malta, Gozo and Comino with a total population of over 400,000 inhabitants occupying an area of 316 square kilometers.
Malta is the largest island and the cultural, commercial and administrative centre. Gozo is the second largest island and is more rural, characterised by fishing, tourism, crafts and agriculture. Comino, the smallest of the trio, has one hotel and is largely uninhabited.
With superbly sunny weather, attractive beaches, a thriving nightlife and 7,000 years of intriguing history, there is a great deal to see and do.
Spotlight returns to London's shopping and dining destination, Seven Dials for its 4th year on Saturday 19 August with a free one-day music and performance festival. From 12-6pm the area will be transformed into a traffic-free, entertainment hot spot where visitors can enjoy a series of live performances on the main stage, as well as exclusive activities and promotions in over 95 brands and restaurants.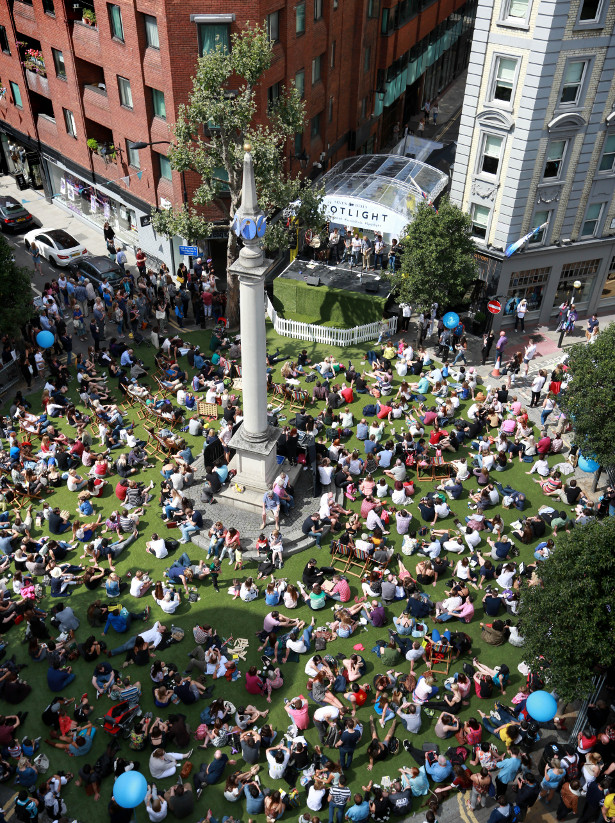 The open-air stage will showcase an impressive line-up of performances such as Disney's The Lion King and Aladdin, Indie Choir, Some Voices, British pop singer Whinnie Williams and 2017 Glastonbury performers, Old Dirty Brasstards. Hosted by author, TV and radio presenter Laura Jackson.
The festival includes chill out areas, free glitter stations to decorate your face and hair, a GIF photo booth, roaming magician and live music on additional stages throughout the area. All to be enjoyed on the pop-up lawn around the dial complete with deck chairs and summer lawn. Earlham street will host the pop-up bar where there will be free cocktails from Monmouth Kitchen.
In between performances, visitors can shop independent boutiques and flagship stores offering exclusive in-store discounts and promotions including 20% off and gift with purchases.
Refuel at one of the top restaurants offering cuisines from around the world, all hosting al-fresco dining. From Portuguese specialists Canela, pizza and cocktail enthusiasts Escapologist, award winning macarons at Pierre Herme's indulgent garden, all day dining menu at Balans Soho Society, cold brew coffee at award winning café Timberyard and sourdough pizza from Rossopomodoro.
All you need for a perfect summers day out in London with family and friends, Seven Dials Spotlight is a free, family event not to be missed.
Visit SevenDials.co.uk for more information and follow @7DialsLondon for live updates.
WRAP AND INTEGRATE YOUR KITCHEN
This summer's hot trend in the kitchen is for integrated seating, most commonly around an island. Since most people desire an island when designing a new kitchen, integrated seating has evolved hugely as it is more space efficient and often allows the kitchen design to work better.
Poggenpohl +segmento in sand grey 2 small crop
Islands are seen as multi-functional spaces that act as the bridge between cooking and socialising. A few years back top UK independent kitchen designers and retailers Kitchens International saw bar stools and high seating as the most popular. While still 'in', many people now opt for a more solid banquet seat which wraps round the island, taking up less space and allowing storage underneath the seats.
Stoneham Living Kitchen banqueting table small
This type of seating tends to be slightly more comfortable and allows social gatherings either around an island table or the table can be incorporated into the island with stand alone chairs.
Senior KI Designer Carol Cameron says: "Increasingly we are designing seating around an island or integrated kitchen table, which becomes a more permanent, unified part of the kitchen, rather than a separate zoned area. This provides a sense of inclusion rather than isolation for dining McLeod_5 low res smalland reinforces the feeling that the kitchen is quite definitely the heart of the home."
Integrated seating can take the form of bench banqueting seats, curved sofa style seats or individual chairs. It is important that the colour and textures of the seating is the same or similar as the rest of the kitchen so there is a greater feeling of flow within the design, advises Kitchens International.
Kitchens are not just functional areas, they are integral to our everyday lifestyle. Given that we all like to sit, eat and socialise the seating must reflect our way of life. At home socialising, whether it is just family or a wider group of friends, will certainly be enhanced by clever integrated seating.
Take a look at the new Kitchens International website, or better still visit one of their showrooms, to find out how your kitchen can be improved with a new design and better seating.
MARMITE UNVEILED AS THE MOST SEIZED ITEM BY AIRPORT SECURITY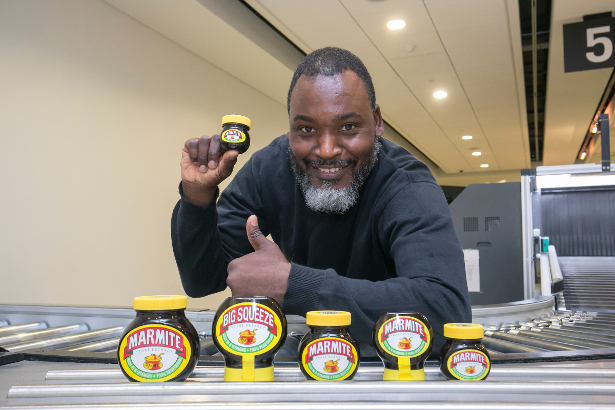 · London City Airport crown Marmite the number one prohibited branded food item confiscated from travellers' hand luggage and in the top 10 overall for food items
· Britain's favourite breakfast spread took over LCY security gates on Monday 31st July, offering passengers the opportunity to swap their prohibited jars for a travel-friendly size
· Airport officials expected it to be the busiest day of the year yet
​
A study has revealed that Brits can't live without their favorite breakfast spread, Marmite, when travelling abroad – with London City Airport unveiling that it is one of the most intercepted items by security officials.
The airport reveals that the yeasty spread was crowned the number one prohibited branded food item confiscated from travellers' hand luggage – and in the top 10 overall for food items.
It seems that for holiday-goers, the thought of having to say goodbye to a Marmite-smeared life and venture into breakfast options unknown while on holiday is just too much to bear.
To ensure Brits never have to go without the brown sticky stuff, Marmite and London City Airport have come together, taking over the security gate at the East London location to offer passengers the chance to swap their prohibited jars for a travel-friendly sized 70g miniature.
The hand-baggage friendly Marmite meets the approval of security officers at airports, who will take away any container with more than 100ml of liquid inside.
With the school holidays now in full swing, the swap service will be available at the airport for one day only today (Monday 31st July) from 6am until late in the evening – with airport officials expecting it to be the busiest day of the year yet.
Pending the success of the event, Marmite are considering rolling the initiative out nationwide for lovers.
The research also found that around one in eight people (13 per cent) in the UK have had to surrender an item in their hand luggage because it didn't meet aviation or immigration rules.
For the confiscated jars, London City Airport donate the items to a local charity called Community Food Enterprises (http://www.c-f-e.org.uk/), who distribute to smaller charities in local communities.
Melanie Burnley, Director of Customer Experience at London City Airport, said "With 4.5 million passengers travelling through our doors each year, we see all kinds of weird and wonderful restricted items, including Marmite. "
"The Marmite swap is a temporary but popular addition which means that whether you love it or hate it, you'll still be able to get your Marmite fix when travelling from London City Airport. For any other liquid or gel items above 100ml, it's best to pack them safely in the hold luggage."
The handy RRP £1 jar is available to buy from Co-Op, Poundworld, Poundland, Poundstretcher, Boots airport stores and Caledonian Foods across the UK.
The Arrival of Dark Neutrals
Alverare Collection; Brass and Antique Mirror Coffee Table, £219.99.
Pantone's colour of the year 2017, Greenery, isn't just about the zesty spring-like shades of nature in full bloom. The arrival of the current dark interiors trend calls for a stronger, more dramatic approach in which we continue to see this versatile colour take centre stage. Paired with darker hues, plush fabrics and geometric shapes Greenery takes on a whole new feel. AW17 sees this colour teamed with deeper shades of green as well as dark blues and even charcoal. Add luxury materials such as brass, gold and silver to complete this fabulous luxe look.