Rugby Six Nations – The physical evolution of the sport
How far the sport has come since its inception in 1823, and from the signs of it the future looks like one of constant growth and development, not to mention the European showpiece event the RBS Six Nations, a true spectator sport with millions of viewers watching and 100,000's of fans travelling to the games every week!
The Six Nations features some of the world's best teams, comprised of men and women who's athleticism and dedication is reflective of the values of the game and our communities. One of the world's most physical sports, it's unsurprising that rugby attracts controversy thanks to its high impact nature.
MaxiNutrition, retailer of protein powders, can reveal that the sport's competitors are getting bigger, which has increased the kinetic force in every tackle. This is why so much attention is placed on safety in the sport, as concussion rates are higher than in Rugby than in many other sports – with 3.9 concussions occurring per 1000 player hours at professional level, far higher than the USA's American football league, the NFL, which has just 0.2.
British players growing – nutrition and size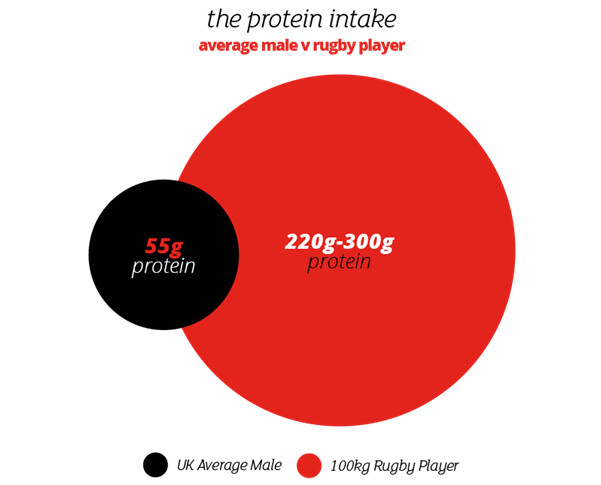 Growth is driven by the changing attitudes to the sport. Where Rugby was once an amateur pursuit, professionalization in 1995 brought new money for players which meant more to spend on training and nutrition. RFU guidelines dictate that a player should consume 2.2-3g of protein per kg of bodyweight. For an 100kg player, that's between 220-300g of protein – around 5 times more than the average UK male.
This increased knowledge surrounding nutrition means that players around the globe have packed on mass. For British players, the 20 years since professionalization have yielded a massive amount of growth. In 1994, the average weight of English players was 92.3kg – which by 2014 had increased by 12.8kg – more than two stone, to 105.1kg.
It's not just the RBS teams that have experienced this growth. To see it properly, it's worth studying the New Zealand All Blacks – perhaps the most famous and successful rugby team of all time. Between 1947 and 2015, the players experienced enormous growth – increasing by 6.93 cm and 20kg!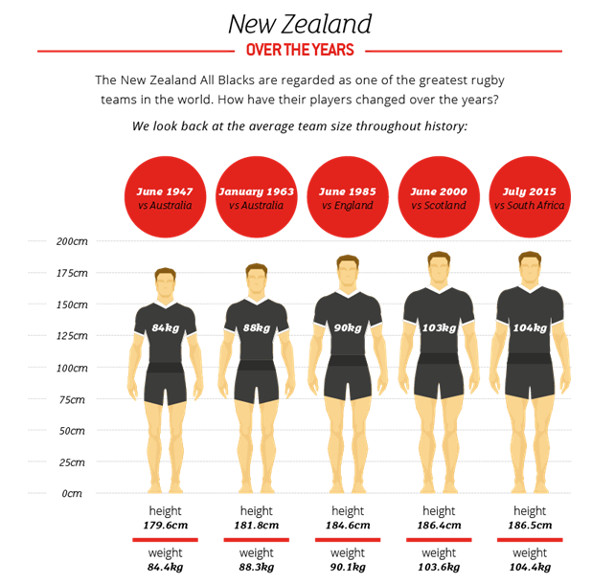 Props, typically the biggest men on the team, increased massively with a 24.5kg increase since 1947. Clearly, players are now far bigger than ever before.
The effect on tackling
This bigger, stronger player is also tackling more often. In the RBS six nations, players now tackle far more than they used to – even across short timescales. For example, in 2006 there were 171 tackles successfully completed but by 2014 there had been 250! That's an increase of 79 tackles in just 10 years.
Rugby has changed heavily over the years.
Sources:
http://www.englandrugby.com/mm/Document/MyRugby/Headcase/01/30/54/78/Concussioninrugby_Neutral.pdf