Spice Pots are on a mission to make it easy to create delicious, healthy and very simple Indian food at home.
Whether it's for a seasoned cook or a newbie looking for inspiration in the kitchen, our Curry Kits make useful, beautifully packaged and eco-friendly gifts. It's the gift that keeps on giving, as each gift set can make at least 8 family meals.
Festive Food Survival Kit – 4 Indian Spices and 8 Festive Recipes – Purchase online at www.spicepots.com
Want some help surviving the 12 days of Christmas? We've got your back with the best food gifts for Christmas which have been designed for those who lead busy lives and need some help over the Christmas period with both gifting and meal planning.
It makes a great stocking filler, a gift for a host, a secret santa gift, Christmas gift for foodies (or of course a treat to yourself!) and comes in eco-friendly packaging.
This Christmas Food Gift contains: –
A booklet with 8 Festive Food Recipes; including nibbles, turkey leftover recipes, curry recipes for in between days and sweet treats.
3 Savoury Curry Spices (Mild, Medium and Hot In Heat)
1 Sweet Spice for festive desserts and baking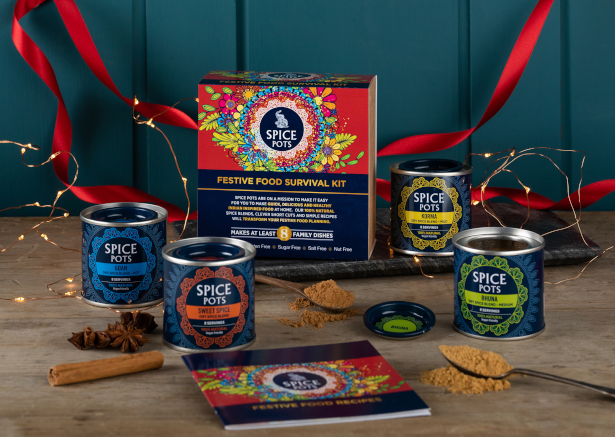 Products
Easy Curry Night Kit with 8 Curry Recipes
Making homemade curry is easier than you think with this Easy Curry Night Kit. Create consistently good curry every time with our seriously flavourful Spice Pots, they honestly make cooking a curry so, so easy.
The Curry Night Kit set contains:-
Korma Blend – Mild but packs a flavour punch (add chilli for heat)
Bhuna Blend – A beautiful balance of flavour and medium spice
Tandoori Masala Blend – Medium in heat and super versatile
Goan Blend – Award winning and the hottest in our range! (if you love flavour and not heat, just use less than recommended)
A recipe booklet containing 8 tasty curry recipes which are simple enough for a mid week dinner, but special enough to impress dinner guests.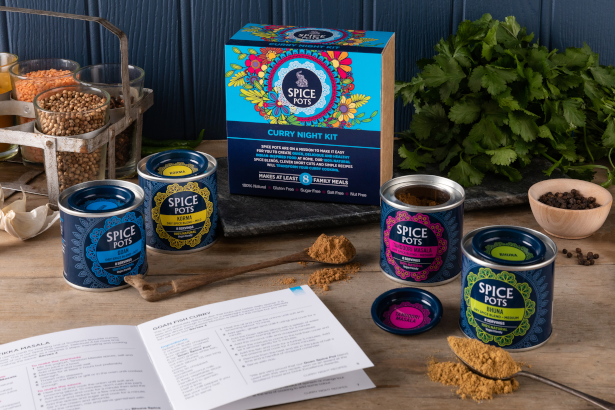 Luxury Indian Spice Gift Set
This gorgeous curry making kit makes an incredible foodies gift for those learning to cook, for seasoned home cooks and for curry lovers alike.
Delivering healthy, authentic curry and sweet treats with minimal effort, this gorgeous cooking gift is pretty enough to have pride of place in their kitchen – and the best bit is that they will be reminded of you every time they cook!
Our Indian Spice Gift Set contains:-
Korma Spice Blend – Mild but packs a punch with flavour
Bhuna Spice Blend – A wonderful balance of flavour and spice
Tandoori Masala Spice Blend – Medium in heat and super versatile
Goan Spice Blend – Award winning and the hottest in our range!
Mixed Sweet Spice Blend – for delicious baking
Indian Cookbook – 150 pages of mouthwatering Indian cuisine
Cooks Candle – smells divine and neutralises cooking odours
Looking for stocking fillers? Spice Pots spice blends are perfect for curry lovers or our Chefs candles, to neautralise odours as you cook. We also have Letterbox Curry Spice Kits are a great way to send family or friends some little spice love through the letterbox, quick and simple gifting with a thoughtful twist for those who love to cook great, authentic curries at home.