Songwriter Cards from The Song In My Head Ltd.
The deck helps young, wannabe artists to write songs and has been designed and produced by two professional musicians. The cards have been described by Gareth Malone as "genius!" They have a Grammy Award winner's endorsement too. The cards are available on Amazon UK for £24.99.
See more and buy at :- www.amazon.co.uk/Song-My-Head-Songwriting-Songwriters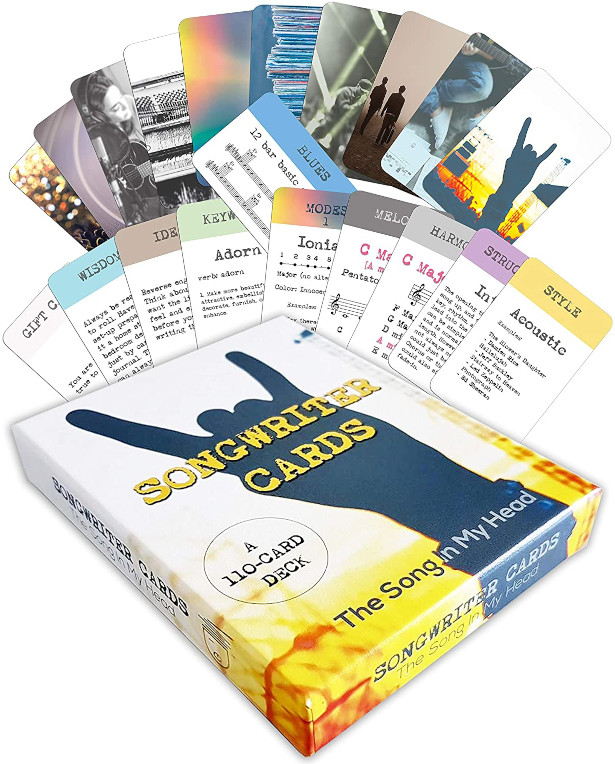 The Song in My Head: Songwriter Cards– 110 Creative Prompts to Inspire Your Songwriting – Tackle Writer's Block Like a Pro – Perfect Music Gift For Bedroom Singer/Songwriters and Teen Musicians
OUT OF YOUR HEAD AND ONTO THE PAGE: Jump start your creative juices and play around with melody and chords all over again with these cards. Often the blank page is more daunting than encouraging. Use the cards to pick up your instrument and explore crazy pairings: Does Reggae work in E Minor? How would a heavy metal song about the word cherish sound? Whether it ends up an instantly classic tune or needs a tiny bit more work, you already have the heart of your song.
KICKS WRITER'S BLOCK TO THE KERB: The best way to get over your creative burnout is to get ahead of it. Let's face it, us creatives can be amazing at procrastinating, but imagine how many songs you've never sung because you've never written them? Instead of just lip-synching to Spotify, screaming into your sister's hairbrush microphone why not try your hand at writing killer music in the comfort of your bedroom? Who knows, maybe you'll be the next TikTok sensation!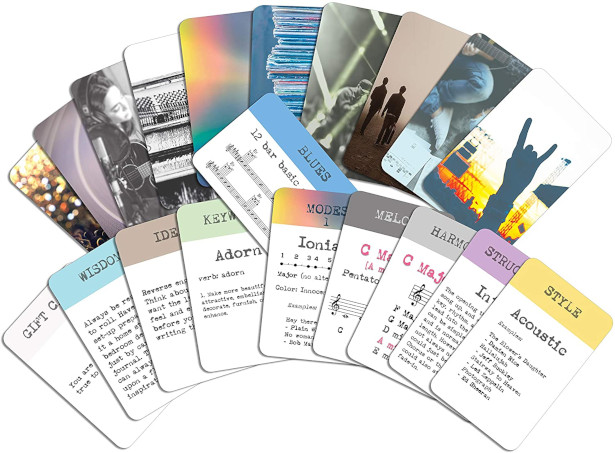 NO MORE WALLOWING IN YOUR LACK OF INSPIRATION: Our songwriting cards refuse to let you live humdrum, so let's find a snare drum and sort out your sanity! Boost your confidence and shake up your ideas with our card prompts to play around with, use them to improvise with harmony, word or genre suggestions. Remind yourself why you got into making music in the first place: to experiment with sound,to create something positive, to invent and do your own thing. Sound familiar?
CRANK THE MUSIC TO AN ELEVEN: With millions of unique combinations, this portable deck will see you spitting bars in no time! Perfect for brainstorming or if you feel stuck without your muse, in this handy card format, the songwriter deck can be used to pump up the volume at a songwriting session or rehearsal.