Artisanal Science Labs. ASL™ 01. www.artisanalsciencelabs.com. For Skin. Includes. BONE MARROW, ALPHA-TOCOPHEROL, COENZYME Q10, HYPPOPHAE OIL, THEOBROMA OIL & more.>> www.artisanalsciencelabs.com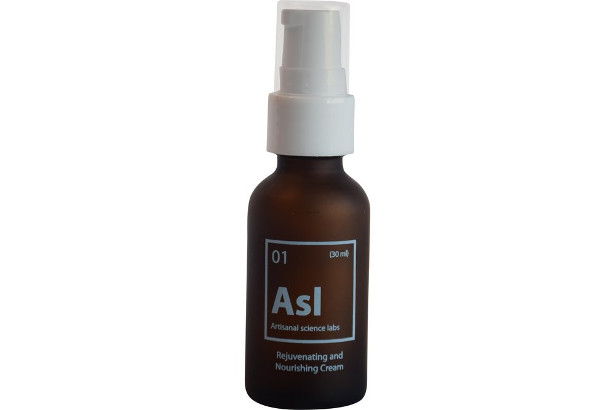 Artisanal Science Labs has recently launched a new skin product, a face cream. Artisanal Science Labs™ is the marriage of proven scientific research and unique craftsmanship passed down through generations.
ASL's exclusive concentrate uses only the highest quality, safest ingredients to nourish, hydrate and firm skin.
BONE MARROW. Used for centuries in holistic alternative medicine, bone marrow has numerous untapped health benefits. New research indicates that directly applied bone marrow derived cells lead to dermal rebuilding. Bone marrow's collagen provides nutrition while restoring damaged tissues.
ASL™ contains 20% pure bone marrow, which is identical to human lipids. Our skin recognizes bone marrow as organic matter, allowing it to seamlessly penetrate and boost the production of collagen and regeneration of cells.
ALPHA-TOCOPHEROL (Vitamin E) Known as "the vitamin of youth," Vitamin E is an antioxidant that helps neutralize free radicals, lubricate cell membranes, and promote cell regeneration. ASL™ uses vitamin E derived from various cereals in embryonic stages, ensuring maximum absorption.
COENZYME Q10 Found in almost every cell in the body, CoQ10 is an essential antioxidant, promoting healthy cell activity and fighting harmful free radicals. Our CoQ10 levels decrease as we age, with most people over 30 demonstrating inadequate levels of the coenzyme. ASL™ replenishes CoQ10 levels, stimulating cell renewal.
HYPPOPHAE OIL (sea buckhorn oil) Originating from the Himalayas, sea buckhorn oil has been used in Ayurvedic medicine for thousands of years. Sea buckthorn oil is noted for its ability to promote blood circulation, nourish tissues, and heal damaged skin.
THEOBROMA OIL (cocoa butter) Cocoa butter is an ultra-hydrating and soothing moisturizer, containing a significant amount of polyphenol and flavanoid antioxidants, rapidly metabolized by the skin.
COLLAGEN AND ELASTIN These naturally occurring proteins are responsible for skin elasticity and vitality, preventing the depletion of moisture and restoring skin its original youthful state by stimulating cellular activity.
HERBAL EXTRACTS Our unique combination of herbal extracts has an array of valuable pharmaceutical qualities. Chamomile, violet, sunflower, primrose, and other extracts serve as anti-inflammatory, pain-relieving, and anti-bacterial agents.