Main Pic: Margaret McKeon-Boyle
Pic below Virginia & Cavan RFC
Photographer : Marianne Cahill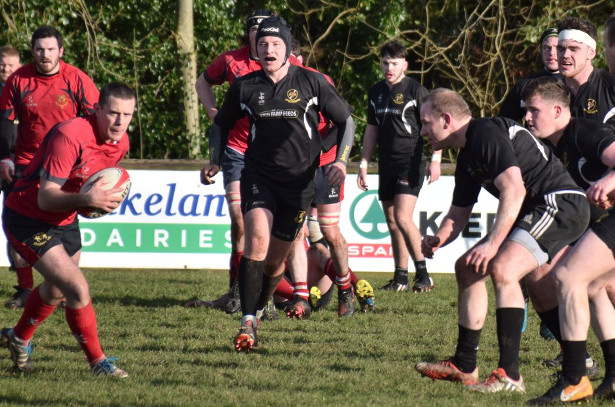 To follow INTOUCH RUGBY on Facebook CLICK HERE to Follow InTouch Schools & Clubs Rugby in Ulster & Lifestyle info page on Facebook CLICK HERE for TWITTER CLICK HERE
VIRGINIA RFC
U16s Lead Ulster South After Dominant Victory Over Monaghan
Virginia RFC U16s welcomed Monaghan RFC to The Deerpark Saturday on a cold damp morning, with both of their League campaigns on the line. Monaghan were the only team so far this season to inflict defeat on Virginia, so the home side knew they were in for a tough physical battle if they wanted to reclaim top spot in Ulster South.
As expected Monaghan came out of the blocks on fire, pressing Virginia back into their own twenty-two, and using their size and strength to threaten the Virginia line. The men in black however were well prepared and big hits from James Farrelly, Callum Finane, Ryan McGuigan, and Michael McKeon-Boyle made sure the defence held firm up the middle, and some superb tackling from Jason Henderson and Robert Lochaden when the opposition ran the ball began to frustrate the visitors. After absorbing plenty of pressure Virginia forced their way into the game, and started to build both possession, and territorial dominance. This was helped greatly by another scrummaging masterclass from John Smyth and Jamie Osbourne, and some great work in the lineout led by Adrian Lynch. As the half wore on Virginia started to spread the play wider and gaps began to appear in the Monaghan defence. After a couple of scrambled defensive saves the green wall finally broke, and Paddy Gordon went over in the corner to give Virginia a 5-0 lead at the break.
This was an absorbing and brutal encounter, and you felt something had to give as the second half got under way. Monaghan again took the game to Virginia but couldn't get the same foothold as they did in the first half. They resorted to kicking over the top, but an assured and confident performance from Jake White-Duffy at full back meant that threat was well dealt with. As the half wore on Virginia again pressured the wide defence of their visitors, and an excellent run from Niall Carolan saw him go in under the posts, with Michael converting for a twelve point lead. Virginia now had their tales up, and an outrageous dummy from Conor Nulty sold the entire defence to further extend the lead. Ciaran Levy-Valensi entered the fray in the backs, and Thomas Sheridan in the front row, both adding to the home team's effort, allowing them to continue to push the Monaghan back. Cai Walker ran another typically aggressive line offloading to Adam Sherriff as he was held up just short, he found Adam Charters who went over for a well-deserved try after another controlling performance at fly half. Michael's second conversion pushed the score out to 24-0, and that's how it ended at full time.
A fantastic all round performance form Virginia, both in defence and attack, has put them back on top of the Ulster League South and in a great position to retain their title. Next weekend sees them welcome the excellent Clogher Valley to The Deerpark, which will very much decide the destination of top spot.
Squad: Jamie Osbourne, Ryan McGuigan, John Smyth, Callum Finane, James Farrelly, Adrian Lynch, Cai Walker (Cptn), Michael McKeon-Boyle, Jason Henderson, Adam Charters, Robert Lochaden, Niall Carolan, Conor Nulty, Paddy Gordon, Jake White-Duffy, Killian Collins, Thomas Sheridan, Luke Morris, Mark Gibney, Adam Sherriff, Ciaran Levy-Valensi, John Dolan. Huge thanks too to Ryan Moloney, Diarmuid O'Reilly and Jack Vaughan for providing cover on the day.
U14s Back On Top Of The League
Virginia RFC 48 – Monaghan RFC 14
Virginia U14s welcomed Monaghan in the South Ulster League for a top of the table clash with the League lead at stake. It was breezy cold day and the field was heavy from all the rain during the night but it was still good conditions to play rugby
Virginia's scrum was very solid and they capitalised on this on a good few occasions. The first try came off a scrum from Kieran Duffy at the back, converted by Malachy Walker. Virginias second try once again came from a strong set piece, Kieran made another break and passed the ball out to Darren Kavanagh who burst his way over the line to make it 12-0. Mathew Byers had an outstanding game in the line out, robbing the ball on a Monaghan put in, and making a great run to get over the line. Another scrum was then capitalised on and Kieran added his second. The backs too got in on the act, testing the defence of Monaghan throughout. Killian Smith made a great run for the corner but was unlucky when he was pushed into touch just before the line. The line out for was again won by Mathew who got over the line to score his second, and then a fantastic conversion from a difficult angle by Malachy added to his earlier ones to make the half time score 31-0.
Half time saw no changes being made and it wasn't long into the half when the Monaghan lost their prop and the scrums went uncontested. Virginia were first to score in the second half after a great pass by Oscar Erikson to Nathan Tobin who made yards before he gave it to Rian Stafford who then passed onto Malachy Walker to score in the corner. Virginia took this opportunity to get the subs on and to blood some of the younger players. Mathew Byers remained though and it wasn't long before another line out steal saw him complete his hat-trick. Monaghan took charge for parts in the second half and the next two trys were scored by them. Virginia however came again with Gordon Lochaden and Darren Kavanagh putting in an immense amount of work in the forwards clearing rucks and making breaks, and after some great work a pop pass by Harry Leddy to Glen McCabe saw him score under the posts, a final conversion from Malachy making the final score 48-14.
Virginia now sit back on top of the Ulster South League, with the next few games determining if they can hold on to their title, and qualify for the year end provincial play offs. Next game is home v Clogher Valley next Saturday.
Squad: Darren Kavanagh, Gordon Lochaden, Eoin Bogan, Matthew Byers, Conan Fitzpatrick, Patrick Sheridan, Glen McCabe, Oscar Erikson, Jack Carroll, Killian Smith, Nathan Tobin, Malachy Walker, Philip O'Dowd, Tadgh Barry, Ruairi Flynn-Connelly, Declan Burns, Rian Stafford, Louis Fidgeon, Harry Leddy, Pauric McCusker, Tyrone Tynan, Kieran Duffy