Seraphina Does EVERYTHING! Author: Melissa Gratias, Ph.D. Such A Great Stocking Filler Book! On Amazon!
Amazon www.amazon.com/gp/product/1937870553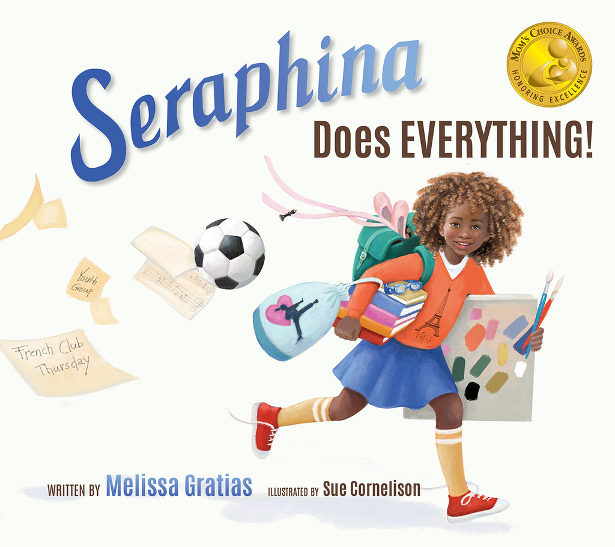 Seraphina Does EVERYTHING! was published by the National Center for Youth Issues, and not-for-profit publisher who promotes social emotional learning in children. The book is about a girl who doesn't want to miss out on anything so she does it all. Then, she learns an important lesson about life balance from her dad. It is a great gift for a active child, parent, or educator.
Here is a recent review of Seraphina Does EVERYTHING! fromGoodreads:
5 stars.
Wow. This was above my expectations. The moral of the story is not just for children of all ages but also a very important message for adults as well. Seraphina is an overachiever. She tries to do everything because she fears missing out on something. But while she's trying to do everything, she finally realised that she's trying to do too much and that in fact she really is missing out on some rather important things such as time to play with friends. The chill out time as I call it. She realises that because she is trying to do so much, that she isn't able to do as well as she could if she had less things to try and achieve. The message is simple but important. That putting too much pressure on yourself to do so much, will wear you out and will make you miss out on what is really important.
This is such a beautiful book to just simply look at. The illustrations are gorgeous. Highly recommended.
Overscheduled kids don't have time to enjoy their childhoods. I think that your mission is consistent with the mission ofSeraphina – to help families live a better life.
Illustrated storybook for elementary school-aged children (that has a sneaky message for adults, too!)
Seraphina Does EVERYTHING!
Author: Melissa Gratias, Ph.D.
Price: $14.95
Amazon www.amazon.com/gp/product/1937870553
Seraphina Does EVERYTHING! is the perfect holiday gift for elementary students and the grown-ups in their lives. The storyline follows a young girl named Seraphina through her various hobbies, clubs, sports, etc., who ultimately finds herself overwhelmed and underprepared to succeed in her jam-packed schedule of activities.Seraphina is a conversation starter around weighty issues such as mental health, confronting perfectionism, and prioritization of tasks and opportunities for children. A great reminder for the busy holiday season,Seraphina helps children (and adults!) avoid burnout before it begins.