Fast Absorbing Liquid Glucosamine – Safe, Effective Joint Pain Relief for People & Pets! www.flexicose.com "A superb product, it worked for me!" InTouch Rugby Curator!
CODE > "RUGBY10" for 10% off two or more products! Use at checkout on > www.flexicose.com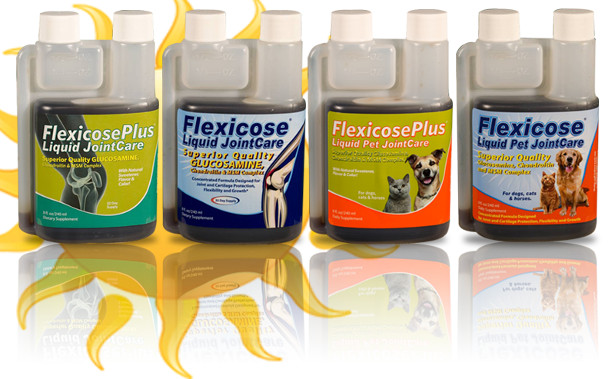 All Flexicose liquid glucosamine products are high quality, fast absorbing, 100% Gluten-Free, and developed to be superior in quality while surpassing existing glucosamine products on the market today. 

As a BBB Accredited (A+ rating) company, we follow Good Manufacturing Practices (GMP), as outlined under Section 501(B) of the 1938 Food, Drug and Cosmetic Act. Furthermore, every product we sell is backed by research and comes with a Money-Back Guarantee.
Flexicose® and FlexicosePlus® are well tolerated as they are nutraceuticals, not pharmaceuticals.List of Ingredients include: Glucosamine Sulfate, Glucosamine HCL, Chondroitin Sulfate, MSM, Hyaluronic Acid, Manganese, Omega 3 fatty acids (EPA and DHA), Vitamin A, Vitamin C, Vitamin E, Yucca, Bromelain, Boswellia, Aloe Vera and Niacin in a unique and concentrated liquid formula.Safe for People and Pets!
See answers to other Frequently Asked Questions by visiting us: http://www.flexicose.com/frequently-asked-questions.html
Awards
Better Business Bureau (BBB) Accredited with A+ rating!
Good Manufacturing Practices (GMP) Certified
Products
Flexicose, Pet Flexicose, FlexicosePlus, Pet FlexicosePlus