Savoury Oat Pancakes Stack with Avo, Beets & Feta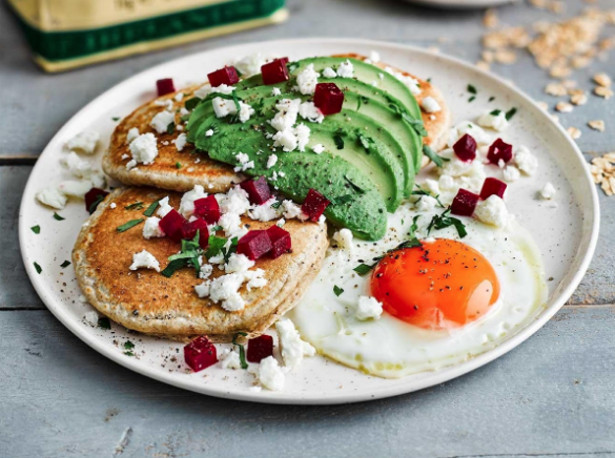 Makes: 6 pancakes
Prep time: 20 mins
Cook time: 10 mins
Difficulty Level: Easy-Medium
Ingredients:
100g Flahavan's Organic Porridge Oats
1/2 tsp sea salt
1 tsp baking powder
1/2 tsp cracked black pepper
100ml oat milk
1 free-range egg
1 tsp rapeseed oil
1/2 Avocado
1 small cooked beetroot
20g feta cheese
1 fried egg
1 handful chopped parsley
Extra virgin olive oil
Method:
Put the Flahavan's Organic Porridge Oats and salt in a food processor, and blend until you get the consistency of a mealy flour. Tip into a bowl and stir in the baking powder and pepper.
In a measuring jug, whisk together the milk and 1 egg, then stir the wet mixture into the dry, until thoroughly combined. Do not let the batter rest, as it may thicken too much. If this occurs, add more milk.
Pour ½ a teaspoon of oil onto a non-stick frying pan and spread around the pan.
Heat a frying pan over a medium heat then add about two teaspoons of the batter. Cook for approx. 2 minutes or until a few bubbles have appeared and the pancake has risen slightly, then use a spatula to flip the pancake, cooking for a further 2 minutes.
Serve with a fried egg, chopped cooked beetroot, sliced avocado, fresh parsley, feta and extra virgin olive oil (or any savoury toppings you desire!).
Day After Porridge Pancakes with Grilled Honey and Orange Figs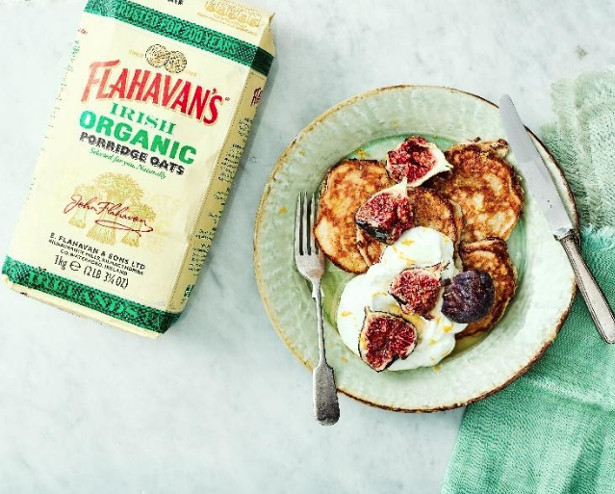 Serves 4
Ingredients:
50g Flahavan's Organic Porridge Oats
250 ml milk
OR 275g leftover porridge and a splash of milk
1 egg
50g plain flour
1 tsp baking powder
4 black figs
Knob of butter
Juice and zest of half an orange
1 tbsp honey
Greek yoghurt
Method:
Place the Flahavan's Organic Porridge Oats in a small pan over a medium heat with 250ml milk and bring to the boil and reduce the temperature to a low heat and continue cooking for around 10-12 minutes until thick and creamy. Leave the porridge overnight covered with some clingfilm.
Whisk the overnight porridge together with a splash of milk and the egg until well combined. Alternatively, you can add the splash of milk and egg to any leftover porridge you may have.
Sift in the flour and baking powder to the porridge and whisk to combine.
Halve the figs and place cut side facing up on a baking tray. Drizzle with the honey and the orange zest and juice. Place under a hot grill and cook for 5-6 minutes or until the figs start to release their juices and collapse.
Melt a knob of butter in a non-stick frying pan and cook spoonfuls of the batter in batches until golden brown on each side. Repeat until all the batter is used up.
Serve the pancakes with the grilled figs and Greek yogurt.