NATURE'S FINEST PEACH PANCAKES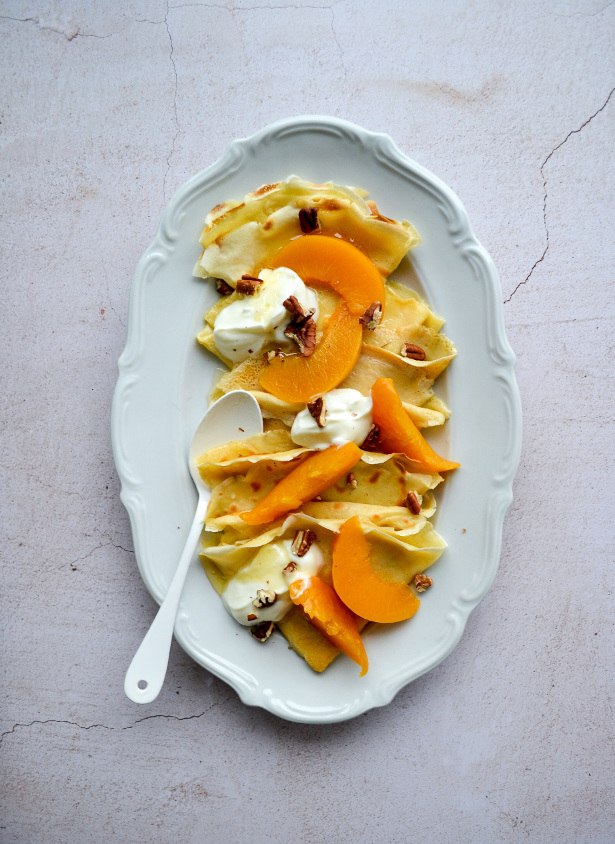 FACEBOOK | INSTAGRAM | PINTEREST
Prep and cook time: 20-25mins
Serves: 4
Ingredients
(REFINED SUGAR-FREE)
1 x400g tub Nature's Finest peaches
Coconut oil, for frying
2 eggs
100g flour
1/4 tsp fine sea salt
300ml whole milk
Juice of 1/2 a lemon
To serve
150g yoghurt
Pecans
Method
To make the pancake batter, place the flour and salt in a large bowl and make a well in the centre.
Add the eggs and milk to the centre of the bowl then whisk well to combine, ensuring there are no lumps of flour left.
Melt a little coconut oil in a non-stick pan, then ladle in enough batter to thinly coat the pan once it has spread out.
Tilt the pan to help the batter spread. Cook on a medium-low heat until golden (2-3 minutes), the flip and cook the other side.
Transfer the pancake to a plate, then repeat until you have used all the batter (you should get around eight pancakes).
Wipe the pan clean, then pour in the juice from the Nature's Finest peaches and the juice of 1/2 a lemon.
Cook to reduce to a thick syrup. Add the Nature's Finest peaches and allow the syrup to coat them, then remove from the heat.
Fold the pancakes into quarters, then place on a plate and top with the Nature's Finest peaches and syrup.
Serve with yoghurt and crushed pecans.
Recipe created by Lucy Burton aka Pudding Lane Blog on behalf of Nature's Finest.