This wonderful product from JML direct will ensure your home gets noticed this Christmas!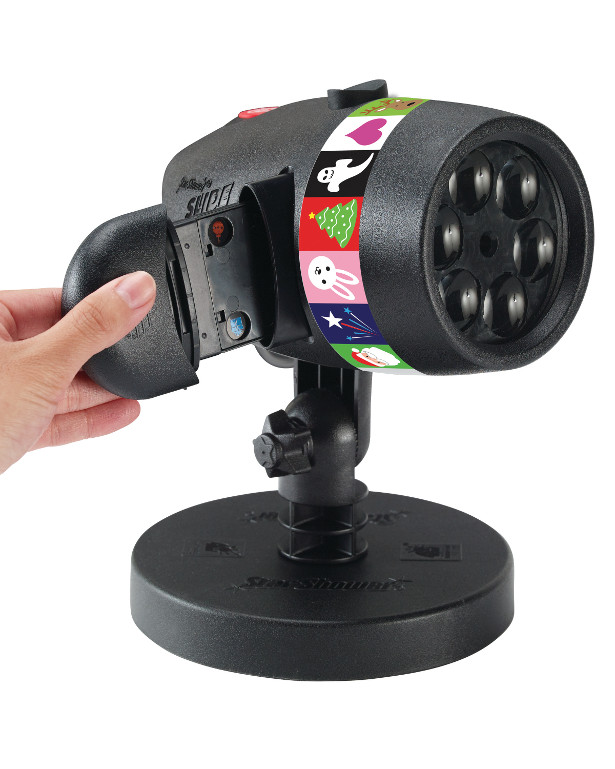 FACEBOOK | TWITTER | INSTAGRAM | GOOGLE+ | YOUTUBE | PINTEREST
JML offer a range of great homes, garden, beauty and pet gadgets and have just released their Star Shower Slide Show- a moving fully coloured projector which will allow you to celebrate the day of the dead with a decorated home.
Star Shower Slideshow is the brightest, most colourful way to illuminate your home, inside or out, for the holidays or any special occasion. With specially-designed outdoor-friendly sliding technology, Star Shower Slideshow projects images of vampire bats, pumpkins, ghosts, snowmen, presents, baubles, Christmas trees and all kinds of great festive illustrations, swirling and overlapping on the walls of your home.
With a choice of twelve slides on various holiday themes, you'll never run out of images for all your celebrations and festive occasions. Use outside in all weathers or, thanks to the indoor base, use it indoors for great parties and holiday get-togethers.
Fully coloured-in images in three different speeds.
Because Star Shower Slideshow is a projection and not a laser-drawn image, the bright, crisp LED-lit images are fully coloured-in and not single-colour outlines, so you really get the fully-illustrated feel of Christmas, Halloween and birthdays. Plus, you can adjust your slideshow to one of three speed settings – choose from 'slow', 'fast' and 'freeze' to suit the mood of your celebration.
Easy to install, even easier to use.
Unlike the hassle of traditional exterior festive lights, setting up Star Shower Slideshow is so easy you can do it in seconds. With a water-resistant casing, Star Shower Slideshow is safe in snow and rain, so just attach the ground stake and stick it into any soft lawn or garden area where it best suits the exterior of your house, and the indoor base allows you to create amazing party interiors too. Then, plug it into a single electrical outlet and it's ready to go. To use Star Shower Slideshow just choose one of the 12 great slides, insert it and press play- it couldn't be easier! Thanks to the super-efficient LED lights and projection motor, you never have to worry about energy costs, so you can leave your Star Shower Slideshow running as long as the holiday season lasts.