Maggie's New Home
Maggie's New Home, is a heart- warming story about a young Pomeranian, Pom, Pom, puppy.
See more at :- www.amazon.com/Maggies-New-Home-Amy-Boreman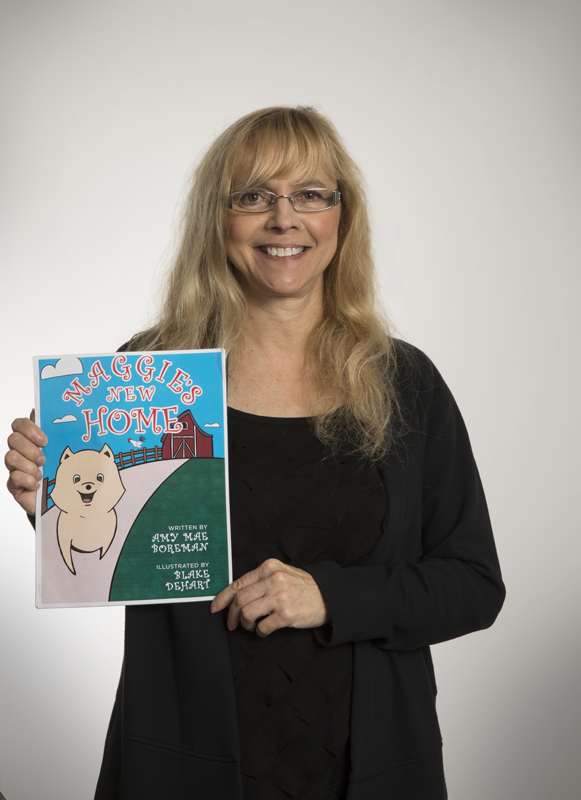 She finds herself moving away from the city, to a life down on the farm. There she meets her first friend, Tammie a Shetland Sheepdog. He takes her all around the farm making new friends as they go.
The Author: Amy Mae Boreman has raised a number of different dog breeds, throughout her lifetime. Her love has always been for Shelties or Shetland Sheepdogs. She started her own kennel, Tycoon Kennels. There she trained a number of pointed and champion dogs. Amy married a dairy farmer, and raised her children down on the farm.
Amy was a freelance reporter for the Wooster Daily Record newspaper, and wrote feature stories for the Sheltie Pacesetter and The Sheltie International magazines.
She has been a member of the Wayne County Kennel Club, Cleveland Shetland Sheepdog, and trained under the, Cleveland All Breed and the Akron Training Center. She started "Love on A Leash," 4-H Club in Wooster, Ohio.
It was after she took home a little Pomeranian puppy, that Amy wanted to share the enjoyment of Maggie with children.
Illustrator, Blake DeHart is a graphic artist from Northeast Ohio currently living in San Diego, CA. He is passionate about storytelling, skateboarding, and music. For his latest work visit blake-dehart.com
Author: Amy Mae Boreman
Illustrator: Blake DeHart
Children's Picture Book Pages: 34
ISBN-13: 978 1548621988
ISBN-10: 1548621986
Format: Paperback
Size: 8 1/2 x 11
List Price: $10.99
On Demand Printing
Available from Amazon.com and Barnes & Noble, on line only.