Orchard Toys Magic Spelling Game, Magic Ink Reveals the Answer, A Spellbinding Spelling Game, Family, Educational Toys and Games, Perfect for Kids 5-7
They also have MAGIC MATHS!
See more & buy @ :- https://www.amazon.co.uk/Orchard-Toys-Magic-Spelling
A fun literacy version of Orchard Toys' bestselling Magic Maths game
Features magical rub and reveal cards to allow children to self check their answers
Race against the timer for even more fun!
Perfect to support Key Stage 1 and Key Stage 2 English
Suitable for ages 5-7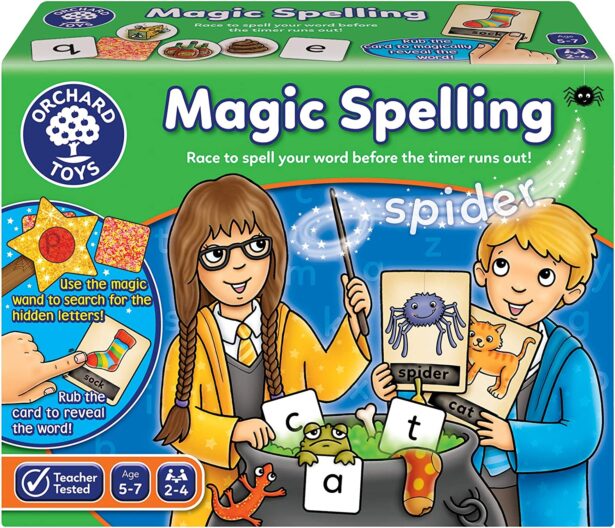 Magic Spelling
Abracadabra! Magic Spelling is a spellbinding literacy game for children aged 5-7 years old! It encourages children to practise their spelling in a fun, imaginative way. Race against time to find hidden letters using the magic viewer, then pick a yucky ingredient to add to your spell book! The first player to fill their spell book and successfully cast their spell wins the game!
Magic Viewer
Rub and Reveal
Variety of Words
Magic Viewer
Use the magic viewer to find the hidden letters to spell words!
Rub and Reveal Cards
Features heat sensitive rub and reveal cards to check spellings.
Variety of Words
Includes easier and more challenging words to spell for progressive learning.
Educational Benefits
Language and Literacy
Personal and Social Skills
Observation Skills
Develops Literacy and Language Skills
Children will learn to recognise letters and to spell words against a timer.
Develops Personal and Social Skills
As they play, children will develop their communication skills, their turn taking skills and the ability to follow rules.
Encourages Observation Skills
Children will need to focus to spot the correct letter as they race to spell their word.
About Orchard Toys
Orchard Toys have been making educational games and jigsaws in Britain for nearly 50 years. The emphasis is on 'learning made fun', meaning parents can benefit from our trusted educational values whilst children will have so much fun they'll want to play time and time again!
We are passionate about producing high-quality products with minimal impact on our environment. All our games and jigsaws are made from recycled board and paper from sustainable sources. Sturdy, wipe-clean game and puzzle boards mean our products will stand the test of time against wear and tear and messy hands, ensuring they can be passed down through generations.