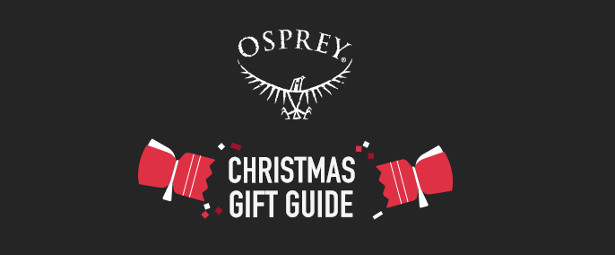 INSTAGRAM | FACEBOOK | TWITTER | YOUTUBE | PINTEREST
Find the Perfect Gift
Struggling to find the perfect Christmas gift for your outdoor obsessed loved one? We've created a list of the very best Osprey products to help you get them kitted out for their 2018 adventures.
Top Gift Picks
We've handpicked some of our most popular products across Backpacking, Travel and Everyday & Commute. These award winning packs offer a male and female specific version, allowing for a fantastic fit.
This Everyday & Commute series features an AirSpeed™ trampoline suspended mesh backsystem and Kickstand technology. The Pandion, and female specific Palea are top-of-the-range daypacks designed for active everyday use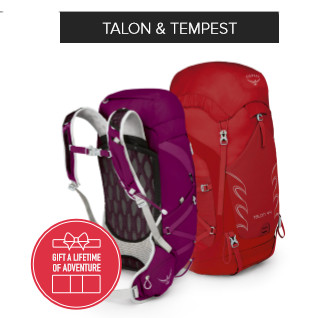 The iconic Talon & Tempest hiking packs are built for comfort and versatility, with unrivalled performance. Talon, and the female specific Tempest, are perfect for single or short multi-day hiking adventures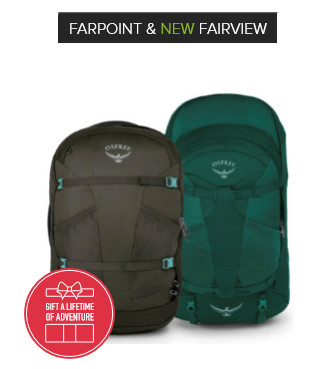 Farpoint and the new female specific Fairview are the perfect travelling companions, featuring the comfort and benefits of a travel backpack with the ease of packing and versatility of a suitcase.
Aether and the female specific Ariel come equipped with AntiGravity™ suspension. This, combined, with a Custom Mouldable hipbelt, creates exceptional backpacking packs for multi-day trips.
New
Osprey Gift Cards Our Gift Cards make a great present idea if you're not sure what to buy for the outdoor enthusiast in your life. Your lucky recipient can redeem their unique Osprey Gift Card code within their Account or at Checkout on any Osprey pack or accessories www.ospreyeurope.com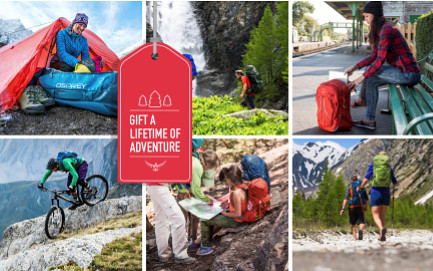 Stocking Fillers Santa has always known which little treats to place in Christmas stockings and these accessories are some of his favourites.
QuickLock™ Wallet
Designed with a unique closure system for maximum security and a hidden currency sleeve to keep your cash out of sight. It's also RFID Protective for added security in the contactless age.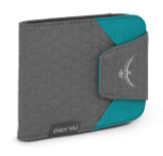 Ultralight Washbag Zip
Made from tough ripstop nylon the Ultralight Washbag Zip features a secure hook letting you hang it for easy access. We've also integrated a mirror so you can keep yourself groomed even in the remotest of regions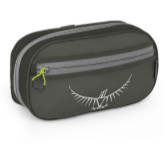 Ultralight Drysacks
Made from siliconised ripstop nylon, our Ultralight range of Drysacks are designed to keep your gear protected no matter how wet it gets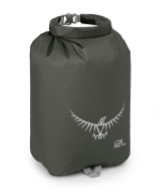 Boot Cube
Made from siliconised nylon, Boot Cube will easily slide in and out of your bag, whilst a wide opening allows you to fit yourboots in with ease.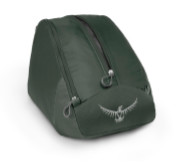 Winter Escape
Are you or a loved one escaping to warmer climates this Christmas? Or maybe you're looking for more snow on a winter break. We've pulled together the ideal Osprey winter escape package below.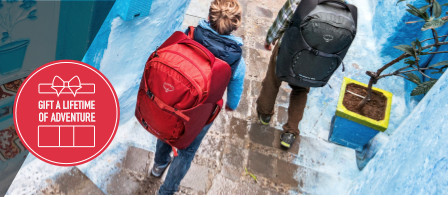 Sojourn
Whether you prefer to roll it on wheels or carry it like a backpack, Sojourn features everything you need to satiate your winter wanderlust.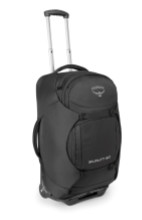 Ultralight Packing Cubes
Packing Cubes are designed to make packing for an adventure simple. They'll help keep everything in place inside your pack, whilst ensuring your clothing and gear stays organised and separated.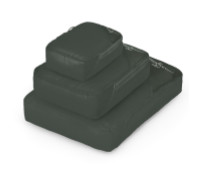 Ultralight Garment Folder
A siliconised nylon pouch designed to fit up to 7 collared shirts inside, the UL Garment Folder is a traveller's best friend.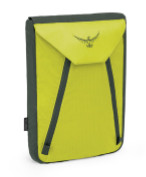 Ultralight Stuff Pack
Within seconds this lightweight backpack can be stuffed away into its own carry case, no larger than the size of an apple!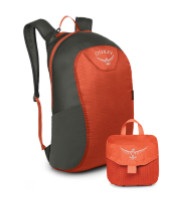 T'is the Season It wouldn't be Christmas if we weren't dreaming of snow. If you're preparing to head off-piste we have some great suggestions for your trip.
Kamber & Kresta
Kamber is the perfect skiing or snowboarding backpack for big mountain adventures, designed for challenging ascents, epic backcountry lines and comfortable piste cruising.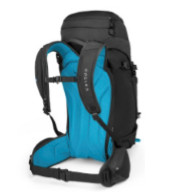 Hydraulics™ LT Reservoir
Skiing and snowboarding is thirsty work! Our reservoirs, compatible with our Kamber and Kresta series, will keep you hydrated throughout the day.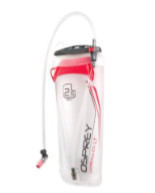 Hydraulics™ Insulated Delivery System
The Insulated Delivery System protects your water from the cold air while out on the slopes.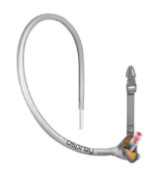 Ultralight Pack Liners
Made from siliconised ripstop nylon and designed for ease of use, our Ultralight range of Pack Liners are built to protect all of your gear from the elements.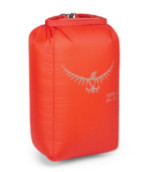 Here's to 2018 and all the adventures to come! To find out more visit www.ospreyeurope.com
Osprey was born in California, 1974, at the seat of a single sewing machine, with a head full of ideas and a desire to design & build innovative backpacks to the highest quality. Today Osprey products continue that pioneering spirit, being used on the highest mountains to the remotest islands and everywhere between.
Innovation • Quality • Packs • 1974
Some photos!