Nim's Infusions: garnishes fit for a Royal Garden Party!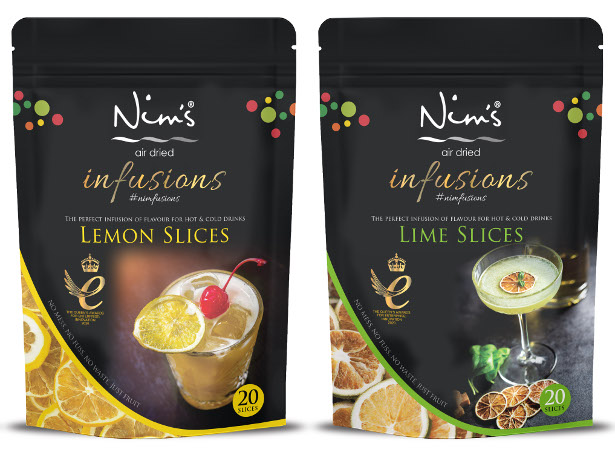 FACEBOOK | INSTAGRAM | PINTEREST | TWITTER
Nim's, the air-dried fruit crisp producer that was recently awarded a Queen's Award for Innovation, has launched Nim's Infusions, its range of air-dried citrus slices, in smart resealable pouches fit for any Royal Garden Party.
Says Nim's founder, Nimisha Raja: "The new Infusions range conveys the premium quality of this sustainable convenience product, which enables everyone to easily create fabulous cocktails from their home bar that look and taste amazing. We'd like to think that Her Majesty would give them a thumbs up!"
For summer garden party hosts looking to put the zing in their cocktails, mocktails and teas, there's a variety of garnishes including lemon, lime, orange, ruby grapefruit and cucumber.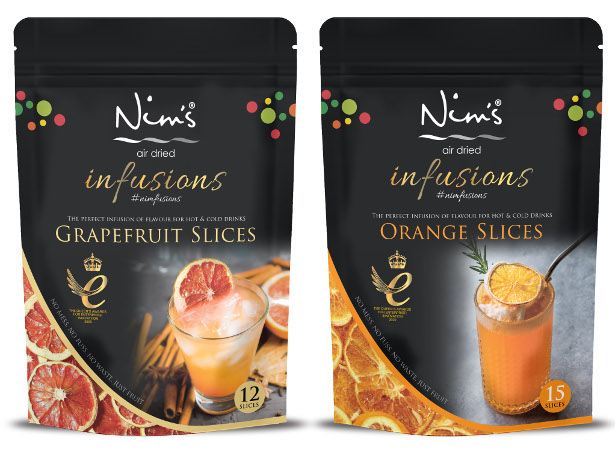 Nim's Infusions rehydrate in liquid and as they are air dried, a process which intensifies the taste of the fruits, they add bold natural flavour and aroma to any drink.
Switching to dried fruits rather than buying in and preparing fresh garnish, will save time and money and help reduce the amount of food waste created. Nim's infusions have a shelf life of up to 9 months. The recommended serving is 1 or 2 slices per drink.
The Infusions range comprises:
· Lemon Infusions Slices – perfect in a G&T or vodka cocktail
· Lime Infusions Slices – adds some zing in Margaritas or with rum
· Orange Infusions Slices – perfect with bourbon, Pimms or Cointreau
· Ruby Grapefruit Infusions Slices – try these in a grapefruit Negroni or G&T
· Cucumber Infusions Slices – brilliant with G&T and Pimms
· Kumquat Infusions – the taste of summer, great with G&T
Individual packs of 12 to 20 slices are available at www.nimsfruitcrisps.com priced from £3.95 per pack.
Coming soon….Nim's also has a range of botanicals to enhance your drinks offering. From rose buds to juniper, pink peppercorns to cardamom. Whatever your garnish needs, Nim's has got you covered. Innovation is a big part of its business too, so if you want to challenge them to create a garnish for you, get in touch.