NEW URBAN, EARTHY COLOURS FOR THE ICONIC MICROPLANE® PREMIUM CLASSIC ZESTER
Microplane® is the pioneer of photo-etched graters, none more famous than the iconic, long-lasting, rasp-like Premium Classic Zester, created over 25 years ago. Used, and loved, by professional chefs, TV cookery show presenters and passionate home cooks around the world, the Microplane® range includes
everything you need to guarantee an excellent experience in the kitchen.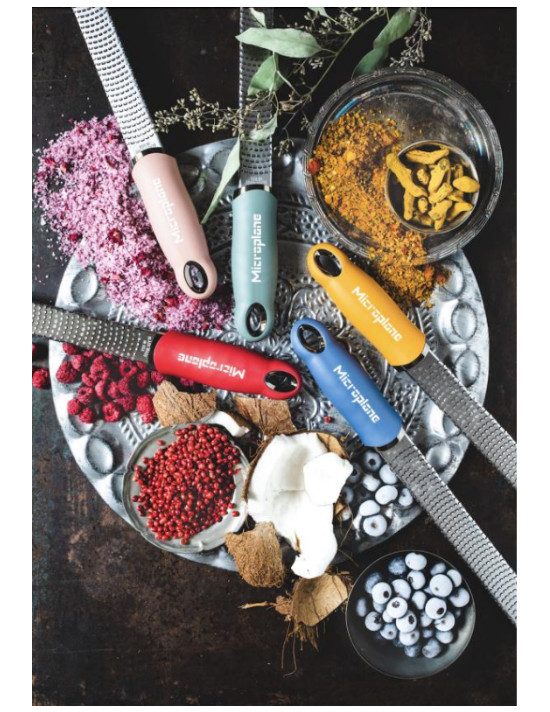 11 NEW colours, inspired by minimalistic, harmonic Scandinavian design, completely replace the original
palette (apart from Black and White, the classics!). The new chic range is subtle, warm and earthy.
Cinnamon Orange | Mustard Yellow | Sky Blue | Denim Blue | Cashmere Beige | Sage Green | Eucalyptus Green | After Dark Grey | Dusty Rose | Lipstick Pink | Pomegranate Red
In 1994, a Canadian housewife made an orange cake. Out of frustration with her old grater, she
commandeered one of her husband's favourite woodworking tools from his workshop. The blade slid
effortlessly across the orange and the zest fell like snowflakes and didn't remove the bitter pith. This
discovery laid the foundation for the creation of Microplane® kitchen graters.
Microplane® graters are distinctly different from others due to the unique photo-etching process
which creates ultra-sharp cutting edges that deliver superior performance, every time. The original,
iconic Premium Classic Zester, featuring 400 micro-teeth, is perfect for all citrus fruits, parmesan and
other hard cheese, chocolate, ginger, garlic and nutmeg. With no pressure, the food slides quickly and
easily from the blade without tearing, shredding or blocking to produce perfect results every time. The
protective case enables safe storage in a drawer. Anti-Scratch end caps protect the worktop, plate or
board when grating horizontally and provide better stability when grating vertically over pans or bowls.
The Zester is dishwasher safe, although rinsing under water is usually enough and recommended.

Adding yet more style to the legendary zester, Microplane® have replaced the original palette with a wide selection of warm, urban, earthy colours to bring functionality and elegant beauty to every kitchen décor and design.
The NEW colour range for the Microplane® Premium Classic Zester, RRP £23.95, is available from hartsofstur.com