NEW TRACKLEMENTS
SPECIAL EDITION DATE & TAMARIND CHATNI
VEGAN & GLUTEN FREE
The word chutney derives from Hindi chatnī, which comes from chātnā
meaning 'to lick' or 'to eat with appetite'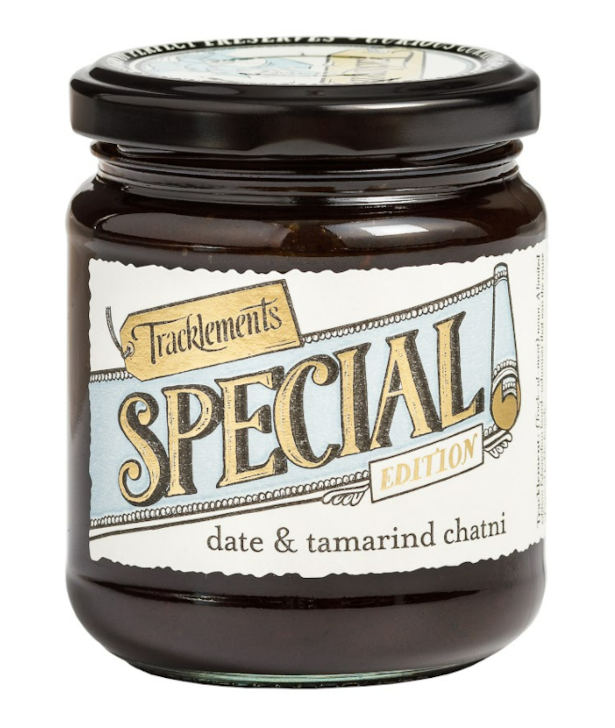 So now the yumminess of the NEW vegan and gluten free Tracklements Special Edition Date & Tamarind Chatni makes sense. This is a classic that will never go out of fashion.
Tamarind has a pleasantly sour, yet fruity flavour which bounces off the sweetness of the dates. When combined with a handful of carefully selected, traditional spices including Asafoetida, Fennel Seeds, Ground Cloves and Coriander Seeds it becomes irresistible to curries, particularly Chaat or Paneer, and is essential with dishes such as sambhars, rasams, puris, pakoras and samosas.
But its appeal doesn't end there. Adding flavor and texture, you can discover the true joy of Date & Tamarind Chatni with any white, meaty fish (just spread on top and steam), slathered over pork chops and grilled and dolloped into a Lamb Tagine to add tremendous flavor and texture.
Back in 1970, William Tullberg made the first British wholegrain mustard. 50 years on William's son, Guy, carries on his legacy. However, that one mustard has matured into eight varieties and over 40 award winning chutneys, relishes and sauces.
A store cupboard hero for both celebrity chefs and home cooks, the range is still handmade in the green heart of Wiltshire, abiding to traditional recipes, with an underpinning principle to buy the best quality ingredients sourced locally wherever possible to ensure the products taste as good as, if not better than, homemade.
B Corp accredited Tracklements believe in business as a force for good, protecting the environment as they go. They're committed to make the most planet-friendly condiments you can buy minimising their environmental footprint through using recyclable packaging, their own water treatment facility, and over 10,000 square feet of solar panels, supplemented by 100% renewable electricity generated by wind and/or hydro assets. And they don't shy away from wonky veg either!
Tracklements Special Edition Date & Tamarind Chatni RRP £3.50 for 250g, is available from fine food delis and farm shops nationwide and online at www.tracklements.co.uk.
@tracklements #tastytracklements #LifeandSoulofthePantry