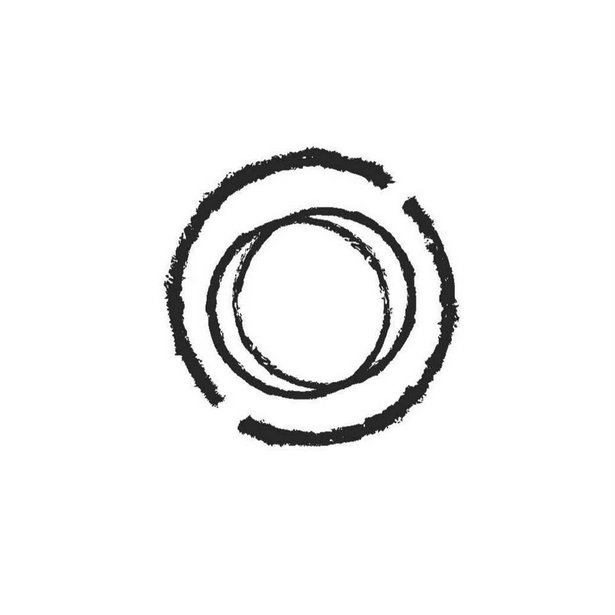 NEW
THE CULTURED COLLECTIVE KIMCHI
LIVE | FERMENTED | RAW
www.theculturedcollective.co.uk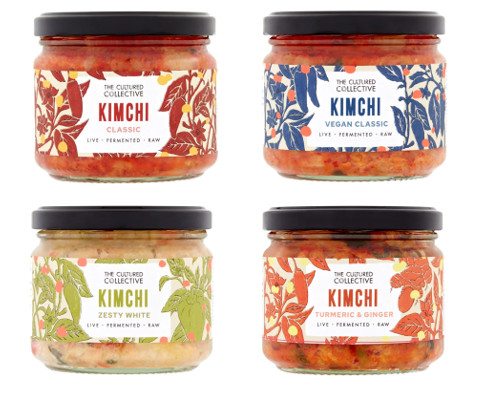 The Cultured Collective kimchi range is expertly crafted in the Cotswolds using the highest quality, natural ingredients in an environment powered by sustainable energy and presented in easily recyclable materials. Offering unbeatable quality and great taste, it's the most awarded kimchi range in the UK!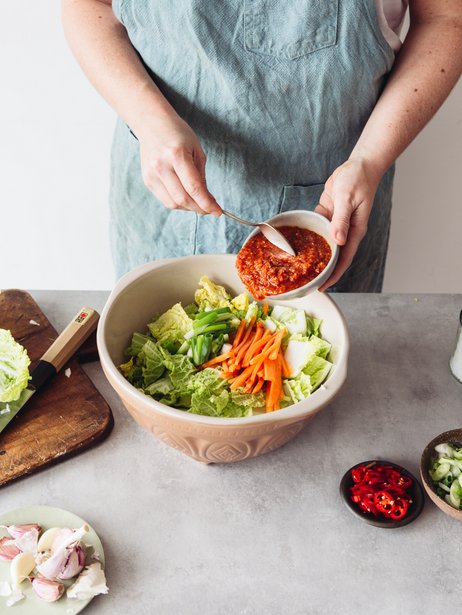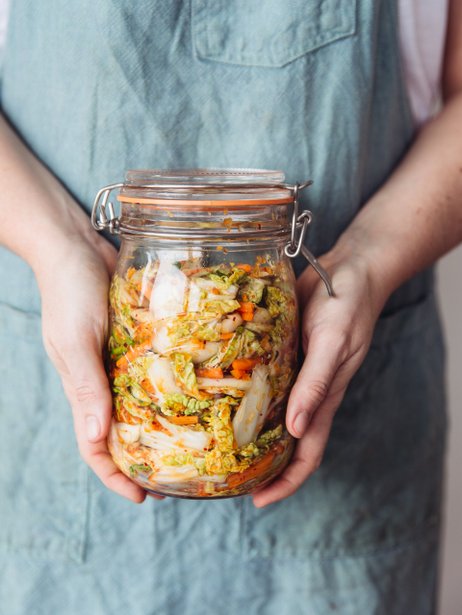 LIVING WELL BEGINS WITH EATING WELL
A traditional mix of fresh chinese leaf cabbage, mooli radish, carrot and spring onion form the basis of Classic Kimchi. The vegetable medley is fermented for up to a week in an aromatic spice blend until the perfect balance of spicy-sour has been reached. Three further kimchis have their own individual flavour and characteristics.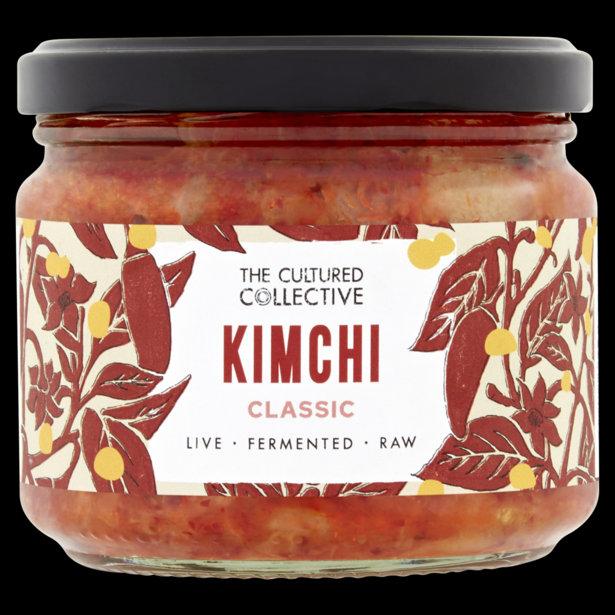 IT'S ALIVE!
Unpasteurised and with no artificial preservatives, each jar is loaded with healthy, live, good bacteria – or probiotics. Eating unpasteurised fermented foods such as kimchi is a natural way of getting probiotics into your diet.
Studies have shown that gut flora (the bacteria that live in the digestive system) have a huge impact on the health of our immune system (over 70% of which resides in the gut).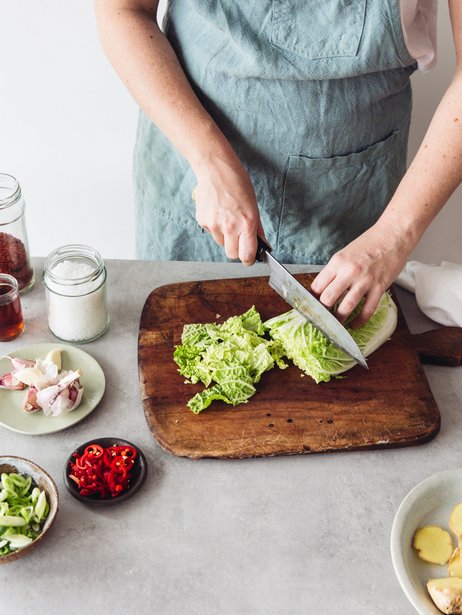 Another bit of good news; over 90% of serotonin – the so-called 'happy hormone'– is synthesised in the gut and some recent studies have shown that probiotics may have a positive effect on conditions such as depression and anxiety.
THE CULTURED COLLECTION KIMCHI RANGE
Classic Kimchi – RRP £5.45 for 250g – GLUTEN FREE
The best-selling traditional Classic Kimchi remains true to Korea's national dish. Piquant and spicy with moreish umami notes and a satisfying crunch
Turmeric & Ginger Kimchi – RRP £5.45 for 250g – GLUTEN FREE | VEGETARIAN | VEGAN
Flush with the vibrant golden glow of turmeric and ginger along with a pinch of fiery cayenne and savoury sea greens, this will get your senses singing. Circulation-supporting ginger and cayenne, together with turmeric (a natural anti-inflammatory) and wakame (a sea vegetable rich in iodine) are added for unique flavour notes and more wellness benefits.
Zesty White Kimchi – RRP £5.45 for 250g – GLUTEN FREE | VEGETARIAN | VEGAN
White kimchi is a traditional variety of Korean kimchi made without chilli flakes. Non-spicy and fragrant with warming ginger and subtle savoury notes.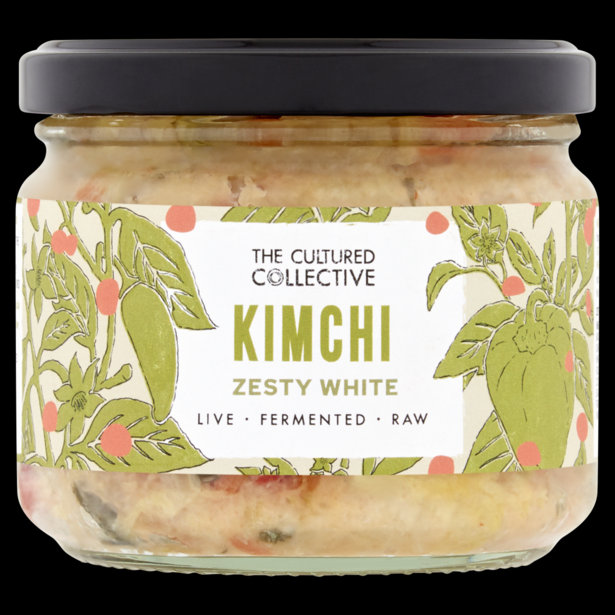 Vegan Classic Kimchi – RRP £5.79 for 250g – GLUTEN FREE | VEGETARIAN | VEGAN
The Classic Kimchi is reimagined in this plant-based version: piquant with subtle savoury notes and a satisfying crunch.
LIVE, GUT-LOVING ACCOMPANIMENTS FOR EVERY OCCASION
Kimchi is traditionally eaten as a condiment or used an ingredient in cooking, however it's equally enjoyable forked straight from the jar! Add to sandwiches, salads and wraps or spice up stir-fries, rice and noodle dishes – kimchi is not impeded by country specific cuisines!
"Gut health is a very simple practice that may help support your immune system. Eating live foods such as kimchi which is packed with good bacteria helps to create a healthy microbiome. The Cultured Collective kimchis add tang to meals AND come loaded with healthy live bacteria"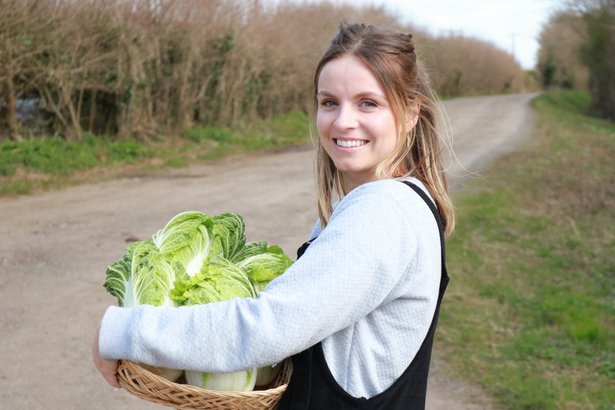 Jeannette Hyde
Nutritional Therapist & author of The Gut Makeover
The Cultured Collective Kimchi range is available from fine food delis, Ocado, Planet Organic and Whole Foods Market.
theculturedcollective.co.uk
@the_cultured_collective #theculturedcollective