NEW ROUND-THE-CLOCK POWDER POWER… MINERALISE YOUR WATER
From dusk until dawn we all want to feel our best and it's never been easier than with Wassen's NEW range of three powdered nutrients to mineralise your water. Simply add the powder to your tap water and GO!
Boost the mineral content of your tap water: these totally tasty powders contain essential minerals in bioavailable forms, plus vitamins and premium botanicals. They get to work fast so you can get on with your day knowing your water is boosted with nutritional support.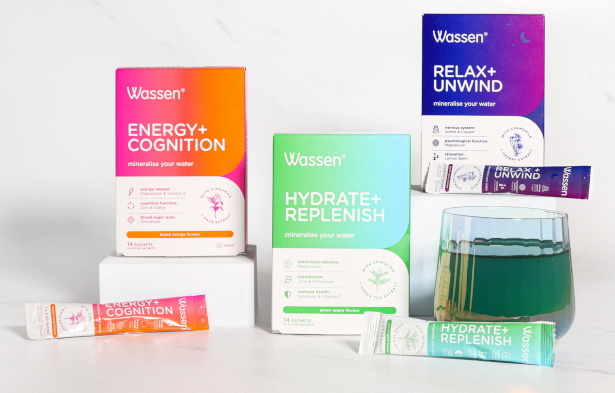 With its tangy green apple flavour, start your day and hit the ground running with Wassen Hydrate + Replenish, which has been formulated with spirulina and green tea extract, and contains 100% of your regular daily intake of vitamin D. It helps to support immune health through a combination of selenium and Vitamin C , electrolyte balance from magnesium and metabolism from zinc and chromium . It's the perfect choice for sports lovers.
For the mid-afternoon lull, shake, stir and boost your water with Wassen Energy + Cognition, formulated with cinnamon, green tea extract and maca extract. With its blood orange flavour, it helps reduce tiredness and fatigue thanks to magnesium , supports cognitive function with zinc and iodine5 and blood sugar level control from chromium6 .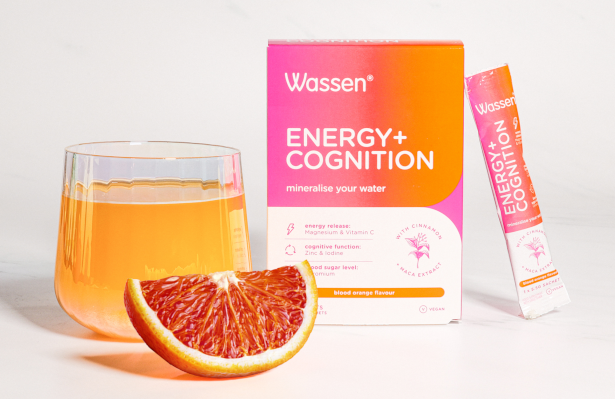 When a hectic day draws to a close, kick back and chillax with Wassen Relax + Unwind, the perfect complement to your relaxing bedtime routine. With a black cherry flavour and a hint of chamomile, it helps to support the nervous system with iodine and copper , psychological function from magnesium and provide optimal relaxation with lemon balm .
Each of the three powders can be taken in isolation or in combination for enhanced nutritional support.
The new Wassen Mineralise range will be available exclusively in Boots, from 7 November 2022. £11.99 each, for 14 x 5.5g sachets.
Visit www.wassen.com for more information.
Food supplements should not be used a substitute for a balanced diet or healthy lifestyle.