100% NATURAL HEALTH SHOTS TO ZAP THE AFTERNOON SLUMP
#3pmZing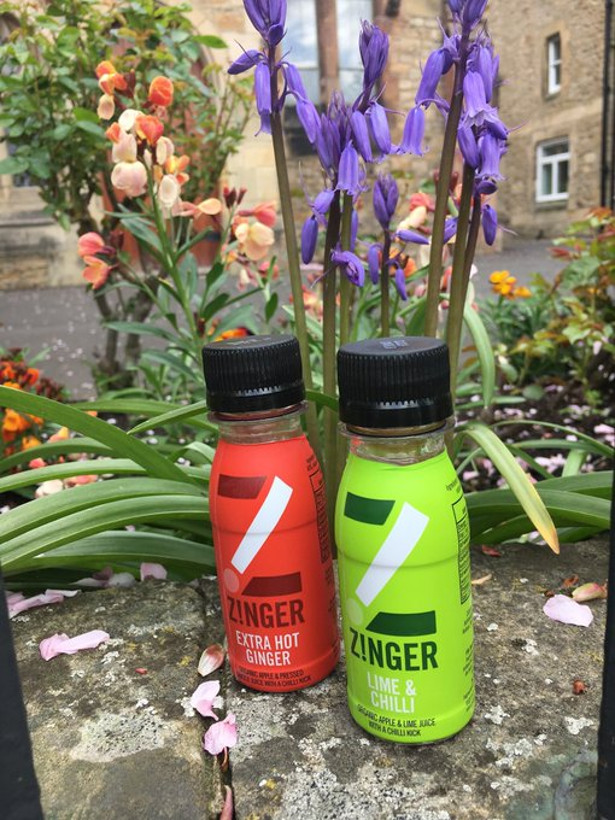 FACEBOOK | TWITTER | INSTAGRAM
A Zinger is a little (7cl) intense all-natural drink designed to wake you up with Zing – a healthy alternative to sugar and caffeine loaded drinks.
The Turmeric Juice Zinger is proving timely as this powerful golden wonder root is attracting a lot of recent publicity for its significant role in traditional medicine. Most widely known as the ingredient in spicy Indian food that turns it yellow, Turmeric is attracting serious attention as an anti-inflammatory, skin glower and may even boost brain power. The Turmeric Juice Zinger is a first for the UK, using freshly pressed Turmeric juice rather than Turmeric powder, blended with pressed apple juice with lemon, pepper and chilli added for extra Zing.
After the success of the Organic Ginger Zinger, there was room for an Xtra Ginger Zinger – designed especially for the increasing number of masochistically inclined ginger lovers out there. The Xtra Ginger Zinger is made with 40% crushed ginger juice, blended with pressed apple juice with added chilli. The Zinger is guaranteed to wake consumers up naturally and fortunately there are quite a lot of serious ginger lovers out there.
After the warm, softer heat of Ginger, the Lime Chilli Zinger is an intense combination of the sharpness of lime, combined with the fiercer heat of chilli – think Mexican fieriness caught in a little bottle!
The Zinger range of four varieties are made with 100% natural ingredients and no preservatives, artificial colours or flavours. RRP of £1.35 per 7cl shot.
Zingers are available in Waitrose, Sainsbury's, Tesco and Holland & Barrett, plus online from www.ZingerShots.com.