Tribitor drinking powder features three, 100% natural ingredients to lower the GI of high GI foods. Clinically proven to do so. >> www.tribitor.com Mitigating the negative effects of the odd treat.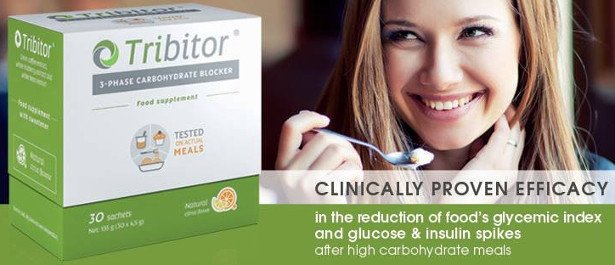 FACEBOOK | YOUTUBE | INSTAGRAM
Tribitor can help people embarking on new year eating habits (by allowing the consumption of the odd treat and mitigating the negative effects – often people fail as they don't allow themselves a few treats), it stops sugar spikes so can be an aid to quitting sugar (as in time stopping the spikes, stops the cravings).
"With Tribitor® we help you mitigate the health consequences of eating carb-rich food and enjoy your favourite treats without guilt. It's been clinically proven that – when taken 15 minutes prior to a meal – Tribitor® helps decrease the glycemic index of high-carb meals and post-meal sugar and insulin spikes." Tribitor
Tribitor® is a patent-pending combination of plant ingredients.
It contains white bean, white mulberry and green coffee extracts standardised and confirmed
to have high amounts of active substances.