FACEBOOK | INSTAGRAM | YOUTUBE
We know that as the sun comes out we all crawl off the sofa's and outdoors for some much needed vitamin D. With this comes family adventures through the forest or runs on the beach, but with all this fun often comes cuts and scrapes.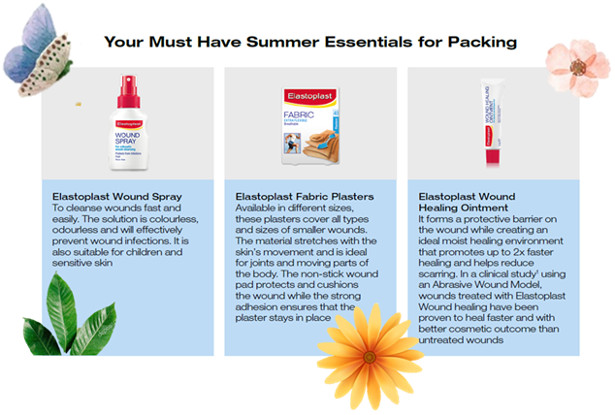 However research conducted by Elastoplast has found that almost a third of UK parents (29%) spend less than 2 hours a week playing outdoors with their children, despite it being shown that 1 in 5 parents said they felt younger after playing outdoors with their children and a third felt more relaxed – with this in mind Elastoplast has found a way for to keep you safe while making those important memories….
NEW from Elastoplast, they have masterminded a quick and complication-free three-step routine that helps you and your families' injuries heal up to 2x faster compared to untreated wounds. Helping the toughest little (and big) explorers get back to enjoying summer activities.
Elastoplast Wound Spray (100ml) – RRSP* £3.75
Elastoplast Fabric Plasters (40s) – RRSP* £3.60
Elastoplast Wound Healing Ointment (20g) – RRP* £2.35 (only relevant for the 20g size)
*Retailing selling prices are at the retailer's sole discretion
Cleanse – The first step to optimal healing is making sure it is clean. Cleanse your wound from dirt and visible particles with Elastoplast Wound Spray to prevent infection
Protect – Guard your wound from dirt and bacteria to allow it to heal properly. Cover your wound with a plaster you can trust from Elastoplast. For joints and moving parts, we recommend the extra flexible Elastoplast Fabric Plasters
Heal – And last but not least, apply clinically proven Elastoplast Wound Healing Ointment regularly until the wound has healed completely. This helps your wound to heal faster, safer and even reduces the chance of scarring