JINGLE ALL THE WAY WITH THE JOY OF TRACKLEMENTS
The Life and Soul of the Pantry
NEW Festive Goodies Box
AND Christmas Gift Boxes
Vegan and Gluten-Free, the NEW Tracklements Festive Goodies Box is a splendid gift for foodies. Packed with something to bring joy to everyone, it's easy to order directly from the Tracklements elves at www.tracklements.co.uk who'll quickly pack it up in a Yum Yum Yum box and drop it down your chimney right on time.
The NEW Festive Goodies Box (RRP £20.70) includes: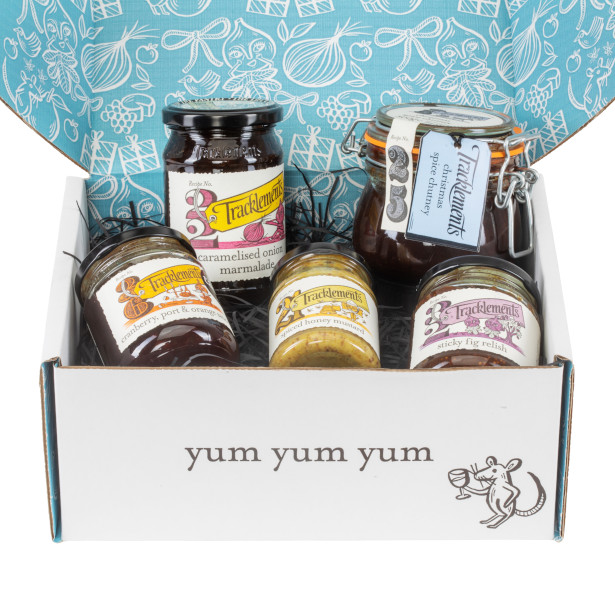 • Sticky Fig Relish, 250g – No decently dressed festive cheeseboard would be seen without this sweet, succulent relish. Plump figs are soaked in spiced vinegar and then gently cooked with rich, dark sugar. The result is at once tangy and sweet – superb with soft cheeses
• Cranberry, Port & Orange Sauce, 250g – Rather delicious for dunking, dipping and dousing, this bright, fruity sauce is Christmas in a jar. Made with whole cranberries, the tingling tartness cuts through rich meats like pork and goose – either on the side or as a marinade – is perfect for dipping a leftover roastie, and loves a turkey sandwich
• The one, the only, the original Caramelised Onion Marmalade, 345g – Made with a splish of redcurrant juice for a pleasing tang, this is excellent with Boxing Day pâtés, terrines, pork pies and cheeses, and positively dreamy melted over sausages
• Spiced Honey Mustard, 140g – The sweetness, spices and feisty kick is a delight with all things porky, especially sweetcure ham and chipolatas
• Christmas Spice Chutney Le Parfait, 300g – Packed with cranberries, Bramley apples, and a host of festive spices including allspice, nutmeg, cinnamon and ginger, a simple dollop guarantees to spread festive cheer across every Boxing Day table.
The Tracklements Christmas Gift Boxes are available from fine food delis and farm shops nationwide and online at www.tracklements.co.uk, include:
Tracklements Festive Four (90g – 110g), RRP £14.15:
• Spiced Plum Chutney 90g
• Christmas Spice Chutney 90g
• Cranberry, Port & Orange Sauce 110g
• Sticky Fig Relish 110g
These four jars of fantastic festive flavour are perfect for the Big Day alongside the Turkey, Duck or Goose and bring joy in equal measure to Boxing Day cold meats, cheese and pork pies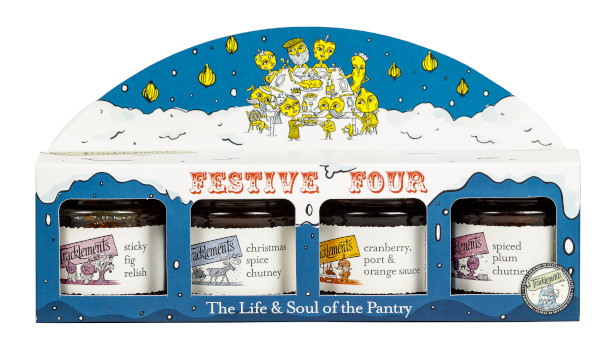 Tracklements The Cheese Collection (220g – 250g), RRP £17.15:
• Apricot & Ginger Chutney 220g
• Apple & Cider Brandy Chutney 220g
• Caramelised Onion Marmalade 250g
• Green Tomato Chutney 220g
Simply, the fab four cheese pleasers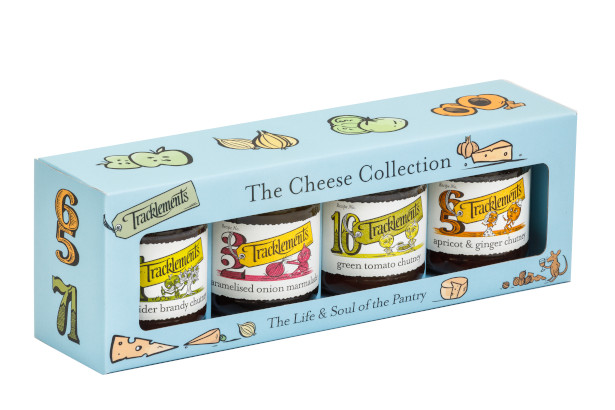 Tracklements Tongue-Tinglingly Hot Trio, RRP £15.65:
• Fresh Chilli Jam 250g
• Hot Chilli Sauce 230ml
• Spitfire Chilli Mustard 140g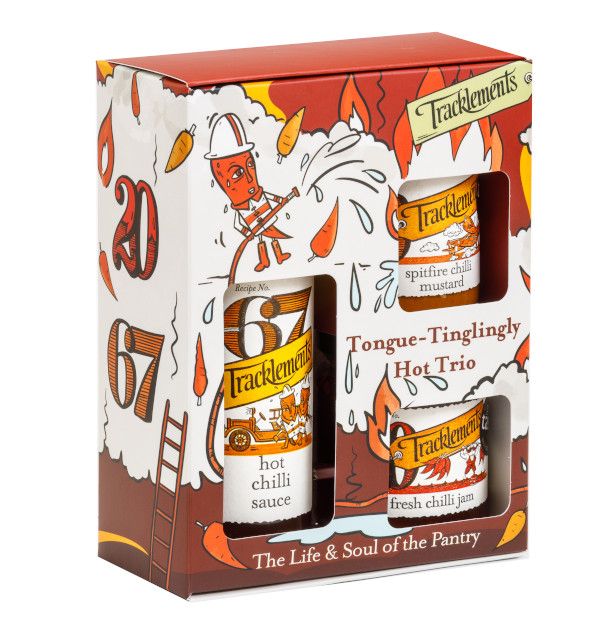 Strap in for some fiery flavour. Seriously hot and seriously good in equal measure, the award-winning Fresh Chilli Jam is at home on any plate or in any pasta sauce and it makes a nifty dip with the addition of a bit of natural yogurt. Hot Chilli Sauce and Spitfire Chilli Mustard are not for the weak of heart, or mind. Yumalicious with cheese and vegetable bakes – only the brave should attempt these without a safety net!
@tracklements #tastytracklements #LifeandSoulofthePantry