JAZZ UP YOUR APPROACH TO WELLBEING WITH DR FUNK
January 2023: How many of us will be entering 2023 armed with plans to make this our best year yet on the 'health is wealth' front? The good news is that help is at hand, with the arrival of Dr Funk [1] – a
fabulous new range of drinks specifically designed to make it easier to keep on top of your wellness aspirations. Combining sparkling water and a unique blend of refreshing fruit and botanical infusions, with a vitamin twist, Dr Funk's new adult soft drinks bring a whole new grown-up vibe to any occasion.

Created to deliver a satisfyingly sophisticated thirst-quenching solution, Dr Funk's sugar-free drinks enable you to tick off three essential steps to a healthier you – the need to drink more water,
reduce sugar intake and cut calories. All at the same time as ensuring your body has a better balance of vitamins and minerals to boost immunity, increase vitality and generally promote improved wellbeing.
Plus, this is matched with a delicious and revitalising taste, just the right amount of bubbles and a choice of appetising flavour combinations to please the most discerning palate. Making it super simple to stick to any plans to take better care of yourself!
Dr Funk's provides an original alternative to bland seltzers, with the extra benefits associated with up to seven added vitamins and minerals. Dr Funk is the ultimate go-to everyday drink not only for
the health-conscious but also for anyone looking for a sublime alcohol-free drink substitute during Dry January and beyond, so ideal for those choosing to adopt a more mindful approach to drinking.
Currently available in two flavours, the Lemon & Elderflower (Immune Edition) and Violet & Mango (Vital Edition) flavours, Dr Funk tackles the frequently cited health targets of improving your immune system and kickstarting the efficient functioning of your body's vital systems, to get you feeling great in 2023.
DR FUNK Immune Edition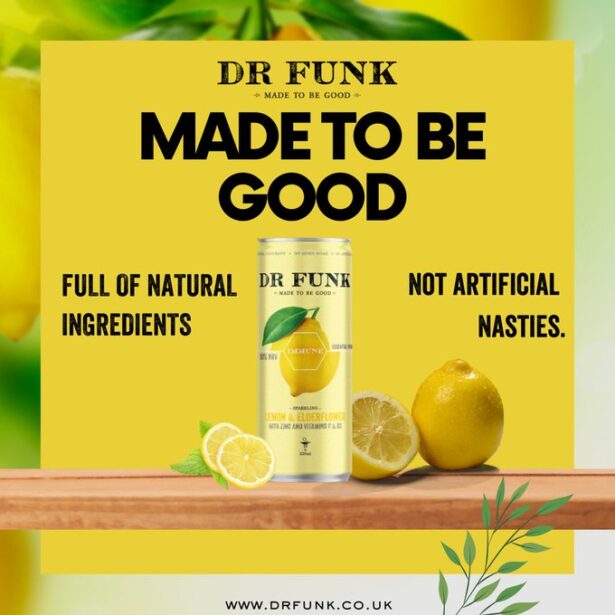 Filled with zingy lemon & fresh floral elderflower with added Zinc and vitamins C, D3, B6, B12, Niacin and Biotin, Dr Funk Immune Edition has been specially created to boost your body's natural defences. Mixed with gently sparkling, natural spring water for a beautifully refreshing drink.
• Zero sugar
• Zero calories
• Suitable for vegetarians and vegans
DR FUNK Vital Edition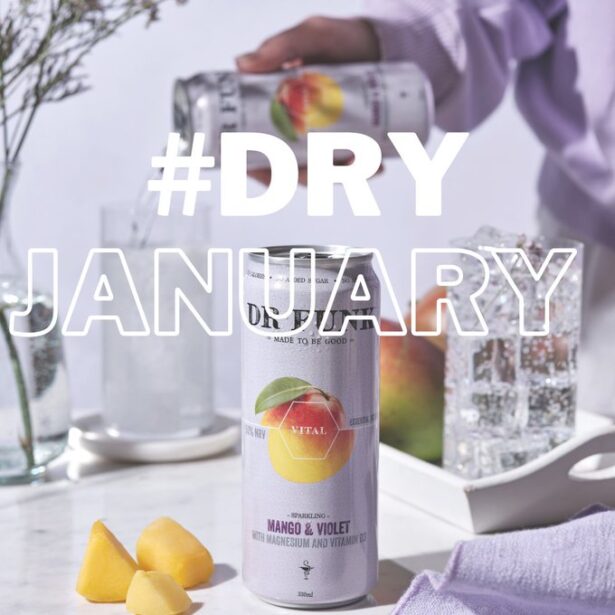 Includes tropical mango and sweet violet with added Magnesium and vitamins D3 (the sunshine vitamin), B6, B12, Niacin and Biotin, Dr Funk Vital Edition is designed to increase balance and overall wellbeing. Mixed with gently sparkling, natural spring water for a truly invigorating drink.
• Zero sugar
• Zero calories
Dr Funk gently sparkling water contains no artificial flavourings or colourants, zero sugar and no added preservatives. Available in a pack of six x 330ml recyclable cans, rrp £9.99. Buy online at
www.drfunk.co.uk or from a growing number of independent retailers, or via Amazon.