Israeli American Doctor Retells Conversations with 21 Inspirational &
Successful American Immigrant Women in New Book
INVINCIBLE WOMEN
Conversations with 21 Inspiring and Successful American Immigrants
By Bilha Chesner Fish, M.D.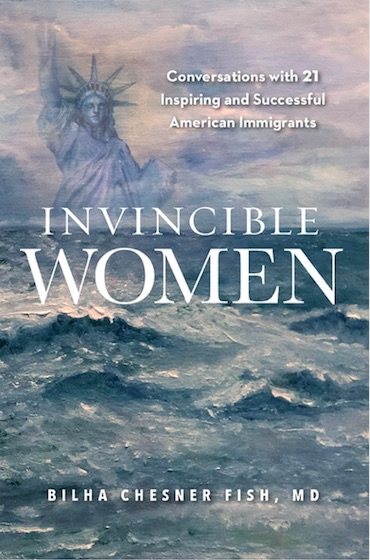 Women carry the weight of change on their shoulders, we create life, we problem solve, we persevere, we collaborate, we communicate, we make change in the world. I'm inspired by the journeys of these incredible women and excited for everyone to read Invincible Women, be inspired, and continue to share their stories. —Donna Karan, Fashion Designer, Creator of DKNY
Immerse yourself in the first-person success stories told by American writers, artists, philanthropists, scientists, business executives, and chefs–all immigrants who struggled against racism, sexism, and abuse to become influencers and role models in their adopted country. Compiled at a time when immigrants living the United States or seeking to come here are labeled unworthy and undesirable, these inspiring accounts are particularly relevant and hopeful. In Invincible Women: Conversations with 21 Inspiring and Successful American Immigrants by Israeli-American entrepreneur and doctor Bilha Chesner Fish, you'll discover how these fearless women contribute to American culture and society. (Hybrid Global Published, May 14, 2020, $19.99/Softcover: 978-1-948181-73-0, $4.99/eBook: 978-1-948181-75-4)
In the book you'll learn how acclaimed author Isabel Allende uses her writing to explore cultural memories and oppressive political themes that shaped her early life. Olga Murray saved young women in Nepal from enslavement and continues to help build schools and hospitals for needy children and their families. Wafaa El-Sadr, an infectious disease specialist, has developed family- and community-based programs to help people living with AIDS. Doris Schechter fled the Holocaust and now manages a Kosher restaurant, writes cookbooks, and produces documentaries. Jacqueline Murekatete narrowly survived the Rwandan genocide and now helps others face their survival guilt and re-establish trusting relationships. Get ready to meet all of the invincible women originally from Argentina, Armenia, Austria, Bangladesh, Brazil, China, Chile, Egypt, Haiti, India, Iran, Israel, Rwanda, Serbia, Pakistan, South Korea, and Transylvania.
Not only does Dr. Fish retell the recorded conversations she had with 21 successful women, but she includes her own story detailing her struggles as an immigrant woman in America. Dr. Fish went on to becoming a successful entrepreneur who has always given inspiration to her peers and support to her community. In Invincible Women, you will read about:
Isabel Allende – Chilean-American New York Times best-selling author and advocate for the rights of women and girls
SoHyun Bae – Korean-American artist
Graciela Chichilnisky — Argentinian-American scholar and climate change influencer
Chitra Divakaruni — Indian-American author and women's rights defender
Wafaa El-Sadr, MD — Egyptian-American physician and infectious disease specialist
Han Feng — Chinese-American fashion and interior designer
Einav Gefen — Israeli-American chef and food services executive
Ilana Goor — Israeli-American artist and museum curator
Mi Jong Lee — Korean-American clothing designer and businesswoman
Hung Liu — Chinese-American painter
Nergis Mavalvala — Pakistani-American astrophysicist
Jacqueline Murekatete — Rwandan-American attorney and human rights leader
Olga Murray — Transylvanian-American lawyer, philanthropist, and children's rights advocate
Argine Safari — Armenian-American Teacher of the Year winner
Doris Schechter — Austrian-American entrepreneur, restaurateur, and philanthropist
Aroon Shivdasani — Indian/Pakistani-American arts philanthropist
Ashley Tabaddor — Iranian-American lawyer, professor, and federal immigration judge
Gordana Vunjak-Novakovic — Serbian-American biomedical engineer and medical researcher
Fabiola Wilson — Haitian-American US Army major (retired)
Helena Wong — Brazilian/Chinese-American international business executive and finance expert
Monica Yunus — Bangladeshi-American opera singer and supporter of the arts
About the Author
Bilha Chesner Fish, MD, Israeli American immigrant and distinguished radiologist, journeyed from Israel to medical school in Italy, to New York City's most esteemed hospitals, and to Long Island, where she founded Manhasset Diagnostic Imaging and Pathways Women's Health. A longtime advocate for community service and women's empowerment, Dr. Fish's first book aligns with her commitment to stand up to hate, racism, and fear born of misinformation. She lives in New York City and Sag Harbor, New York.
INVINCIBLE WOMEN: Conversations with 21 Inspiring and Successful American Immigrants
By Bilha Chesner Fish, M.D.
Hybrid Global Publishing, May 14, 2020,
$19.99/Softcover: 978-1-948181-73-0, $4.99/eBook: 978-1-948181-75-4
Advanced Praise for Invincible Women by Bilha Chesner Fish, MD
Remarkable stories of women who challenge our preconceptions, elevate our spirits, and renew our faith in this nation's promise. —Rabbi David Wolpe, Sinai Temple, Author of David: The Divided Heart
A fascinating book…Bilha Fish's combination of sharp intellect, openness, and compassion make for highly engaging profiles of outstanding women. —Mary C. Pearl, PhD, Dean, Macaulay Honors College of the City University of New York
Dr. Bilha Fish has given us another look at those who braved enormous obstacles abroad and in the United States to become American citizens. These women are the living testament to why we must be a nation that welcomes potential talent from everywhere, and women from anywhere. Thank you, Dr. Fish, for this gift. We must pass it on to as many as we can, lest we ever forget or ignore the lessons in these pages. — Edie Weiner, Futurist, Author, President and CEO, The Future Hunters
This book is a timely and important reminder that Americans cannot afford to shut the door on the millions of immigrants who have made our country great and who continue to do so every day. — Dede Thompson Bartlett, Former President of the Women's Forum of New York, Woodrow Wilson Visiting Fellow, and Author
Invincible Women is a celebration. Bilha Chesner Fish's book gifts readers with rich personal interviews with women who came to this country—as she did—as immigrants, confronted multiple obstacles, and rose to positions of influence in many different fields. The stories are powerful and moving. Bilha has done a great service in eliciting and sharing them. –Emita Hill, Author, Northern Harvest and Bronx Faces and Voices, Recipient in 2019 of an honorary doctorate in humane letters from Indiana University