THE FINIS SMART GOGGLE, POWERED BY CIYE™
FINISswim.com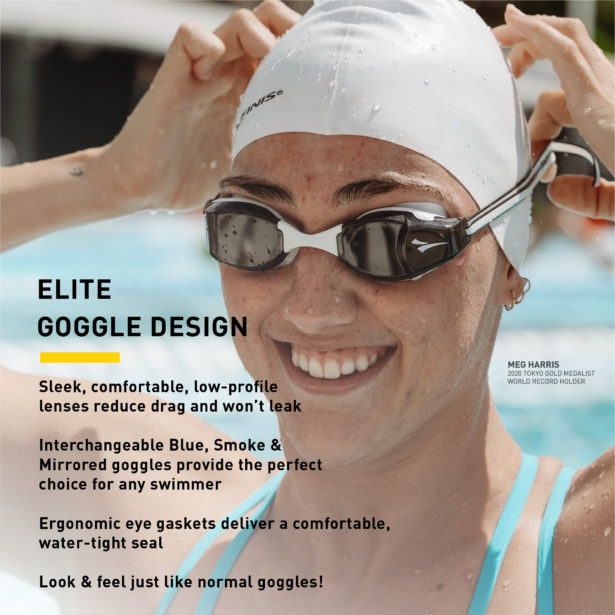 FINIS SMART GOGGLE, POWERED BY CIYE™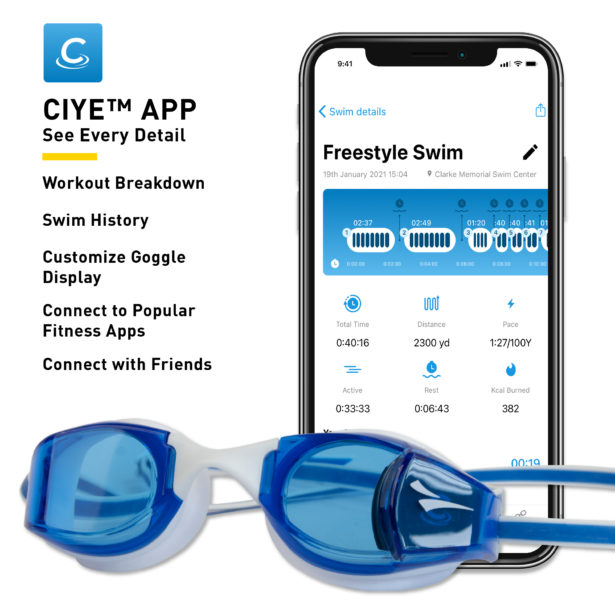 FINIS Inc., the international swimming company that designs industry-first, highest-quality products to help swimmers of all ages and levels, partnered with Ciye™ (Coach In Your Eye), in order to deliver the most innovative and interactive swimming experience to date. Whether you are a beginner looking to learn and improve, a Rugby player counting laps for rehabilitation, or a competitive swimmer reaching for the next level, the FINIS Smart Goggle is the ultimate tool to help you reach your goals and have fun doing it!
The Smart Goggle is a game-changer. Lap swimming and sets are so much easier to keep track of, and the social integration is a great addition to what traditionally is a very individual sport. These are now 'must have' for all my swim workouts, pool, or open water."
– Anthony Robinson, Former USA National Team member, and World Record Holder
Simplifying swimming through innovation is what FINIS does best and the Smart Goggle is our most powerful and versatile training tool yet. The Smart Coach is noninvasive and allows swimmers to focus on their metrics only when they choose. The Smart Goggle is customizable to seamlessly fit into your routine so you can focus on your swim.
Personalize
The Smart Goggle is unique, just like you, and therefore customizable to your viewing preferences. Depending on which information you find most valuable during your workout, customize the Smart Coach to display your preferred metrics.
"I swim laps"
Let us count your laps so you can focus on technique!
"I swim sets"
No more relying on pace clocks! We'll keep you on track.
"I swim for time"
No more interruptions – swim time and clock in your lens will keep your head down.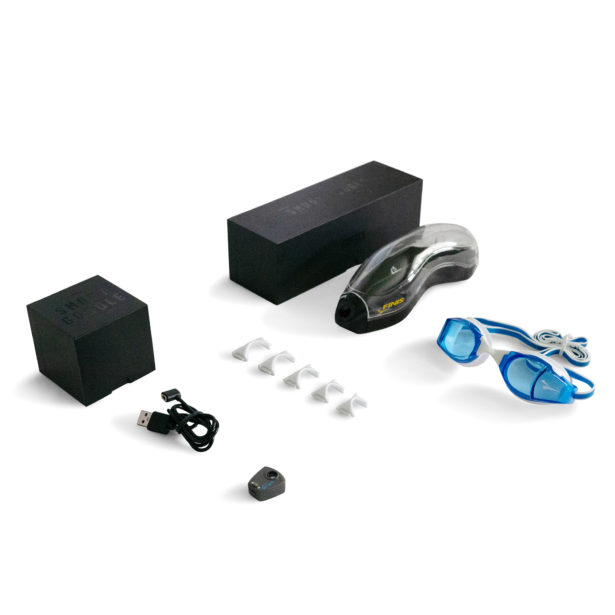 "The Smart Goggle offers the ability to add another layer of expertise to my training team! So much of successful swimming, especially at the Master's level, is training smarter. The ability for our swimmers to view a pace clock in their own goggle rather than looking across the pool gives them more focus and insights on every length they swim"
– Kerry O'Brien, Walnut Creek Masters Coach, USMS & Pacific Masters Coach of the Year recipient, 7-Time 100 and 200 Butterfly National Champion
Gain Insight Into Your Workouts
Once you have completed your swim, the Smart Goggle will automatically pair with the Ciye™ app and upload your workout.
The Ciye™ app will provide insight into your workout, from overall summary to the fine details for every workout and every lap including time, distance, pace, active, rest time, stroke type, split, average pace, kcal burned, and more.
The Ciye™ app will help set and track goals, share with friends, and gain a better understanding of your workouts.
"We didn't want to tweak swimming, we wanted to transform it. The Smart Coach delivers feedback during and after your workout, giving swimmers real-time insights they can't get elsewhere. Focus on your technique, see your performance, and make adjustments as needed"
-Yuri Zhovnirovsky, Ciye Co-Founder
Superior Design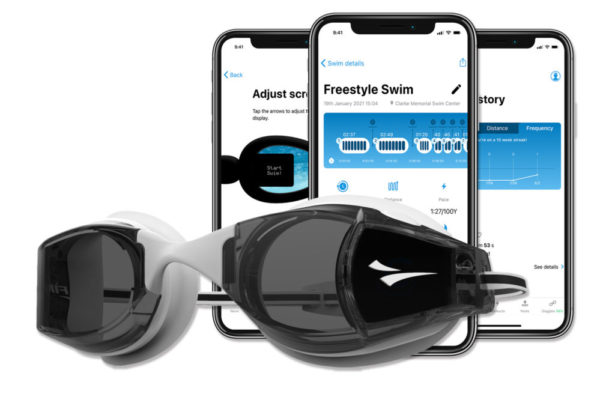 The design of the FINIS Smart Goggle strikes the perfect balance between functionality, performance, and aesthetics. We recognize that goggles have a fixed lifetime, so we designed the Smart Coach to be removable. This allows swimmers to more affordably replace their goggles with a fresh pair, without re-purchasing the Smart Coach. Each goggle includes six interchangeable nose pieces to accommodate a variety of sizes. The Smart Goggle packs a powerful Smart Coach, yet looks remarkably like standard goggles both in shape and size. Great effort went into making them comfortable, small, and unobtrusive just like your current goggles.
"Our breakthrough was to get the optics small enough to not interfere with the purity and field of vision from just wearing a quality swim goggle. To offer a pace clock, splits, lap count and more in the corner of your peripheral vision when swimming takes the guesswork out of every swim. Also having the ability to track progress and share the details with your coach or friends adds to the enjoyment or improvement of every swim."
– John Mix, FINIS Co-Founder
Features to Come
This is just the beginning. FINIS & Ciye™ plan to roll out a number of new features throughout the year. We are always enhancing and improving the Smart Coach software and users will be notified when updates become available. The FINIS Smart Goggle currently integrates with Strava and the Apple Health Kit and is the official smart goggle for Swim.com, the accredited workout and training platform of U.S. Masters Swimming.
The Smart Goggle is available on FINISswim.com to the US and Canada and will become available in Europe in Summer 2022.
Learn More >
_______
About FINIS, Inc.
Founded in 1993 by Olympic Champion Swimmer, Pablo Morales, and former collegiate aquatic sports athlete, John Mix, FINIS Inc. is an international swimming company that designs industry-first, highest-quality products to help swimmers of all ages and levels learn to love swimming and enhance their skills for life. Through its commitment to product innovation, education, and community, FINIS helps advance the sport of swimming while making it more accessible and enjoyable for all.
FINIS introduced the monofin into the United States market in 1993. Today, FINIS monofins are used globally by Olympic champions and aspirational mermaids alike. The Original Swimmer's Snorkel, a FINIS invention, is used by over 1M people worldwide and FINIS was the first to use cutting-edge bone conduction technology to deliver underwater music through products like the Duo and Amnis Stream. The company's latest product, the FINIS Smart Goggle, continues a legacy of swimming industry firsts. FINIS offers a wide selection of swimwear, training gear, and electronics for kids and adults. For more information, please visit https://www.finisswim.com/; Instagram: @finisswim, Facebook: @Finisinc, and Twitter: @FINISswim.
About Ciye™
Founded in 2017, Ciye's is on a mission to make fitness more enjoyable and help you attain your health and fitness goals. Ciye's Smart Coach is a revolutionary approach to fitness which places a virtual coach in athletic eyewear. The patented design is compact and unobtrusive, keeping the eyewear virtually unchanged. Ciye collects and analyzes your workout and provides real-time, in-the-moment feedback to improve your performance, just like a real coach would.
Our first product integrates the Ciye Smart Coach into swimming goggles for a radically improved swim experience. In the process, we changed swimming forever.