Introducing Le Grand Love Triangle French Valentine's Wine Collection
Greetings & Happy New Year & Joyeuse Saint Valentin!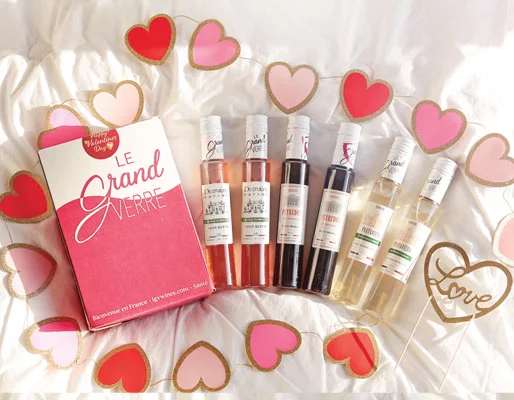 Despite the last few strenuous years (and weeks), I hope this note finds you healthy, well, and perhaps offers a suggestion of joy as we look forward to one of our most endearing long-celebrated holidays. (You know the one.) Whether you're buying for your partner, family, friend, colleague, or even a token of appreciation for yourself: Valentine's Day remains the OG occasion to honor those we love, admire, and cherish. According to NRF Valentine's Day 2022 is projected to see $20B+ spent on gifts this season. And why not? We could all use an excuse to toast something, anything! Findings confirmed most US consumers feel it's important to note this year, 41% said they plan to stay indoors for intimate dinners, while the majority of spenders (39%) plan to buy their gifts online.
Le Grand Verre Love Triangle ($39.99). The limited-edition Valentine's Day offering of curated Le Grand Verre (the quality, award-winning, single serve, ethically produced, family-owned and predominantly female operated artisanal wine collection of France) offers something for every palate this season. Single serve for the free spirits. An exploratory and diverse collection of red, white, and rosé for budding new sweethearts. Quality wine sourced from boutique estates in Bordeaux, Provence, and the South of France for the sophisticated forever couples. I'll admit it – even we're secret admirers. What better way to surprise and delight your loved ones than with six chic, slim, bottles (6.3 oz. each – slightly larger than your average pour) of three different wines / regions (who wants 1 bottle when you can try 3?), patented and designed by the LGV Trio (three longtime French wine-loving friends Nicolas Deffrennes, Régis Fanget, and Valérian Déjours via funding from Burgundy) and made with recycled double-coated PET packaging? We can't think of a better way, truthfully. Unlike the canned masses we've normalized in recent years, LGV is single-serve with a twist: really good wine is inside.
Our latest offering is available on our platform, however, they've expanded immensely these last few months (more to come on that front) both on and off premise, with the wines outlined below (CA, DC, FL, GA, IL, NJ, NY, KY, MI, MN, MO, NV, OH, OR, RI, TX, SD, amongst others).
Now, the offering! To begin our latest collection is Le Grand Verre Domaine Caylus Rosé 2020 ($7/bottle, 4-pack for $28). Tucked in the southern coast of France in the Languedoc-Roussillon winemaking region, Pays d'Herault offers incredible value and complexity in its rosé. That's why LGV partnered with Inès Andrieu of Domaine Caylus, an iconic organic estate known for this blend of 60% Syrah and 40% Grenache. Inès took control of the property from her grandfather, Henri Andrieu, who helmed since 1963. Early on she saw the importance of preserving biodiversity and converted to organic farming in 1999 (Certified by Ecocert). Cultivation of the vines is done mechanically with no chemicals and only natural products are used to fight mildew. She also installed music in the vines emitting sequences that allow crops to better resist disease, adapt to variations in the environment, and ultimately grow better. (We're wondering if she has a Valentine's Day mix dropping soon?) Inès and her husband believe in supporting the family legacy and recently named newly planted vines after her two children. Her refreshing rosé is full of strawberry, tropical fruit, and pineapple. Excellent for Galentine's Day (February 13th — Shout out to the single ladies out there #LGVSingleServeSingleLadies) Also excellent as a natural start for an evening at home with a variety of appetizers, soft cheeses, charcuterie, and the like. As the first female manager of the estate, with five vintages under her belt, Inès has made it a point to respect the traditions and values instilled in her while embracing innovation. You will taste her experience with every sip!
The art of food and wine pairing is not only about enhancing the flavors of the meal, but also enhancing the wine's unique character. Essentially, it is the act of combining two different things to work together in synergy, creating an effect greater than the sum of their individual components. It's like, well, a relationship: an ideal pairing in which both partners bring something to the table. And sometimes our greatest friendships and relationships are those that push you a little, taking you out of your comfort zone. Next, Le Grand Verre Domaine Prataviera 2019 ($5/bottle, 4-pack for $22), envisioned by oenologist Elisabeth Prataviera, this wine is a 100% Sauvignon Blanc from Côtes de Gascogne near the village of Gascony known for stellar white wines. Elisabeth took over the Domaine from her mother who had helmed since 1960. She sustainably farms all the vineyards using only organic fertilizers and holds a Certified High Environmental Value Level 3. Harvest is only done at night or early morning to preserve aromas and avoid oxidation, along with long skin maceration above the juice extraction. Pressing is one of the key and difficult steps to obtain quality wines, as they are pressed under nitrogen to preserve freshness and avoid browning of juice. After a cold setting comes the clarification, which allows the separation of the juice and sediment. Following sustainability protocols, water used to protect the vines is demineralized and kept at an adapted warm temperature. This method allows the estate to reduce the use of pesticides by 35%. They also use anti-drift panels wherein pesticides don't fall to the ground and become dispersed. This modern machine allows reduction by 40% and overwhelmingly creates a better environment for the ecosystem. Elisabeth's Sauvignon Blanc is all you could want in an aromatic white wine: intense citrus and tropical aromas and flavors that finish with a lean, mineral drive down that palate. It begs for another appetizing bite and pairs beautifully with a multitude of complex dishes. Perhaps Coquilles St. Jacques – scallop gratin in a wine and cream sauce topped with cheese and crispy crumbs. The acidity of the wine will cut through the richness of the creamy texture and the low ABV won't fight the cheese flavors. Or perhaps Asparagus with Hollandaise sauce – nothing better than a grassy, herbaceous yet fruity Sauvignon Blanc to pair with hollandaise made with clarified butter and egg yolks; cleansing your palate with every sip to keep your taste buds ready for action. Ah! Synergy.
Finally, Le Grand Verre Château Peyredon 2019 ($8/bottle, 4-Pack for $33). For the diehard red wine lovers consider one of the quintessential selections of Le Grand Verre: the ultimate Haut-Médoc Crus Bourgeois. A blend of Cabernet Sauvignon (63%) and Merlot (37%) this classic Bordeaux is velvety with elegant tannins on the palate. On the nose you will find rich blackberry and notes of strawberry and vanilla. Laurence Dupuch of Château Peyredon Lagravette works in tandem with her husband Stephane Dupuch to produce this wine with fruit picked from vines over 100 years old. Envisioned by world-famous oenologist Hubert de Bouard (winemaker and owner of Château Angelus, one of the four most prestigious Saint-Émilion estates), this Bordeaux will surely impress the discerning oenophile crowd. For the forever couples who know what they want, but do not have to spend hundreds to get it. Certified Sustainable Farming by Terra Vitis, this wine completes meat-heavy dishes anchored by beef, lamb, and game meats, as well as hearty vegetarian dishes with mushrooms and savory vegetables. And, of course, makes for the perfect dessert wine. Whether chocolates or truffles (dark chocolate, especially), try it out with Gâteau au chocolat or a variety of wonderful end of the evening cheese courses such as aged comté – the nutty, smokey and fruity taste will is an idyllic partner for the tannins and austerity of this sophisticated Haut-Médoc. And have you ever seen such an accessible, premium, quality, single serve Crus Bourgeois? In one word: Exquisite.
IG: @legrandverre_wines #LeGrandVerreLoveTriangle