Indulge in a cheesy date night this Valentine's day!
Upgrade the usual chocolate and flowers and wow your loved one with a romantic cheese and wine tasting by candlelight. What better way to celebrate Valentine's Day than by popping open a bottle of Prosecco, and tucking into a selection of perfectly matched mouth-watering cheeses with your partner or friends? Or if you are flying solo, why not treat yourself! We have curated the most delicious cheese and wine flavour combinations, beautifully presented in our luxury boxes which will be delivered straight to your door. Mouse & Grape will guide you through the art of bringing two luxury components together to create an even more delicious outcome- accompanied by tasty extras. Use the pairing notes and 'how to taste' booklet to guide you through your tasting experience. Enjoy this romantic feast all from the comfort of your own home and make this Valentine's Day a cheesy one to remember – Don't say, "I love you". Say ,"Will you brie mine?"
The Sent With Love Box – £65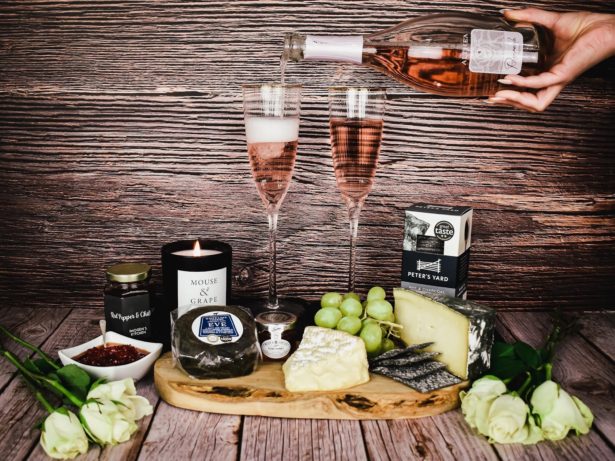 In this box you will find a trio of iconic, award-winning British cheeses: Cornish Yarg, Baron Bigod and you can choose between Burt's Blue or Eve Whitelake Goat's cheese. These exceptional cheeses have been paired with a stunning sparkling wine, wafer crackers, red pepper chilli jam and honey. Althea Rosaperla Rose is dry with high acidity and flavours of lemon, red cherry and strawberry. The high fat content in the cheeses coat your mouth in creamy goodness, while the refreshing ultra-fine bubbles of the sparkling wine cleanse the palate to set you up for another bite! This box is recommended to be enjoyed by 1-2 people.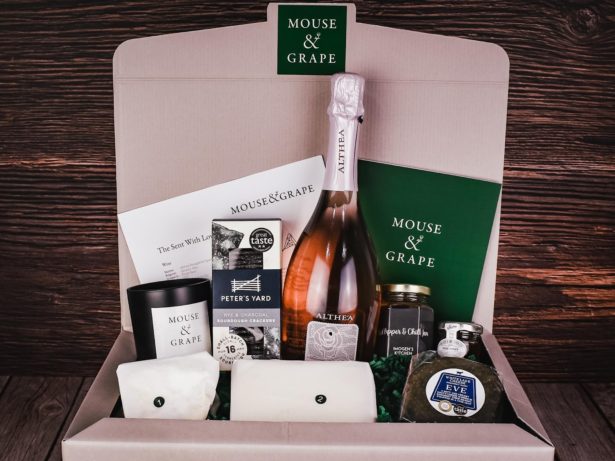 "We know that people are still looking for amazing experiences to enjoy from the comfort of their own home and Mouse & Grape boxes provide this in a sophisticated and delicious way. It is so exciting to experiment and discover new mouth-watering pairing combinations and incredible to do so with someone we love. There's nothing more romantic than sharing cheese and wine by candlelight."
– Jess Summer, Founder.
The Romantic Night In Box – £85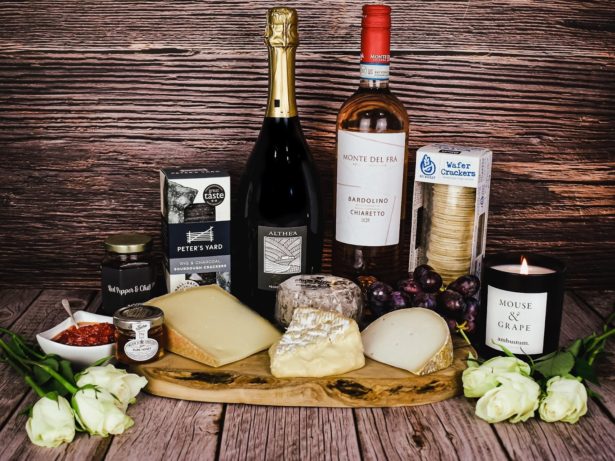 Whether you are spending a romantic evening with your loved one or celebrating with your friends, this ultimate cheese and wine selection is the epitome of indulgence! In this show-stopping box you will find an exceptional swiss cheese, Stärnächäs and a trio of iconic, award-winning British cheeses: Rachel, Baron Bigod and the option of Burt's Blue or Eve Whitelake Goat's cheese. These phenomenal cheeses have been paired with two wines, the magnificent Chloe Prosecco DOC and delicious Monte Del Frá Bardolino Rose along with wafer crackers, charcoal sourdough crackers, red pepper chilli jam and honey. This box is recommended to be enjoyed with 3-4 people.
Both boxes have been made extra special by including an exclusive Mouse & Grape and Ambustum 'Pink Pepper & Rose' candle which perfectly sets the tone for romance. A bouquet of fresh roses fills the room and a hint of pepper delivers subtle spice.
About Mouse & Grape
Mouse and Grape is a luxury cheese and wine company that specialises in pairing boxes and tasting events. We celebrate this iconic duo and teach fellow cheese and wine lovers how to combine and enhance these heavenly flavours for ultimate indulgence and maximum enjoyment.
Visit our website: mouseandgrape.com
Follow us on Instagram: @mouseandgrape