Marvling Bros Ltd is a trusted British company that makes it easy to send fun and affordable gifts, lighting up the world of your someone special with thoughtfully crafted messages – a present that truly says 'I'm thinking of you'.
These beautiful matchbox keepsakes are small enough to pop in your pocket, yet large enough to
create a lasting impression.
For more information visit inamatchbox.com
FATHER'S DAY GIFTS
DADDY BEAR IN A MATCHBOX RRP £11.95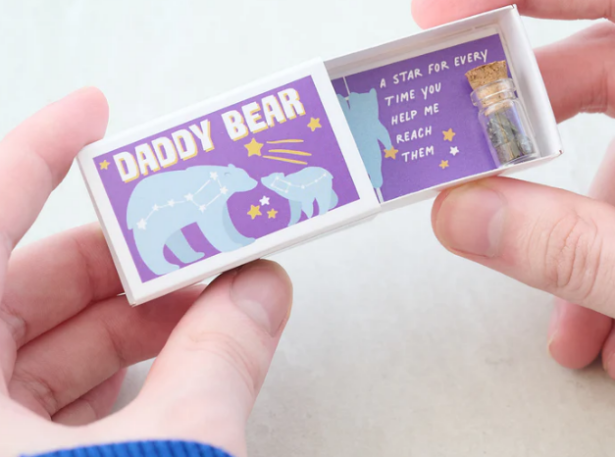 Daddy Bear In A Matchbox, inspired by the
constellations Great Bear (Ursa Major) and Litle
Bear (Ursa Minor), is the perfect gift to let Dad
know he's a star.
Open the matchbox to reveal the wonderfully
heart-warming message 'A star for every time you
help me reach them', and a botle of genuine
meteorite chips. Also included is a certificate of
authenticity with the official scientific
classification details of your meteorites, a must
for any astronomy fan.
Light up Dad's world with this rare and truly
unique gift from ou
https://inamatchbox.com/products/daddy-bear-in-a-matchbox
FATHER'S DAY MINI MARSHMALLOW TOASTING KIT RRP £11.95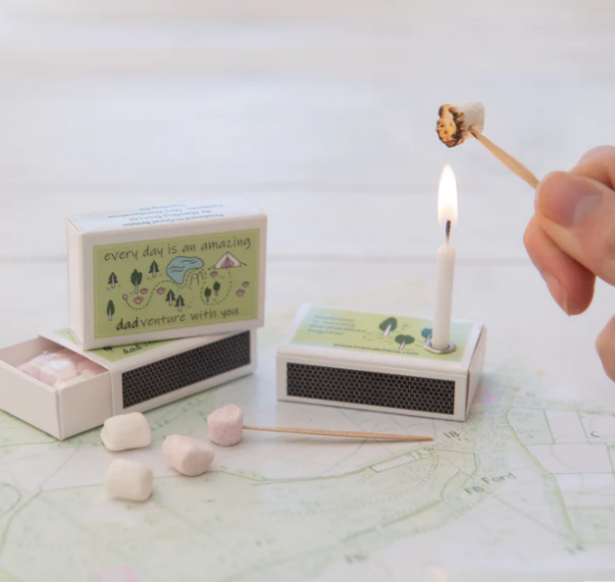 This Father's Day, take Dad on a 'Dadventure' with
this beautiful mini marshmallow toasting kit.
You can experience the thrill of a campfire, and the
mouth watering smell of toasted marshmallows
without having to brave the great outdoors, with
this fun and tasty gift.
The matchbox contains everything you needs for a
mini 'camping' adventure: 12 mini marshmallows,
two mini wooden toasting sticks, three candles, and
full instructions on how to brave the great outdoors.
https://inamatchbox.com/products/fathers-day-mini-marshmallow-toasting-kit
HOT STUFF IN A MATCHBOX RRP £11.95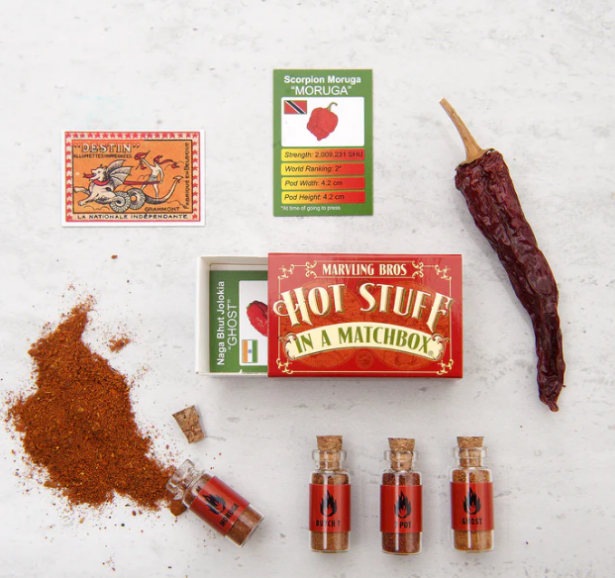 This explosive box contains some of the
hotest chilli powders ever tested, including
current world champion Scorpion Moruga
(2,000,000 SHU), a former world hotest
Butch T (1,500,000 SHU), the legendary 7
Pot (1,300,000 SHU) , and the ten minute
burner Ghost powder (1,000,000 SHU).
Each one is beautifully presented in a
corked glass botle.
Hot Stuff In A Matchbox is an ideal gift for
chilli lovers who want to take their chilli
experience to the next level, or hardcore
fanatics who want to show off their chilli
prowess.
https://inamatchbox.com/products/hot-stuff-in-a-matchbox
YOU THE MAN IN A MATCHBOX RRP £9.95
The perfect token gift for the man who has
everything. This Tiny matchbox is packed with
useful litle items and helpful life hacks.
You'll never be at a loss if your glasses break or
your tool is blunt. Dirty computer ports? No
problem. Need to bust into a particularly
stubborn fast food sauce packet? Packet
busted. Life changing decision to make?
Solved in seconds.
We have taken the top 7 items to be found in
a Man Drawer, and reinvented them to create
a mini Man Drawer that can be carried around
in your pocket.
It includes a Lucky sixpence which can be used
as a tyre tread tester, paperclips you can
substitute for a mini screwdriver, toothpicks
which double up as tools to clean your
keyboard, a birthday candle for emergency
lubricant for a stuck zipper or lock, sticky tack
aka a portable stress ball, and an emery board
to sharpen your penknife.
https://inamatchbox.com/products/you-the-man-in-a-matchbox
GROW YOUR OWN MICROPUB IN A MATCHBOX RRP £9.95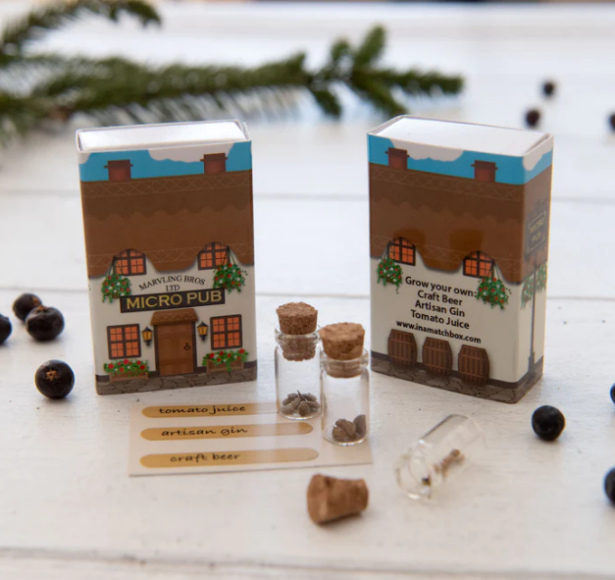 Create your own micro pub with this fun "grow
your own" kit. Beautifully presented in a
matchbox designed as a miniature pub.
This novel seed collection contains hop seeds,
juniper seeds and tomato seeds to grow the
ingredients to make your own craft beer, artisan
gin and homemade tomato juice. The seeds are
presented in miniature glass botles. Full
growing instructions are included.
Guaranteed to make them smile, this is a
unique gift for brewing enthusiasts or budding
gardeners.
https://inamatchbox.com/products/micropub-in-a-matchbox
BIG FAT HEDGEHUG IN A MATCHBOX RRP £9.95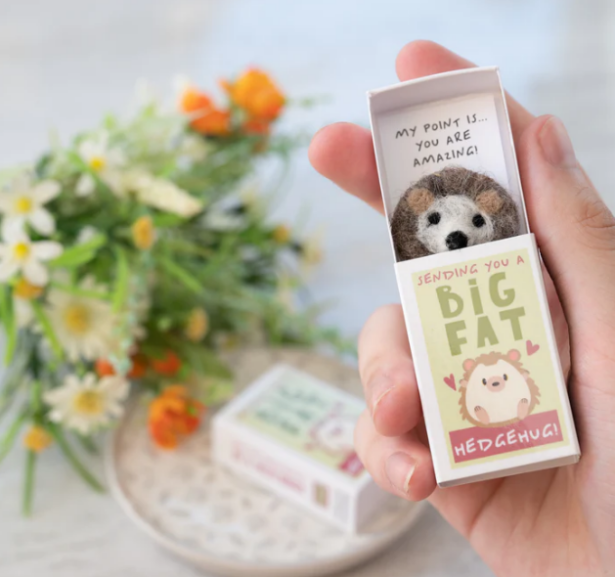 Show them how loved they are with this heart
warming 'hedgehug' in a matchbox.
This cute matchbox with the message 'Sending
You A Hedgehug' is the perfect way to show
someone you are thinking of them.
Open the matchbox to reveal a beautiful
handmade wool felt hedgehog and a card
saying 'My point is.. you're amazing!'
This delightiul gift is guaranteed to create a
spark of joy!
https://inamatchbox.com/products/sending-you-a-hedgehug-wool-felt-hedgehog