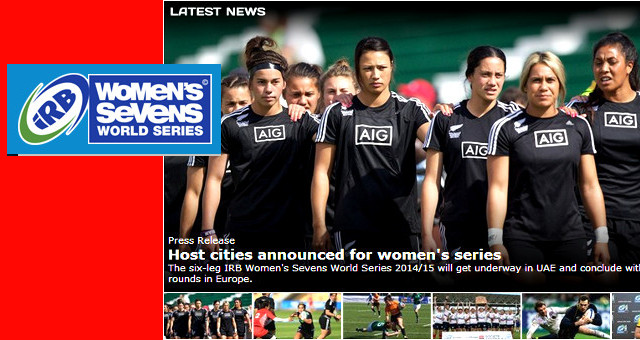 Host Cities Announced for IRB Women's Sevens World Series 2014/15
Canada and England are the latest countries to join the list of IRB Women's Sevens World Series hosts.
Langford in British Columbia will welcome the women's competition to its shores as it hosts round four of the series on April 18-19, 2015 at the Westhills Stadium, Langford, British Columbia. The penultimate round of the series visits London where the action comes to the Twickenham Stoop on the same weekend as the men's HSBC Sevens World Series.
In keeping with the last two seasons, the 2014/15 series will kick off in 7he Sevens Stadium in Dubai on December 4 and 5 alongside the men's series.
With the Road to Rio getting even shorter, the women's series will again return to Brazil just over a year out from the Olympic Games in Rio de Janeiro. Sao Paulo will play host to the event on February 7 and 8.
Teams will travel to the United States the following month where Atlanta will host round three of the tournament in Kennesaw State University on March 14 and 15.
With their women's sevens side now a consistent feature at the top end of the women's standings, Canada will welcome the series to Langford on April 18 and 19.
The last two rounds of the series will be contested in Europe with London hosting the fifth round at the Twickenham Stoop, with the final to be played next door in front of massive crowds at Twickenham Stadium.
Like last season, the series will conclude in the Netherlands as part of the Amsterdam Sevens.
CLICK HERE FOR MORE INFORMATION ON WSWS>>
IRB Chairman Bernard Lapasset said: "The level of competition in the Women's Sevens World Series is at an all-time high, and has been helped by the prospect of taking part in the Olympic Games in Rio in 2016."
"We now have Canada and London added to the bill for the coming season and given the appetite for quality Rugby and the Sevens Game, I have no doubt that they will be excellent hosts when they welcome the women's series to their shores next year."
CLICK HERE TO WATCH SOME OF THE BEST OF LAST SEASON'S WSWS >>
12 teams will take part in each round of the IRB Women's Sevens World Series. Seven teams have qualified as core teams from last season's series. Hong Kong will host a qualifying competition in September that will see an extra four teams qualify. The 12th team will be invited for each round of the series.
IRB Women's Sevens World Series 2013/14:
First round: Dubai, United Arab Emirates – December 4-5, 2014
Second round: São Paulo, Brazil – February 7-8, 2015
Third round: Atlanta, Georgia, USA – March 14-15, 2015
Fourth round: Langford, British Columbia, Canada – April 18-19, 2015
Fifth round: London, UK – May 15-16 2014
Sixth round: Amsterdam, Netherlands – May 22-23 2014
CLICK HERE TO WATCH SOME OF THE BEST OF LAST SEASON'S WSWS >>