This holiday season give the gift of health, relaxation and bliss with Sacred Summer Essential Oil.
www.virtualcorporatewellness.com/sacred-summer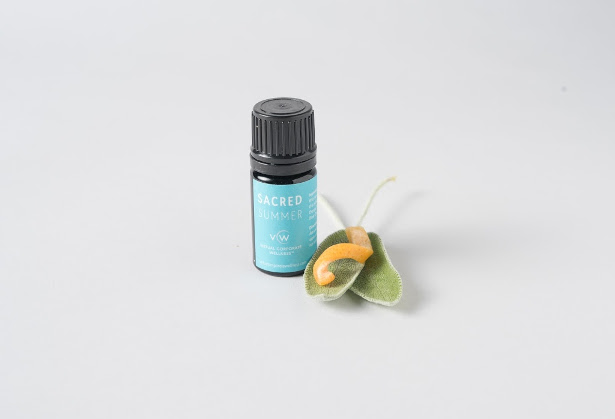 FACEBOOK | TWITTER | GOOGLE+ | LINKEDIN | YOUTUBE
This Holiday Season Give the Gift of Summer with Sacred Summer Essential Oil
Sacred Summer is a unique essential oil blend that energizes, refreshes and uplifts while at the same time provides a sense of calm and relaxation. It's perfect for those busy on-the-go days where stress is high and you need a pick-me-up! This custom blend was created in honor of Alison Brehme's grandma who passed away last year and inspired by her childhood memories spent outside with family among the citrus trees of Florida.
The Story:
This is a blend of some of my favorite oils that remind me of summers spent in Florida when I was a kid with my grandparents and cousins. Outside my great grandmother's house were two tangerine trees where my cousins and I would go outside to play all afternoon and would grab a snack from the tangerine tree (or sometimes just throw them at each other for fun).
When I smell citrus, it reminds me of those great times I had in Florida and that's why I included citrus notes in this blend. Plus, I added sandalwood, which is one of my all-time favorite oils, which is known for connection and spirituality making this blend both uplifting and relaxing. Scents are known to trigger memories and for me this reminds me of sacred times spent with my loved ones.
I hope you enjoy!
What's in the Essential Oil Blend?
All ingredients are wild harvest or organic essential oils of Benzoin, Copaiba, Blood Orange, Mysore Sandalwood, and Bitter Orange.
Product and Purchase Details
Give a memorable, special and unique gift this year that they'll remember for years to come. Oh, and in case you didn't know essential oils are scientifically proven to help improve mood, productivity and stress!
Important, there is only 50 in stock and 10 are already spoken for as of this release. HURRY, LESS THAN 40 IN STOCK.
Click here to purchase yours today!
A portion of all proceeds will be donated to benefit the Hurricane Irma victims in Florida.
ABOUT ALISON BREHME
Alison Brehme has a passion for helping ambitious women to dominate their career, health, and personal life.Through her one-on-one coaching sessions, women learn to de-stress, stop overworking, regain their health and love the life they've always wanted to live. Alison is also the founder and CEO of Virtual Corporate Wellness. Her company is dedicated to helping businesses invest in their team to maximize productivity, boost profits, and become known as one of the best places to work. She's also the Program Director of Well.org's Corporate Wellness Academy and is a certified nutrition coach and certified corporate wellness consultant. Alison holds an advertising degree from the University of Texas.