HJ Hall's new Comfort Top socks, £5, www.hj.co.uk
HJ Hall's Comfort Tops revolutionise everyday dressing, preventing tightness or marking around the calf with its relaxed mesh knit fabrication. HJ Hall proves that prioritising comfort need not compromise on style, with an array of patterns and colours available.
Newly accredited by the Institute of Chiropodists and Podiatrists (IOCP), HJ Hall's Comfort Tops use a soft grip top, keeping them firmly in place without leaving marks which often cause discomfort. HJ Hall is the only UK sock brand to receive endorsement by the IOCP, first earned in 2011 for its famous Softop range, highlighting the brand's innovation in design for maintaining foot health. Four new styles have been introduced for men, in patterned and plain options, in time for shorts weather in spring and summer.

——-
HJ Hall's ProTrek collection…
Socks are just as important as your choice of boots. After all, your feet need the most support whilst walking.
HJ Hall's ProTrek collection is designed to cater for the intensity of walk you're embarking on. The socks come in a variety of lengths and are perfect for outdoor enthusiasts, be it amateur or pro. You can see the full ProTrek range below.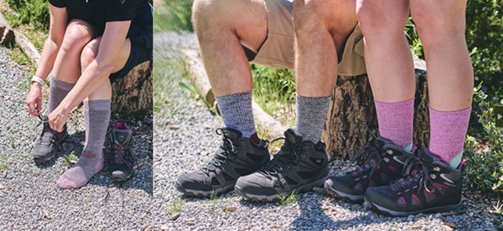 HJ Hall's ProTrek Light Hike sock, RRP £10.50, www.hj.co.uk
These lightweight walking socks are ideal for walking in warmer conditions, which is perfect with the heatwaves experienced in summer 2022. With Coolmax® cotton and quick drying/moisture wicking, these socks are your best friend for walking in humid conditions and the colours in Pink Marl/Mint and Raspberry Marl/Grey make them a stylish accessory for your outdoor style.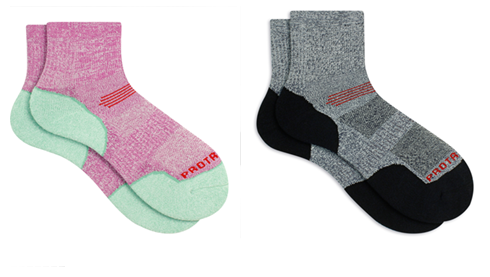 ——-
HJ Hall Adventure Trek socks, £12.50, www.hj.co.uk
Ensure you're prepared for anything with HJ Hall's Adventure Trek socks made from wool for ultimate warmth and high density cushioning for comfort.
With arch support and ankle bracing, the socks offer stability and comfort, while the high density cushioning and a reinforced toe and heel reduce impact. For when you work up a sweat, the Adventure Trek sock also has ventilated mesh zones so your feet can breathe.