Finding that perfect gift for her is everything. That gift, which will take her breath away. A gift that shows her that you are truly giving her something that is a symbol of the most important day of both of your lives.

A Dreamlines wedding dress sketch is created with detail and style that emulates the magic of her princess dress. More than likely her wedding dress is stored away in a sealed box, stuffed away in the back of the closet or maybe even donated.
Whether you need an anniversary gift, wedding gift or Christmas gift it is all about making her gift personalized. A personalized sketch of her wedding dress with a personalized hanger sketch with her first name, Mrs. last name or your wedding date is lovely.
For the wedding day gift from you more than likely you will not have seen her dress until you say "I Do", so to open up the sketch together seeing her wedding dress, your suit and the personalized hanger is one of the purest and most romantic moments you will share that day.
If you are wanting the most perfect anniversary gift then focusing on the tradition for that year makes your gift have more of a focus. The one year anniversary gift is paper, two year anniversary gift is cotton, three year anniversary gift is leather and so on. With a sketch we can help you with any year; paper for the sketch, cotton mat for the frame or a leather frame.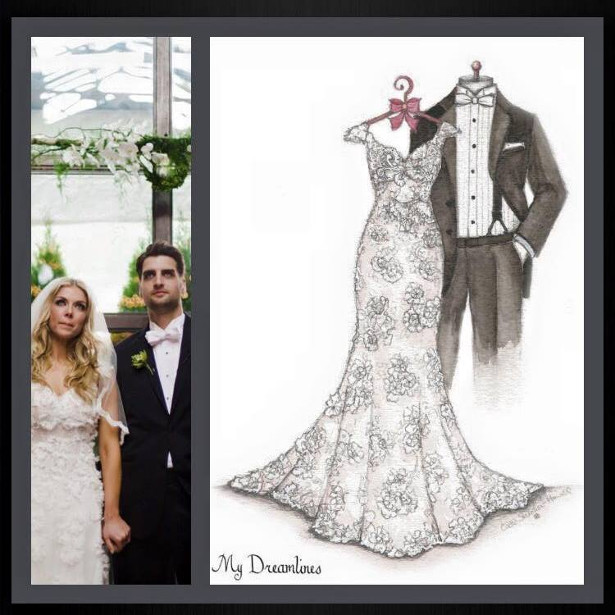 Giving her the most perfect Christmas gift embracing being husband and wife is a perfect gift she will love and what better way to say I love you than with something from your wedding day.
This find has been an all time favorite and cherished by wives all over the world, from their husbands. We also love how Dreamlines can create this gift even when we wait to the last minute. You guys know what I'm talking about. Check out Dreamlines here www.MyDreamlines.com.
Over 2,000 sketches, for customers all over the world see more at :- www.mydreamlines.com/christmas-gift