Hamper Perfection this Christmas… VIRGINIA HAYWARD …the hamper company (www.virginiahayward.com)
With 100+ festive gifts to choose from (ranging from £12.50 up to an extravagant £1,000), you're bound to find the perfect gift this Christmas, no matter what your budget!
With product inclusions spanning across a range of treats – from chocolate, biscuits, cheese, and booze, as well as catering to various diets, intolerances and allergies (including gluten-free, alcohol-free, and vegan) – there are plenty of choices to caters to all tastes!
Here are Virginia Hayward's top picks:
BELOW: Night Before Christmas (£22.50), Christmas in a Box (£32.50), Alcohol Free Treats (£43.50), Magic of Christmas (£65), Snowflake (£175), Celebration (£750)
More information on these picks can be viewed here: https://www.virginiahayward.com/hamperblog/christmas-wonderland
Plentiful pantry:
We tried the Plentiful pantry hamper (£50) which is the perfect Christmas pantry filler! Featuring a plentiful selection of all the tins needed to keep the cupboards stocked over the festive period including soup, chopped tomatoes, tinned fruit, and hot dogs. There are also plenty of jars including those all-important condiments such as mint sauce, marmalade, strawberry jam and cranberry sauce for the turkey!
Once the cupboards are stocked with the essentials, your recipient can then work their way through some classic sweet and savoury treats – the hamper is also jostling with biscuits, chocolates, and other lovely treats including sweets, cake, mince pies and a Christmas pudding. Not only is this hamper crammed full of cupboard essentials, but also many traditionally festive goodies to bring Christmas cheer to any home.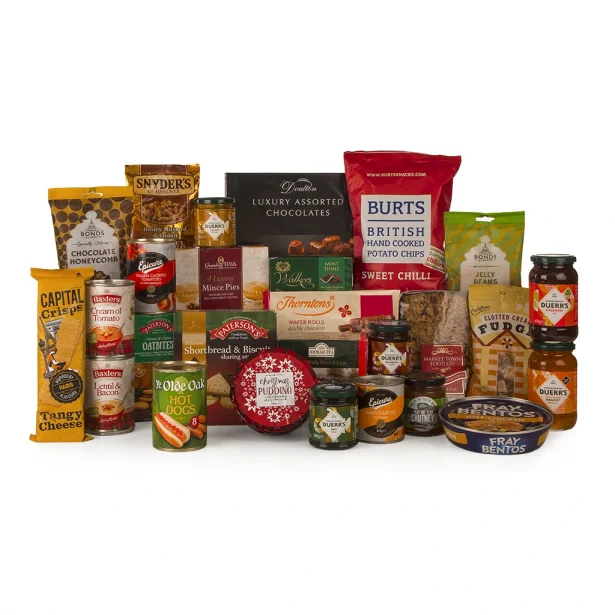 All Christmas hampers can be viewed here: https://www.virginiahayward.com/christmas-hampers