THE GOURMET GIFT FOR YOUR PRECIOUS POOCH
A dog's (Christmas) dinner never tasted so good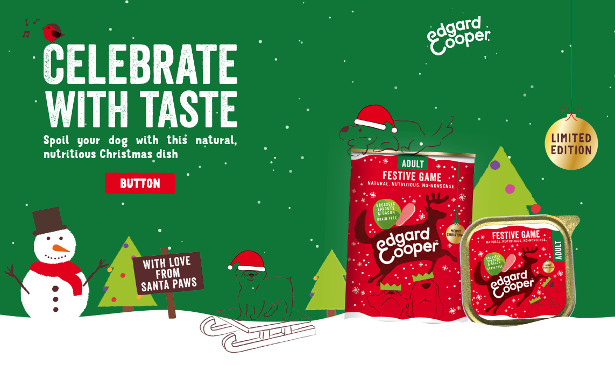 TWITTER | FACEBOOK | INSTAGRAM
Picture the scene, it's Christmas Day, you're tucking into a piled-high plate of the tastiest Christmas dinner, and despite doe-eyes from your beloved dog, it's not until your belly is full to popping point, that the plates are scraped and your pooch gets the scraps. It's a dog's life, eh?
None of us want our dogs to feed on Nana's leftovers on the most special day of the festive season, so this year treat your dog to a dinner of its own. And rather than slaving away over separate doggy portions in the kitchen, simply open a can of Edgard & Cooper's new festive game recipe instead.
A tasty Christmas gift for your furry family member, this gourmet meal for mutts is gamey and delicious with brussel sprouts and bacon too – the full festive works! Like all Edgard & Cooper dishes, it's natural, nutritious and has absolutely no-nonsense.
Put off by the meat meal (rendered animal parts and carcass), artificial flavours and genetically modified nonsense that goes into some dog food, Edgard & Cooper decided to make its own proper stuff using real ingredients and fresh meat. Dogs love it, and so do their tummies.
Edgard & Cooper's wholesome dishes for dogs are all about tasty recipes, and fresh really does mean fresh. These mutts on a mission (Edgard & Cooper are actually the two brand owners' family dogs) believe that every dog deserves to eat well – and especially on Christmas Day. So dish yours up their own festive feast and leave the leftover turkey for Boxing Day sandwiches.
Available now until the end of December in a 100g small tray (RRP £1.09) and 400g can (RRP £2.29)