Give the gift of romance in the Caribbean this Valentine's Day with a book celebrating compelling culture, fabulous food and emerging romance.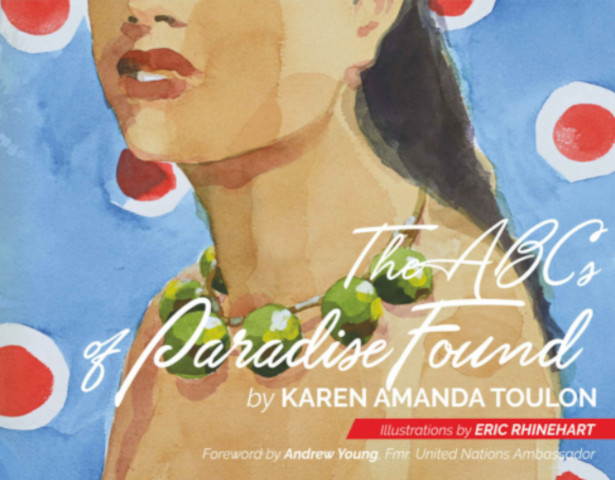 A woman and a man meet by chance on the beach in the Caribbean. Over the 26 letters of the alphabet, they explore the island and discover more about each other and themselves.
Accompanied by 26 stunning original watercolor illustrations by artist Eric Rhinehart, "The ABCs of Paradise Found" by author Karen Amanda Toulon is a keepsake book that readers will be able to read over and over again.
Read "The ABCs of Paradise Found" to each other with a cocktail or a glass of wine. We bet you'll never make it to the letter Z.
A perfect lasting gift for Valentine's Day or birthday for someone special in your life that embraces romance, travel, culture, island life, and food.
"The ABCs of Paradise Found" $ 29.95
available on Wordeee.com and wherever books are sold
The ABCs of Paradise Found by Karen Amanda Toulon (Author), Eric Rhinehart (Illustrator)
A keepsake book, The ABCs of Paradise Found takes you on an emotional and visual journey that you will want to read and enjoy over and over again.
A woman and a man meet on a beach in the Caribbean. That chance encounter turns into a journey of discovery: of self, of another, and of the island—which has a personality all its own.
Accompanied by beautifully rendered watercolor paintings, there will be stunning details to consider. Deep sea dives. Primordial rain forests. Night witches. Dawn carnivals.
He learns about the ingredients of the national dish and where runaway slaves hid. She learns he has a scar and a wicked smile.
But what you won't learn are their names. Or ages. Professions. Political leanings. Or why they have ended up where they are.
There will be no interruptions by deadlines, appointment updates or other demanding distractions.
The woman wonders at one point, "Where is this going?" and we are grateful that we are along for the ride.