IN THE LINE OF FIRE
by Warren Gatland
The Inside Story From the Lions Head Coach
Published by Headline on 9th November 2017
Hardback, £20
The ultimate insider's story of the most thrilling and epic British & Irish Lions tour to New Zealand for generations.
Warren Gatland's In the Line of Fire is the ultimate chronicle of this summer's remarkable Lions tour to New Zealand – home of the fearsome All Blacks, the double world champions – which culminated in an historic and nerve-shredding series draw.
The book is the Head Coach's wonderfully candid and vibrant record of the withering ferocity, the turbulent peaks and troughs, the triumphs and despairs, of one of sport's toughest challenges.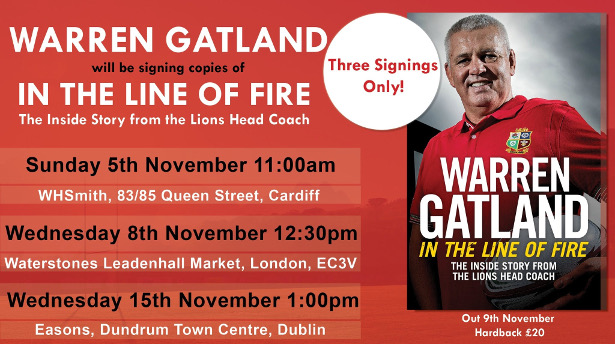 It gives rugby fans an unparalleled front-row seat with the squad and coaching team during every facet of preparing for and executing a successful tour on the opposite side of the planet, recounting intriguing details on everything from pre-tour planning and strategy, to on-tour experiences, analysis and decision-making.
It all adds up to a thrillingly definitive exposition and post-mortem of a mind-blowing six weeks in the cauldron which forged the mighty All Blacks.
Born in Hamilton, New Zealand, in 1963, Warren Gatland played rugby for the provincial side Waikato for eight years, and made 17 non-international appearances for the All Blacks, before turning to coaching.
He was the Head Coach of the British & Irish Lions squad which recorded an epic and thrilling Test series draw this summer against the mighty All Blacks. The result was the first time the Lions had not lost a series in New Zealand since 1971. Gatland also led the Lions on their triumphant tour of Australia in 2013, and he served as Assistant Coach on the 2009 tour of South Africa. He has been Head Coach of Wales since 2007, and in that time the Welsh have won the Grand Slam twice and the Six Nations three times. During his career, Gatland has also coached Connacht and the Irish national team, as well as Wasps.