Flahavan's – the UK's leading organic oat brand – recipes to allow you to create the ultimate sweet treats this Easter.
Spice up your usual breakfast for Easter weekend with Flahavan's must-try Carrot Cake Porridge. This store-cupboard friendly recipe – inspired by a classic, British bake – gently balances the warmth of ginger and cinnamon with the sweetness of raisins and honey, on a base of Flahavan's naturally creamy oats.
Got your chocolate fix already? Don't let those leftover easter eggs go to waste, the Carrot Cake Loaf from Lili Forberg is an Easter weekend family staple that is sure to hit the sweet spot, whilst mitigating food waste.
About Flahavan's
For over 230 years, the Flahavan's family have been milling locally grown oats in Kilmacthomas, Ireland. Throughout this time, seven generations have perfected the process, resulting in the deliciously creamy oats that best enjoyed the way they were intended – with no added nasties.
Naturally low in salt and saturated fat, the award-winning Flahavan's range of wholegrain oats is a fantastic source of fibre, helping to provide a slow-release energy that will keep Flahavan's fans powered up throughout the day.
Carrot Cake Porridge with Apple and Raisin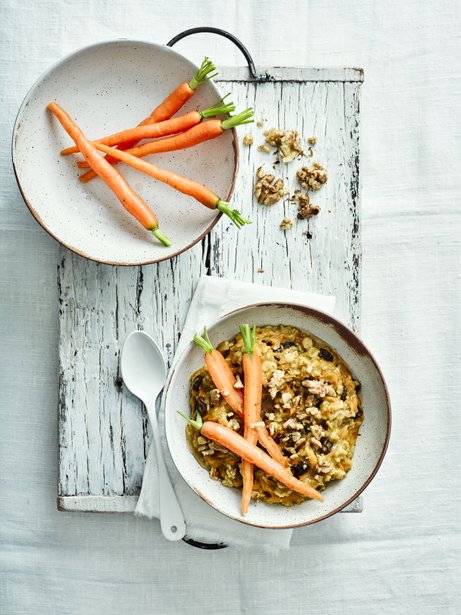 Serves 2
Ingredients:
50g Flahavan's Organic Jumbo Porridge Oats
150ml milk or almond milk
200ml water
1 medium-sized carrot, finely grated
½ tsp cinnamon
½ tsp ground ginger
1 tbsp raisins
1 baby carrot, sliced in half
A handful of toasted chopped walnuts
1 tsp honey (optional)
Dusting of cinnamon
Method:
1. Place the Flahavan's Organic Jumbo Porridge Oats, milk, water, grated carrot, cinnamon, ginger and raisins in medium-sized pan over a medium heat, bring to the boil and then reduce the temperature to a low heat. Stir regularly and continue cooking for around 10-12 minutes until thick and creamy.
2. Pour the porridge into a bowl and decorate with the carrot half, walnuts, honey (if using) and cinnamon.
Flahavan's – Lili Forberg's Carrot Cake Loaf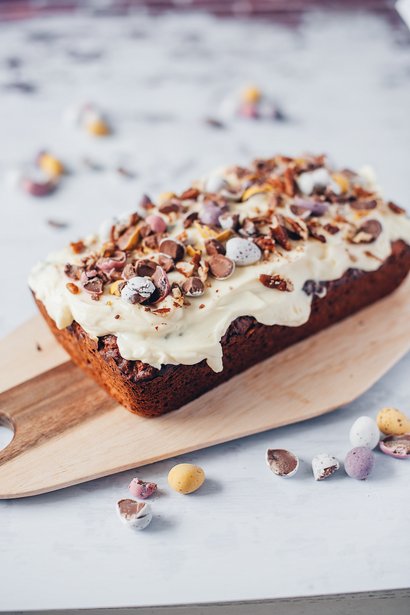 Prep time: 10-15 minutes
Cook time: 1 hour
Difficulty: Easy
You'll need
For the cake
• 1 cup Flahavan's Organic Porridge Oats
• 1 cup self-raising flour
• ¾ cup soft brown sugar
• 1 tsp cinnamon
• ½ tsp baking powder
• 1/3 cup vegetable oil
• 1 egg
• 1 tsp vanilla essence
• 1 cup natural yoghurt
• 2 cups grated carrot
• ½ cup chopped pecans
For the icing
• 200g cream cheese
• 1/3 cup icing sugar
• 1 tsp vanilla essence
To decorate
• Leftover Easter eggs of your choice
Method
1. In a large bowl, mix together all of the dry ingredients, along with the vegetable oil, egg, natural yoghurt, grated carrot, chopped pecans and 1 tsp vanilla essence.
2. Grease and line a loaf tin, before pouring your mixture in. Bake for approximately 1 hour at a temperature of 170 celcius (fan).
3. In a separate bowl, use a hand mixer to combine the cream cheese, icing sugar and remaining 1 tsp vanilla essence.
4. Once baked, remove your loaf from the tin and allow it to cool, before topping with your icing.
5. Drizzle with chopped up easter eggs of your choice and enjoy!