Festive Fruity Firsts from Opies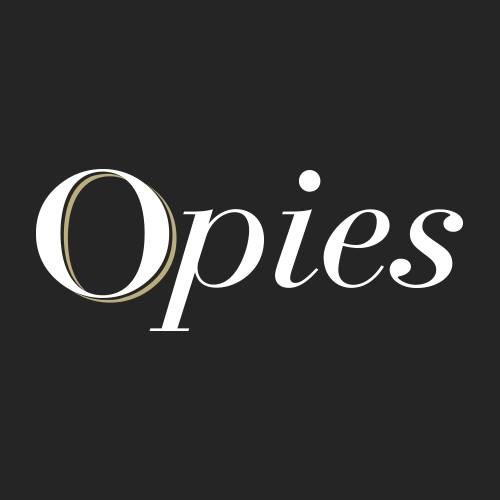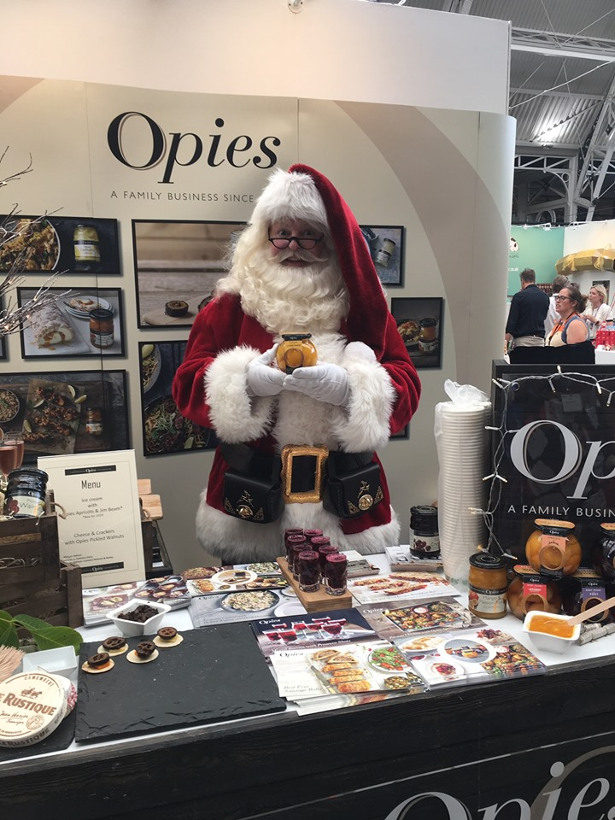 Christmas is always a busy time and we'd all prefer to spend less time in the kitchen and more time with family and friends. So why not stock up on a quick and easy go-to that enables you to create show-stopping desserts in mere minutes? Opies Fruits with Alcohol are a luxurious store-cupboard standby that really fit the bill.
There are two new luxury fruits on offer this year: Mixed Fruits with Prosecco and Apricots with Jim Beam. The Mixed Fruits with Prosecco are a sublime combination of blackberries, raspberries, blackcurrants and redcurrants. The addition of a quality prosecco creates a sharp, tart, yet fruity treat. For the Apricots with Jim Beam, Opies have taken soft, delicate apricot halves and steeped them in the world's number one Bourbon whisky. Elegant, smooth and refined, Jim Beam adds a spicy back note to the delicate soft apricots.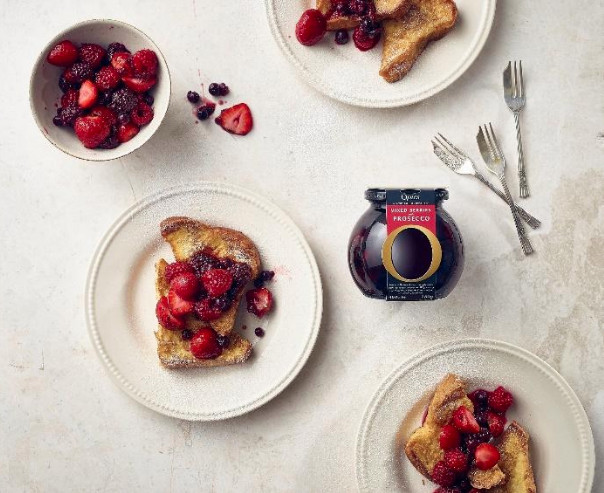 Typically the most popular way to enjoy Opies's boozy fruits is generously spooned over ice cream or served simply with rich double cream. But, rather than settling for tradition, home cooks can discover lots of innovative and very tasty ways to incorporate these luxurious fruits into both sweet and savoury dishes. Opies have devised a suites of new recipes (www.opiesfoods.com/recipes) and for the first time a recipe is also included on-pack.
Pictured L-R: Apricot Parfait, Panettone French Toast with Mixed Berries
For an indulgent festive or New Year breakfast treat (and a great way to use up leftovers), try Panettone French Toast served with Mixed Berries with Prosecco. Alternatively, take crushed meringues, double cream and add in some Mixed Berries for a very easy and boozy Eton Mess. For pre-dinner drinks or parties, a glass of Cava, Prosecco or London Dry Gin will have a lovely pink hue with a small spoonful of the fruits in the bottom of the glass.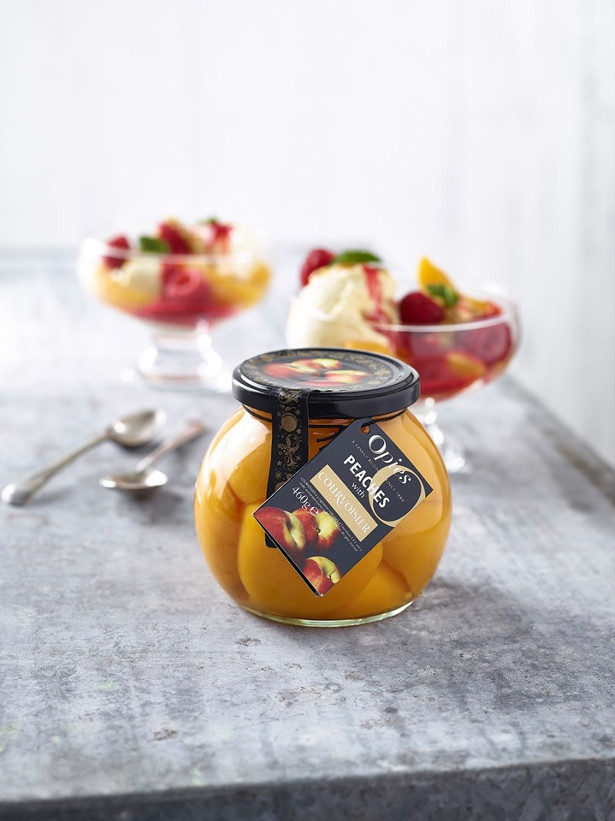 As for the Apricots with Jim Beam, if you can resist eating straight from the jar, try adding an apricot slice into a Bourbon Sour or chop into Moroccan Lamb or Nut Loaf for added depth of flavour. On the pack, you'll also find a recipe for an Apricot Meringue Parfait – sublime!
The fruits are carefully hand bottled into stunning jars, preserved in a light syrup and gently infused with a specially selected alcohol which perfectly complements the soft fruits. They are also ideal for small gifts, stocking fillers or as part of a home-styled hamper. They provide a luxurious, affordable solution and have a wide-appeal so they'll be as suitable for a Secret Santa pick as for a present for the next door neighbours.
Each Christmas, Opies make an extensive range of limited edition luxury fruits with alcohol which are available in selected stores from October through to December.
Alongside the Mixed Berries with Prosecco and Apricots with Jim Beam are Baby Pears with Luxardo Amaretto, Stem Ginger with Teachers, Baby Pears with Port, Black Cherries with Luxardo Kirsch and Peaches with Courvoisier. RSP £6.99. For full listing details please see notes below.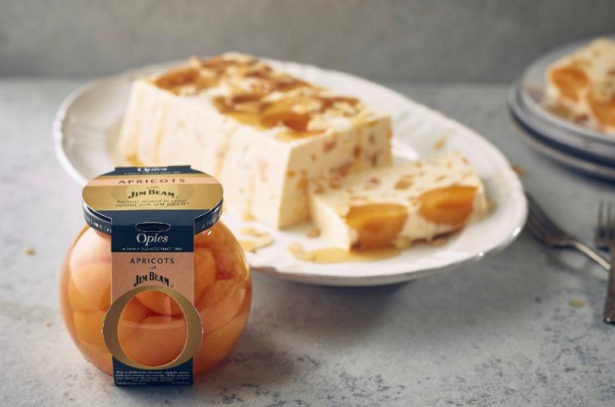 Bennett Opie is a fine food producer based in Kent that produces a wide range of cocktail products, speciality pickles, chutneys, olives, ginger, luxury fruits, sauces and compotes under the Opies brand. Bennett Opie is also the sole distributor for a number of speciality food brands including Monin, Lingham's Chilli Sauce, Barry Norman Pickled Onions, Alain Milliat, Ferns Curry Pastes and Delice du Provence.
Opies Fruits in Alcohol range comprises:
Available in selected Waitrose
Opies Mixed Berries with Prosecco 460g – £6.99
Opies Peaches in Courvoisier 460g – £6.99
Opies Black Cherries with Luxardo 460g – £6.99
Available in selected Tesco
Opies Peaches in Courvoisier 460g – £6.99
Opies Black Cherries in Kirsch 460g – £6.99
Available from Marks & Spencer:
Opies Peaches in Courvoisier 460g – £6.99
Opies Apricots with Jim Beam 460g – £6.99
Available from Ocado
Opies Stem Ginger with Teachers 550g – £6.99
Opies Peaches in Courvoisier 460g – £6.99
Opies Black Cherries with Luxardo Kirsch 460g – £6.99
Opies Apricots with Jim Beam 460g – £6.99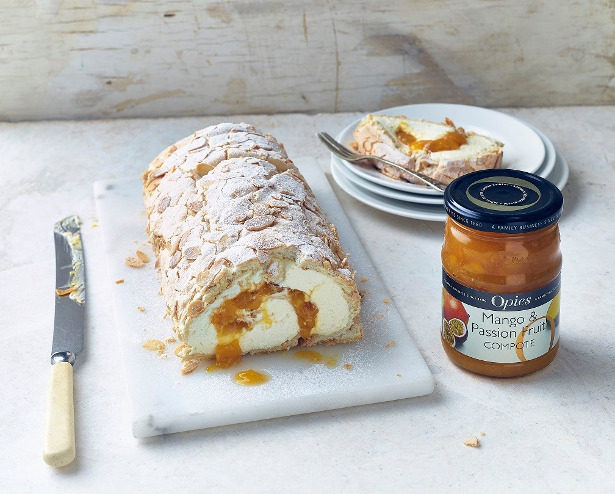 Available from Lakeland:
Opies Peaches with Courvoisier 460g
Opies Baby Pears with Port 460g
Available from independent stores:
Opies Mixed Berries with Prosecco 460g
Opies Apricots with Jim Beam 460g
Opies Baby Pears with Luxardo Amaretto 420g
Opies Black Cherries with Luxardo Kirsch 460g
Opies Peaches with Courvoisier 460g
Opies Stem Ginger with Teachers 550g